Ramkund is located along the bank of Godavari River. This place is situated at a distance of 2 km from Central Bus stand.
This is the holiest spot in Nashik as it is believed to be the place where Lord Rama used to bathe. It contains the bone dissolving Asthivilaya Tirth. It was built by Chitrarao Khatav, a landholder of Khatav in Satara in 1696havrao and was repaired by Gopikabai, the mother of Madhavrao the fourth Peshva. Peoples bring ashes of their deceased relatives and immerse it in Asthivilay kund. Ashes of big personalities like Pandit Nehru, Indira Gandhi, Y B Chavan and others had been immersed at Ramkund
The ancient epic Ramayana tells the tale of Rama, a Hindu prince and avatar of the god Vishnu who is forced into a 14-year exile from his kingdom of Ayodhya. His wife, Sita, and brother, Lakshman, follow him in his exile. Rama today is an important Hindu god, and the places associated with the Ramayana are now major pilgrimage sites. Once of these sites is Panchavati, where the trio spent several years during their exile. Panchavati, now in Nasik, has several places of interest and worship for pilgrims and those fascinated by the mythological epic. And the most important one is the Ramkund or Ram Kund, which literally translates to the pond of Ram.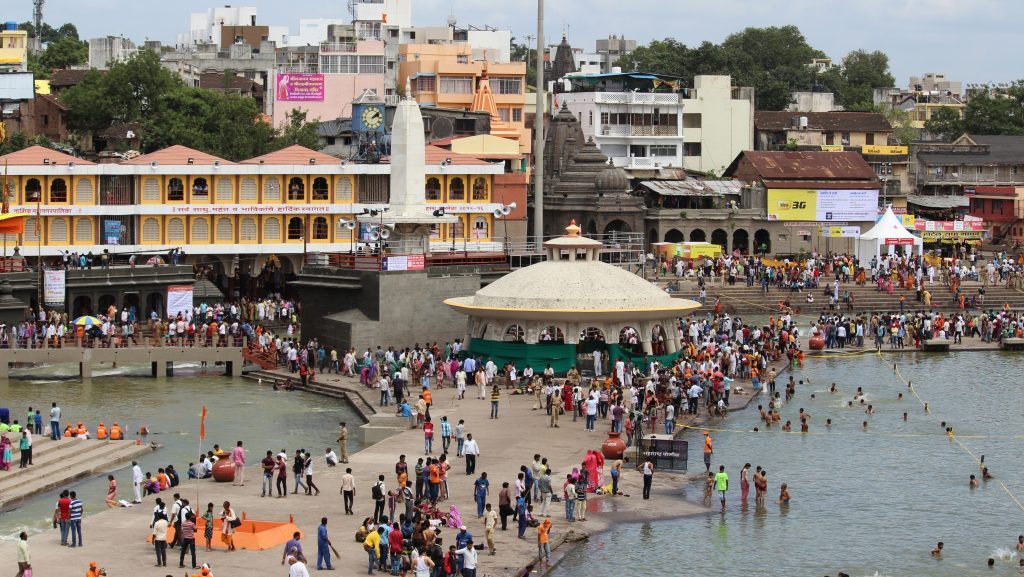 The Ramkund is revered because it is said to be the pond where Rama would take his bath. The holy pond is used to immerse the ashes of the dead, which are said to be immediately absorbed into its waters. Many even take a dip in the sacred waters of the Ramkund to wash away their sins. Another point of interest here is the nearby Gandhi Lake or Talab, with a memorial monument of white marble dedicated to Mahatma Gandhi. Part of the ashes of this great political leader were immersed in the Ramkund after his assassination in 1948.

Ramkund is a sacred bathing ghat on the bank of the Godavari river, which becomes the venue to host the spectacular Kumbh Mela. Centrally located, and the focal point of Nashik,  Ramkund sees hundreds of Hindu pilgrims arriving daily to bathe, and pray. The ashes of the dead are also immersed here.
At a distance of 2 km from Nashik Central Bus Station, Ramkund is the most important sacred bathing tank in the Panchavati area of Nashik City. This is one of the popular places to visit in Nashik during Kumbh Mela.
Ram Kund, measuring 27 x 12 sq. m was built by Chitrarao Khatarkar in 1696 AD. According to the legend, this sacred bathing tank on the bank of river Godavari is believed to be the spot where Lord Rama had taken his bath during their exile. It is also said that Lord Rama has performed his father's funeral rites in this Kund and hence Ram Kund is also known as Asthi Vilaya Tirtha (Bone Immersion Tank). This is one of the must-visit places as part.


Ram Kund is a holy place for Hindus. Devotees believe that a dip in this tank will fulfill their wishes and also free them from their sins. There is a popular belief that salvation to the soul of the dead person is easily achieved by immersing their ashes in the holy waters of this tank. Ashes of prominent personalities like Mahatma Gandhi, Jawaharlal Nehru, Indira Gandhi, Rajiv Gandhi, and Dr. Rajendra Prasad were immersed in Ram Kund. Adjacent to the Ramkund, there is a Gandhi Talav (lake) having a white marbled monument, built-in memory of Mahatma Gandhi.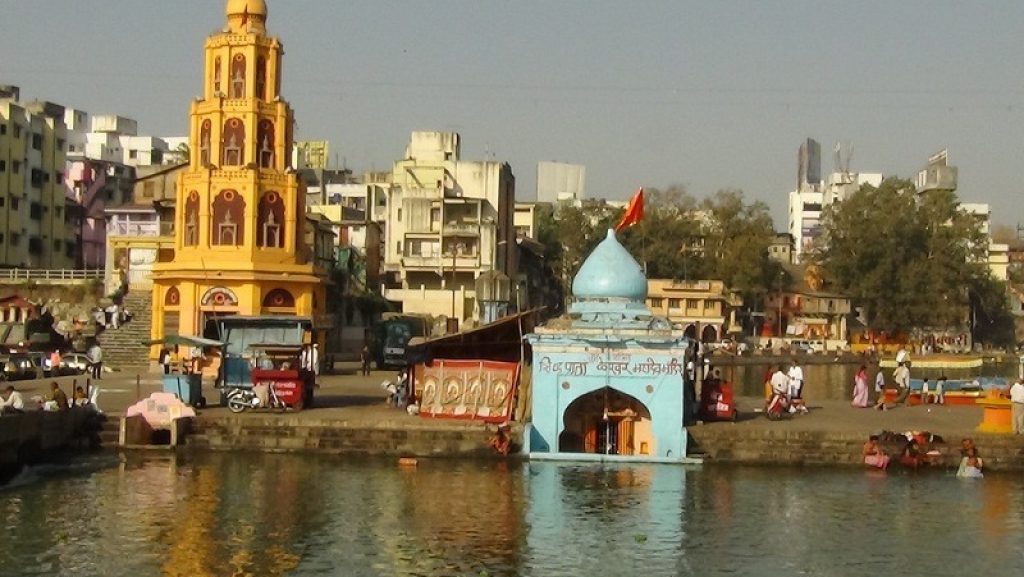 HISTORY OF THE RAMKUND
Legends says that Ram lived in Nashik during his 14-years exile. Ramkund is believed to mark the spot where Ram and his wife Sita bathed.
GETTING THERE
Ramkund is centrally located in the city; so as to reach here on can take a three wheeler or a bus from anywhere in the city.
THINGS TO DO & SEE IN AND AROUND
Make a point to take a holy dip in River Godavari at the Ramkund. Tourists can also visit the temples that are located on the banks of Ramkund.
How to Reach:
By Air
The nearest airport Ojhar Nashik International airport is situated about 24 kilometers far from the center of city.
By Train
Nearest Railway Station is Nashik Road about 10 Kms
By Road
Its within the City and 3 Kms from the Nashik Central Bus Stand