The Indian Ethnic Wear – How Indian Fashion Exists as Great Fashion
India in its past had experienced waves of migration from several foreign forces like the Greeks, Persians, Portuguese, French, Mughals, and British. These invaders either lost power to internal resistance from India or external superpowers. However, with the passage of time, they left their marks behind in India, which is still reflected in Indian culture and tradition. Since time immemorial, this country is known for its "Unity in Diversity". There is much variation in the language, attire, beliefs, and other aspects in the country that is considered to be simply mindblowing.
The cultural tradition of Indian that is deeply rooted in the Indian lives – passed on from one generation to another – from aarti done to welcome the guests home to touching the feet in obeisance and respect to the elders. Generation of Indians thus established the ethos of strong cultural bonding.
The fashion industry in India is another aspect of Indian tradition, which is older than Indian history. But unfortunately, the chronology is neither maintained nor remembered. And Indian fashion witnessed its first rise and growth in the 1980s, holding hands of a handful of designers. However, the year 1990s experienced another huge rise in Indian fashion, as this was the result of exposure to global fashion and economic boom after the economic liberalization of the Indian economy in 1990. Thereafter, fashion as an industry fully developed itself strongly across India.
Indian fashion is now finally receiving a long-awaited notice in the global fashion circle. From the long flowy garments to bright patterns, these styles are bold, lovely, and changing with new trends, every season.
International fashion trends are confined to casual wear clothing. However, Indian fashion designers have made their mark in the industry with their huge choice of colors, fabric, and ethnic design, which make fashion statements in every celebration and wedding ceremony. The latest fashion trends bring news of Indian Couture weeks, which have all kinds of Indian ethnic wears displayed in their shows along with traditional sarees, bridal lehengas, Salwar Kameez, etc designs.
Talking about fashion, everyone describes the Indian fashion industry as nascent in comparison to the circle of the global fashion industry.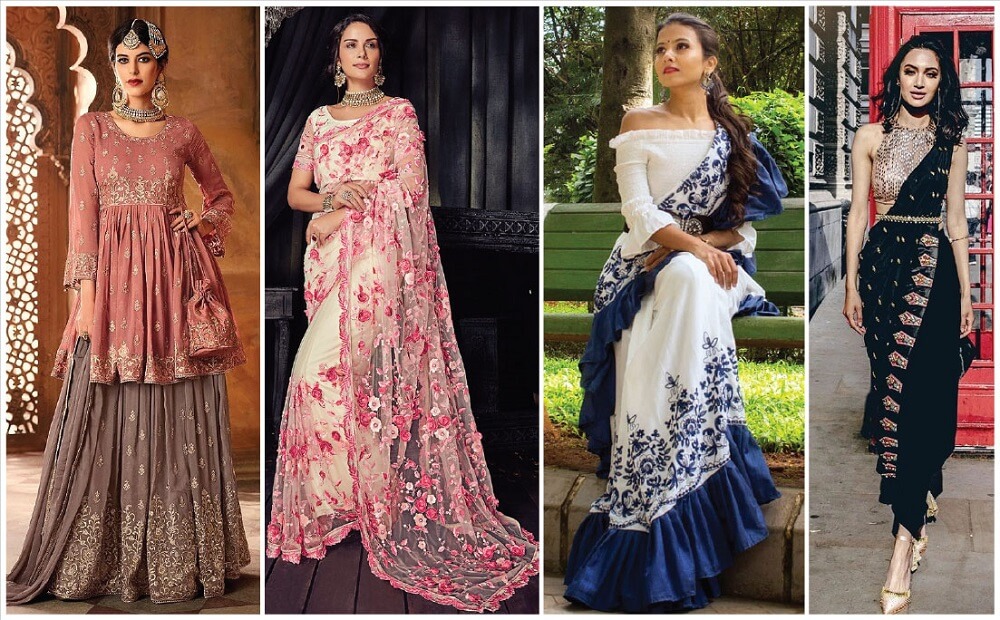 No other fashion industry in the world designs clothes so vibrantly and colorfully as Indian designers do. Whether it is a saree, or a salwar kameez or for that matter a dhoti or a sherwani worn by men, each piece of clothing reflects the rich heritage that India holds within. These clothing declare true Indianness and attract people residing outside the subcontinent.
Today people in India and the Indians residing outside the subcontinent hope to look good by wearing Indian clothes to suit their occasions and moods. And, these days the internet has assisted in promoting ethnic wear amongst Indians and the like – minds across the globe. And, thus accessibility to these super – fashionable products with a combination of classic craftsmanship, textile and colors are easily available amongst Indians in India and across the globe, thereby glorifying Indian culture, tradition, and festival in several ways.
The elegance and charm of Indian ethnic wear have been upheld since times immemorial, and the occidental culture has always been fascinated by the glamour and magnificence of the popular ethnic outfits – saree, salwar suit and the lehenga. With the innovation and introduction of new trends and fashion, talented fashion designers blended the western and ethnic sensibilities together and gave birth to fusion wear which took the global fashion arena by surprise. The elegant trends, cuts and comfort aspect of western wear were blended with the traditional finery and glamour, and it naturally notched up the popularity of Indian ethnic wear in the global market.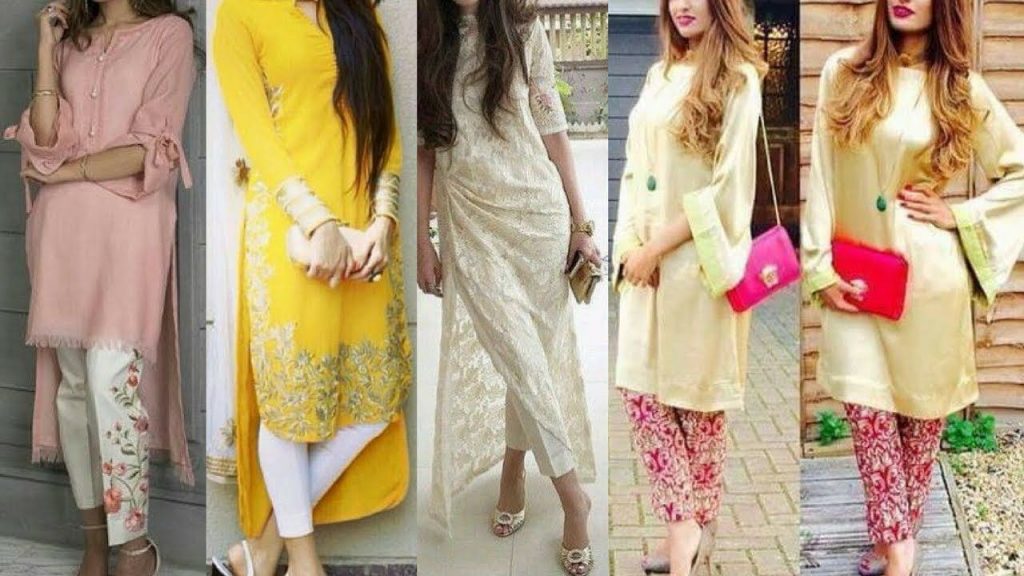 But, the popularity of Indian ethnic wear for women and men experienced a sharp decline in the recent past because of dropping quality standards, high prices, lack of innovation and increase in the popularity of western wear. There came a time when ethnic wear was simply not considered chic enough to match with the modern context. But thanks to the much-needed creativity and inventiveness of the fashion designers Indian ethnic wear has once again undergone a revival in India as well as all over the world.
Ethnic Style in Fashion
By Lise Skov
During the 1990s and the first years of the new millennium, ethnic style has been one of the strongest influences in fashion. Designers, such as Christian Lacroix, Dries van Noten, John Galliano, Kenzo, Vivienne Tam, Yeohlee and many others, have taken their inspiration from a variety of Asian, African, Arctic, Native American and several other dress forms and aesthetic styles and created colorful, syncretic styles evocative of the past or faraway lands. They have also found sources for ethnic fashion within the West, for example in the folk traditions of Northern and Eastern Europe. The fantasy element is strong in ethnic fashion; even when based on detailed research, designs are typically given a twist so they appear contemporary.
Non-Western Aesthetics
For many Western designers, non-Western aesthetics have provided a fertile subject matter, which has enabled them to develop creatively. This ability to break conventions is associated with a way of seeing, rather than faithful adherence to any particular ethnic style. The overall eclecticism of ethnic fashion is expressed, for example, by Dries van Noten, as noted in Touches d'exotisme, xive-xxe siècles:Related Articles
Ethnic Dress
Latino Style
John Galliano
" For me, exoticism is the elsewhere, the other, the difference. It is generally associated with distant countries. But for me, it is rather everything that reroutes us from the ordinary… from our habits, our certainties and from the everyday to plunge us into a world that is amazing, hospitable and warm
Western Versus Ethnic
Fashion theory has been informed by the distinction between fashion-modern, changeable, and emanating from Western urban centers-and ethnic clothing-stable, oriented toward tradition, and belonging in the periphery. This distinction has not always been precise; however, it has had a profound influence on how society thinks about fashion. Many accounts of ethnic fashion thus tend to overemphasize the original reworking of exotic designs on the part of Western creators, just as they exaggerate the fixity of non-Western dress. In this respect, the ongoing impact of ethnic styles on Western fashion has been marginalized.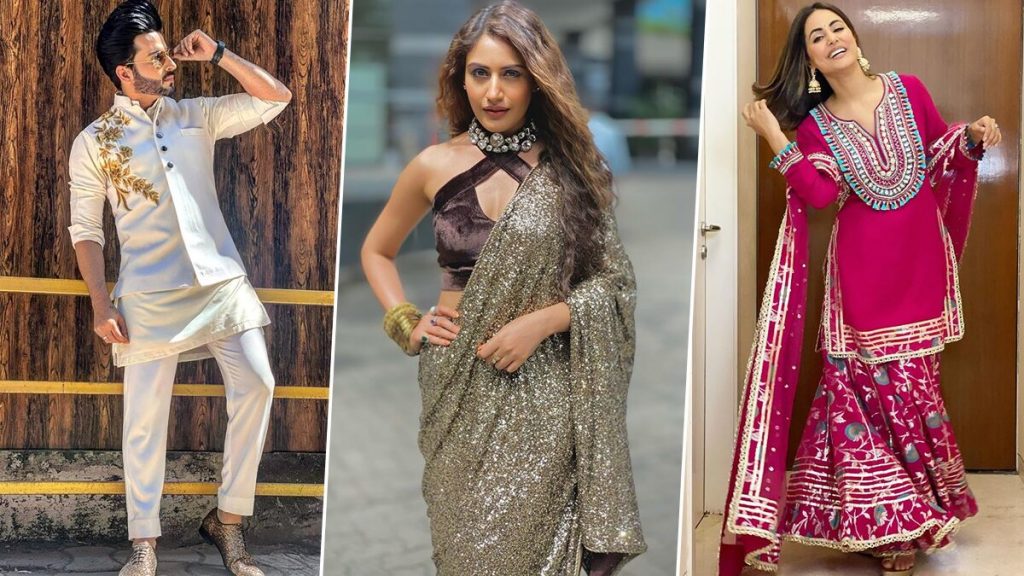 5 Reasons for Global Popularity of Indian Ethnic Wear for Women
There are a number of factors that has attributed to the increasing popularity of Indian ethnic wear in the global market.
Fusion of Western and Traditional Fashion – Western fashion is known for its level of formality, suave style, elegant cuts and high-end fashion that rules the international fashion ramp whereas Indian traditional wear is known for its glamour, opulence and gorgeousness. Modern fashion designers have blended these two sensibilities to come up with latest designer sarees in a range of material and fashionable styles, latest salwar kameez in a plethora of designs and cuts and latest lehenga choli which are a combination of comfort and chic style. These are the latest trends in Indian ethnic wear that are becoming popular on international fashion ramps, film festivals and events and even Hollywood celebs are spotted wearing these uber-chic ethnic outfits.
Ideal for Traditional Occasions – Traditional and ethnic outfits have always been the favourite during festive occasions such as Navratri, Diwali, Dussehra, Karwa Chauth and Eid and Asians living abroad also prefer to dress in traditional outfits with a touch of innovative style during the festive season in order to enjoy the occasions in its true spirit. Even people of the western culture, who participate in these occasions like to experiment with their style and favour trendy ethnic outfits over formal western wear.
Increasing Online Promotion – One of the major reasons for increasing popularity and demand of Indian ethnic wear in the global market in recent times is the increasing use of E-Commerce by the various small, medium and large-scale enterprises of India. The powerful e-commerce platform has made it possible for Indian designers and craftsmen to reach out to the global fashion arena and it also facilitated overseas tread. The online ethnic wear stores have made it possible for people from all around the world to know about Indian traditional fashion and ethnic wear; browse through the garments are even place an order. The global buyers are more interested to buy traditional embroidered sarees, designer salwar kameez, lehenga choli, tunics, kaftans and kurtis along with intricately designed jewellery. Today, people have the option to buy Indian ethnic wear online from a wide range of dependable online stores.
High-Quality Product at Reasonable Price – The downfall of ethnic fusion wear was mainly caused due to reduced quality of the garments and excessively high prices. But modern designers and craftsmen have made amends by improving the quality, design and finishing of the garments and online e-commerce sites have made these garments available at reasonable prices along with additional discounts and offers which have turned Indian ethnic wear into a cost-effective and viable option making it available to a wide spectrum of customers from all over the world.
Popularized by Bollywood – Yet another factor that led to the revival of Indian ethnic wear is the Indian television and film industry. In most cases, people derive fashion inspiration from their favourite B-Town celebs and famous Bollywood divas from Kajol, Aishwarya Rai Bachchan, Madhuri Dixit and Vidya Balan to the younger generation of actresses such as Deepika Padukone, Katrina Kaif, Sonam Kapoor and Priyanka Chopra are all upholding Indian ethnic wear at the global platform and are often seen wearing fashionable sarees, designer lehenga style saree, lehenga choli and salwar suits to events, award ceremonies and promotions. This revival of traditional fashion in Bollywood has also influenced the demand for Indian ethnic wear in the global market.
Today, designer Indian ethnic wear has become popular in international markets like Europe, UK and the US along with Brazil, Indonesia, Malaysia and Singapore because now people have the facility to shop for Indian ethnic wear online from a plethora of reliable online stores and e-commerce sites.