Fashion facts for kids
Fashion mostly refers to the style of clothing worn at a particular time. Clothing at its most basic is to keep us warm, but it serves many other function. It needs to fit the customs and norms of society. Clothing needs to be accepeted as more or less 'normal'. It needs for instance, to preserve decency. Fashion can also mean a style of language or behaviour. Fashion are a kind of nonverbal communication. They communicate something, but exactly what is something of a mystery. Often what they express is membership of a particular group.
Fashions are like trends. They change more quickly than the entire culture. The term 'fashion' is often used a synonym for glamour and style. Sometimes the term is used in a negative sense, to mean a 'fad'.
There are fashions in many types of human activity and ways of thinking. There are fashions in architecture (the way people build houses) and interior design (the way people decorate inside their houses). There are fashions for clothing. There are fashions for dance and music, and for the way people speak. There are fashions for ideas.
Clothing fashions
Fashion is more than just a designer's whim. Fashion is a reflection of a given time, socially, politically, economically, and artistically. The changing styles show just as much about history and the time period as any history book. It reflects on what people think, what they valued and how they lived. Fashion is a statement, a way of living. Fashion is used in different ways such as clothing, culture, religions etc. Clothes are not just for keeping warm!
Fashions of an era: left: Hugh, Abbot of Cluny, below: Emperor Henry IV, and right above: Countess Matilda of Tuscany, 1115. The Emperor and the countess wear overgowns and mantles trimmed with bands of gold embroidery. The countess wears a linen veil draped over her hair
Fashion is a way to express one's self. Many teenagers show their ideas and opinions by the way they look. They may want to look unique and individual, often to be a member of a group which looks unique. Fashion is superficial (on the surface) but as the outside of a person is the only bit that other people see, what they wear is meaningful. It helps people to make their first opinion of you and can influence the opinions and ideas of other people.
Fashion has changed over the years, long dresses, miniskirts, and bell bottoms are examples of clothing items that were once in style. Clothing fashions that keep coming back in style are known as classics. Khaki pants, polo shirts, and simple dresses are all examples of classics. Eye makeup, jewellery, hair styles, hats and shoes can all work together to create a fashion image, a total effect.
The days are gone when kids used to wear everything and anything that their parents used to choose for them. Now kids always want to be dressed in fashionable clothes as they want to be a fashionable kid. They want to be dresses in attires of their own choice and have their own favourites. Kids wear has a lot of variety which includes kids fashion clothing, kids nightwear, kids readymade garments, kids rompers, kids tops, kids knitted wear, kids winter clothing, kids summer clothing, organic clothing. It is important for parents to encourage creative choices, it is always better for a kid to choose style they feel comfortable as they desire to attract the attention of kids of their age .They want to choose their clothing from designer collection for kids. Always encourage child to choose colours and style they like, as opposed to setting for what everyone else tells them to wear as eye catching colours and attractive designs tells their personality and style also help them to stand out of the crowd and this will attract the attention of people of all age groups. Childhood is the learning phase of life, where children should take up good things in life; develop good taste on everything and today kids are very conscious about dressings and their appearance. On the top of that parents are very keen to spend on this occasion. A number of factors should be taken into consideration before buying clothes for children, some of these are:
1) Comfortable: it is important that the clothes should be comfortable. Make them select their clothes as well this will be happy wearing what they select, this way they will be happy wearing what they select, this will add to their confidence and self esteem and they will also develop their fashion sense. The fabric should be smooth and not irritate the skin. It should be light weight.
2) Climate and fabric: The fabric should be selected according to the climate to make it more suitable for eg: during summer cotton clothes should be preferred as cotton absorbs perspiration easily. Now days organic kids wear are in demand and gained popularity due to various reasons, the entire cloth is designed from high grade organic cotton, which allows the sensitive skin of children to breathe and prevent from rashes and allergies.
3) Ease of Dressing and Undressing: Tight dresses should be avoided; they tend to have larger stomach. Children wear must have sufficient seam allowances and must offer styles so that adults and children should be able to wear and remove the garment easily.
4) Fasteners: Kids wear should not have drawstring as they have tendency to wind around the child neck and cause danger. Fasteners should not be attached in the wrong place which may hurt the kid. They should be soft, warm and porous and for babies elasticised garment should be avoided.
5) Trimmings: Trim can make a garment special to a child like decorative machine stitching, embroidery, smocking, ribbons, braid, ruffles but keep in mind hard materials having sharp edges should not be used in babies garments as it may harm the tender skin.
6) Opening: For kids full opening should be preferred. Always use Velcro as kids just love having Velcro on their clothes as it is easier for them to change their clothes.
7) Flame retardant: The fabric should be flame retardant as children love to experiment and may play with fire as they are unaware of its harm effects.
8) Ease of dressing: Tight dresses should be avoided as they tend to have larger stomach. Children wear must have sufficient seam allowances and must offer styles so that adults and children should be able to wear and remove the garments easily.
9) Design and Colour: Clothes should express simplicity and at the same time besmart. It again depends on occasions and the upbeat style, eye-catching colours and splendid designs of their clothing define their style statement. Kids always like jazzy colours and cranky designs with multiple colours.
No matter how strange you may think their choices, it is always better for a kid to choose styles they feel comfortable in wearing as opposed to following what everyone else is doing. When guiding your child clothing choices, help them to understand the role that certain events play in their wardrobe choices. Encourage them to choose colours and styles they like, as opposed to setting for what everyone else tells them to wear. Dont try to do everything for them before they have a chance to try it out on their own. Its always good to go as per kid choice and also keep in mind the above factors to make the right choice and also make your kid happy as well as satisfied.
The world of fashion is taking a new generation by storm. And this generation is young, small and tender. Kids fashion is becoming big, getting all the attention from designers, companies and well yes the parents. And expectedly the trend first started in Hollywood.
Every six-year girl would like to be like Suri Cruise, daughter of Tom Cruise and Katie Holmes. Travelling in private jet to meet her famous father, she personifies luxury, glamour, and girly style. Her extra trendy, branded dresses are as famous as the accessories she carries around. It's rightly quoted by her father Actor Tom Cruise that "Suri dresses herself and she was born that way," This is so true.
Types of Kids Wear
Kids are awesome. They are small, they are cute and adorable and they are curious and are always up for something. Their innocence and their ability to see and perceive this world of ours as something new is something that makes us all feel overwhelmed with joy.
Soon these kids start to grow up and from their mother's arms, they soon learn how to walk and start their own journey of life. It is then that they are faced with one of the basic needs of human beings which happens to be clothing. Clothing is what we are going to discuss in this blog about. We are going to talk about the types of kids wear.

Kids are adorable and their little pieces of clothing are also just as cute and adorable as they are, but it is important to know that kids wear is a little different from adult wear because kids skin happens to be very soft and fragile and any material that is harsh might be uncomfortable for the kid and they will be unhappy and cry if they are made to wear that which is why kids wear is generally made from very select blends and soft cotton to make sure that they are soft and loose-fitting that the children do not feel trapped in their clothing.

Having said that now let's see some of the most popular options that are available when it comes to kids wear:
1. T-shirts:
T-shirts are comfortable and soft, they are not heavy and can be worn baggy also which makes the kids feel comfortable. T-shirts are also stylish and can help make a baby look dapper and cute at the same time. T-shirts are some of the most common and popular choices of clothes when it comes to babies. Also, t-shirts are unisex which makes them even better as they can be worn by both boys and girls. This makes it easier for parents who are expecting babies to shop for the baby.
2. Trousers:
Trousers are also a classic choice of clothing when it comes to kids' wear. Casual trousers made of cotton that are comfortable and stretchable are great for kids which is the reason they are made from special blend materials that make them more enjoyable for kids. Trousers are also unisex and can help keep the legs of the kids safe from any wear and tear when they are outside as kids tend to be very energetic and active. A little fall here and it is pretty common for them but it is important that parents always try for their kids to wear covered clothes to protect them from insects and other things as well when outside.
3. Skirts:
Skirts are the most popular choices when it comes to kids' clothing for girls. They are soft and are comfortable to wear. They also look very cute and adorable and can be worn with a variety of options such as t-shirts or tops. They are made from cotton or other blend fabrics that make them comfortable yet stylish for the kids. Skirts are not recommended for the boys but if they want to wear them we support their choice regardless of their gender.
4. Shorts:
When it comes to kids' bottom wear, shorts are the most popular one by far. Even though as we discussed trousers have many benefits when you look at it from the perspective of a parent but no kids want to wear them unless in winter. Kids prefer wearing shorts as they do not come in the way of their movements. They are non-restrictive and let the kids feel and be as free as they want. Shorts are also unisex and can be worn by both boys and girls. They are comfortable and are a great option for summers and evening play.
5. Denim:
Denims are a very popular choice for kids wear as well. They are a little rough so they are not the best for young they can be worn by kids over the age of 2 years (this is just our recommendation, not a rule). Having said that denims are made of jeans fabric which is extremely tough and stylish and can make the kids look very fashionable and also quite cool. Denims are available as shorts and full trousers and can be worn by both boys and girls equally.

So, these were some of the best-known types of kids wear. If you are looking to get some of the best kids wear in the market made from quality premium materials that are safe for babies and kids with stylish and adorable designs the best choice is UNITO Clothing, one of the top garment manufacturers in India. 
Raking in the moolah:
They all are splurging millions of dollars on their kids' fashion turning this into one of the fastest growing segments in the fashion industry. From Jessica Simpson to Beyonce Knowles have paid millions to doll up their children and create a unique signature style of dress, accessories, tree houses or toys. Godfather Tom Cruise spent $200,000 on Jennifer Lopezs twins Max & Emme Muniz on buying designer christening outfits for the two. Todays mums are happy to splurge extortionate amount of money keeping their kids stylish, chic to the detriment of their own style .This weakness has been well realized by the fashion retailers .They are well aware of this metamorphosis of children; their progressive nature. Today's kids are promising consumers, independent buyers. With nuclear family with both the parents working there is enough of disposable income, to spend on fashionable stuff which might be exorbitantly priced.
A flourishing industry:
Realising the potential, designers, fashion brands and retailers are looking at this segment closely. Recently, Global Kids Fashion Week as held in London. This catwalk was first of its kind where celebrity kids walked the ramp. Designers Paul Smith Junior, Junior Gautier, Chloe Little Marc Jacobs, I Pinco Pallino, Suzanne Ermann, Anne Kurris, Supertrash showcased their collection. Realising the potential, established brands like Tommy Hilfiger, Diesel jumped into the fray becoming active partners. Eyeing this segment, other designer labels like Versace, Dolce & Gabbana, Burberry and other high-end designers are planning fashions shows in the different parts of the world.
Earlier fashion predominantly used to cater to adults needs, but in modern days with the kind of exposure kids get they are equally self conscious and aware of their looks and aesthetics. The fashion industry now caters to children's designer clothing. Young children can now enjoy a varied and extensive range of fashion clothes, which helps them to set a fashion trend of their own. You can now find vibrant, unique, ingenious, stimulating, and attractive clothes for both the girls and the boys.
The entire mini-me-lines are divided in subcategories as per age into:
Infant clothing – age: 3, 6, 12, 18, 24 months
Toddlers clothing – age of two to eight
Children clothing age seven to twelve
Soft, comfortable, easily wearable, breathable are some of the features which should be there in all kids clothes. Kids wear are further classified as per it's functionality into-Casuals, Daywear, Nightwear, Sportswear, Party wear and high fashion wear. These occasional garments are the main sections retailers and designers concentrate on which fetch them maximum profit, focusing on manufacturing luxurious garments for children in various styles and prevailing trends.
It is estimated that the market for children's clothes is going to reach a value of US $173.6 billion by 2017 and it is expected that kids wear section is going to be or even more as depicted in graph.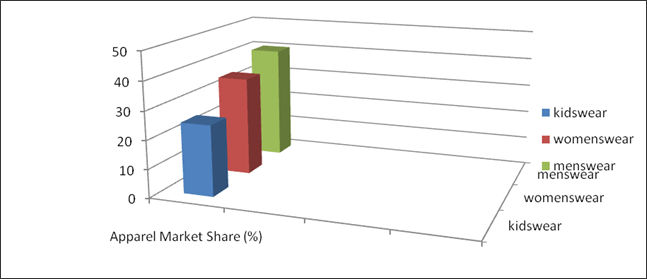 Reaching Indian shores:
Not surprisingly, the trend is fast catching up in India. Big retailers like Lilliput, Gini & Jony to international luxury brands like Zara, Mango, Diesel, H&M and Burberry all are spending lot of time and resources to launch the mini-me-lines. Domestic brands are trying their best to adopt latest trends followed by international brands which can be easily noticed in the Indian market.
Here, while on one hand brands slightly premium brands like Zara, Mango, Diesel, Burberry are playing with neon colors, stripes, animal prints, polka dots, cartoons on the T-shirt, accessories and underwear on the other more mass brands like Lilliput, Weekender, Catmoss are offering their range of ready-to-wear clothes and accessories in the price competitive segment.
Bright future:
There are many reasons why this segment holds tremendous potential. With the rise of incomes, more and more nuclear families in India are opening up their purse strings to splurge on kids' clothes and accessories. Special occasions, from birthday parties to festivals, offer big opportunities for the retailers.
Kid's fashion has given them options and exposed them to changing trends; It has given them new confidence not only about good appearance and attractive persona but also helped them in inculcating positive attitude – by helping them in creating their own individual look and their own unique style statement. Latest trends, gorgeous, dazzling kiddies couture and the endless accessories
further help to transform a plain cheap store bought outfit into somewhat of a fashion masterpiece. It also helps designer labels to start building a brand connect and a following much earlier in the lifecycle of aspirational buyers.
Kids fashion is a Fad and classic both – it's a long lasting craze, as in modern day kid's like to fit in, they like to look like their friend's and other kid's of their own age and dream to become not only fashion followers but fashion leaders in their own way.
References:
1. Suricruisefashion.blogspot.in
2. Instyle.com
3. Coolspotters.com/celebrities/zahara-marley-jolie-pitt/shop
4. Violetaffleckfashion.blogspot.in
5. Nydailynews.com
6. Shop.mango.com/IN/mangokids/clothing/girls-clothing
7. Zara.com