There is a vast diversity of culture in our country, and in terms of cuisine, Assam offers just the right kind of flavours to tickle your taste buds. With a wide variety of indigenous food to offer, the food of Assam is famous for its distinct flavouring and influences. Did we mention that it is a heaven for non-vegetarian lovers? Delicious pork, chicken, and mutton dishes will leave you craving for more.
1. Maasor Tenga (tangy fish curry)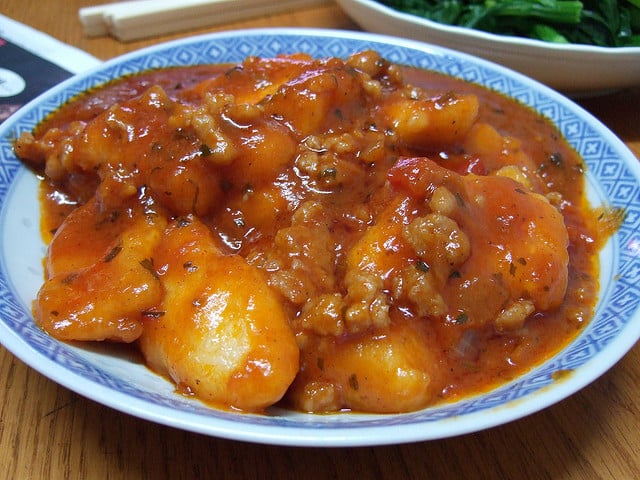 A household favourite, this graceful dish of Assamese cuisine is extremely refreshing on the palette. The fish is slow cooked in a rich,tangy broth made with tomato, outenga(elephant ear), and lemon. Ask any Assamese person about this dish and watch them drown in home-sickness just at the mention of it.
2. Baanhgajor Lagot Kukura (Chicken with Bamboo Shoot)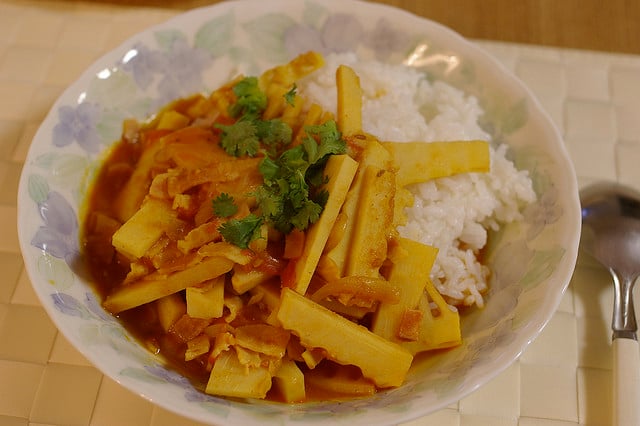 This is a unique dish of the food of Assam made with chicken meat, bamboo shoots and lentils. The taste of bamboo shoots is not very common and doesn't suit everyone but once you eat it, it leaves behind a unique taste which is generally complimentary to meat dishes.
3. Pitha – Home cooked Sweet dishes of Assam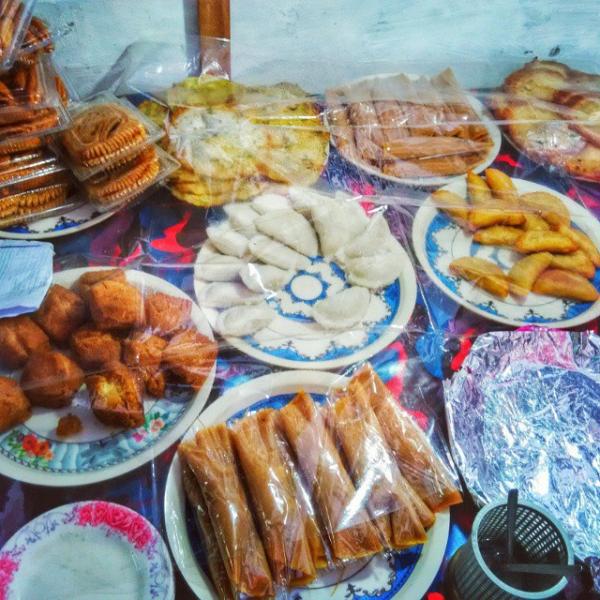 Pitha is one of the most popular snack time dishes, usually eaten at breakfast or with evening tea. There is a wide variety of pithas available. They can be sweet or savoury, steamed or fried, cooked in a many different techniques. This is one of the most technical foods of Assam and needs a lot of precision to get the dish to turn out correct.
4. Momos
Relished by all and the most popular of any northeastern dish by far, the versatile Momo traces its origins back to Tibet. You can find this traditional dumpling, steamed or deep fried, around any street corner in Guwahati and is a favorite snack with locals and visitors.
Stuffed with anything from mushrooms, paneer or vegetables to chicken, prawn or pork, these tasty, mildly flavored morsels are usually accompanied with a traditional Assamese chilli dip.
Where to eat: At the Ganeshguri Market in the southern part of Guwahati, you can find some of the best Momos you will ever eat.
This street market, a favorite among tourists and locals, where you can buy anything from garments to groceries, is worth a visit just to experience the local street food if not the bustling bazaar.
5. Jhal Muri
Every corner of India has its own variation on chaat. This sweet, sour and spicy mix of puffed rice, nuts, herbs and delicious sauces or chutney, jhal muri in Guwahati is very similar to bhel puri in Mumbai.
However, the flavours and combinations found in Guwahati are even more mouthwatering. Some made with mustard or local star fruit called kodoi, the Jhal Muri here is an explosion of flavor.
Where to eat: You should not have any trouble finding Jhal Muri around Guwahati. Its popularity as an evening snack with the locals rings true a custom the nation over. Served in paper cones and cheap as chips, you can easily find street vendors or hole in the wall shops all over.
6. Luchi
Luchi, a flat bread made with refined flour and deep fried, is almost identical to the poori found all over the country. Find roadside vendors serving this surprisingly light fried bread, hot and fresh, with vegetarian or non-vegetarian gravies.
A few seconds in the hot oil and its ready to eat; mildly crisp and delicious simplicity makes this the highlight of a meal rather than the side show.
Where to eat: If you are in any of Guwahati's commercial areas you are very likely to come across stalls and small shops selling mid-day meals served along with hot luchi.
7. Assam Tea
Home to the largest tea gardens on the planet and Assam's indigenous crop, tea from this region is the finest you will find anywhere. Enjoyed in the state and country, even exported the world over, Assam tea can be prepared in many ways, some distinctly Assamese.
You cannot escape a good cup of tea in Guwahati. Around every corner, at every stall and restaurant, and in every home, tea is the beverage of choice morning to evening. Served in some remote places with yak's milks and sometimes made salty rather than sweet, you will be surprised and inspired by the unique and traditional ways in which it is prepared and served.
Where to get it: If you are looking for souvenirs to take home, you can find dozens of varieties of tea grown locally in decorative packaging, especially perfect for gifting someone the true taste of Assam.
8. Thukpa
Satisfy not only your hunger pangs but every sense with this warming, traditional Assamese dish. Fragrant with lemongrass and ginger, along with a hint of fish sauce, this Tibetan-influenced noodle soup is full of flavours that meld deliciously into something umami.
A meal in itself, Thukpa, served either vegetarian or with shredded chicken, pork or prawns, garnished with spring onion and fresh herbs, the variety of textures and flavors feed the body and soul.
Where to eat: No need to make a reservation; you are in for a street treat! Not at any fancy restaurant but rather at street food vendors, specializing in this Assamese specialty. Head to the GMC Market where you can find many different variations on this true taste of Assam.
9. Chowmein
With close proximity to and strong Tibetan influences all over the region, it is no surprise that there are similarities in Assamese and Tibetan cuisine. Chowmein, famous the world over as a Chinese staple, is one such dish; even sharing names across borders.
Delicate handmade noodles stir fried with fresh crispy vegetables and shredded meat or seafood, Chow Mein can be found at road side carts selling this fast food all over the state.
Where to eat: Rebati Chat House on MN Road in Guwahati is popular for its Chowmein and other Chinese-inspired dishes.
10. Khaar
A truly unique Assamese preparation, Khaar is a heartwarming dish made with vegetables and pulses, the main ingredient being meat, fish or even duck.
This recipe has a rather unheard of step where water used for the preparation is strained through dried banana plant leaves which imparts an unexpected burst of unusual yet refreshing flavor.
Where to eat: You can see sellers of this specialty food with large pots next to pavements selling this Assamese dish all over market places in Guwahati especially towards lunchtime. Have a bowl full of this soul food served with rice or as is.
11. Silkworms
Tribals of Assam have some unusual foods on their plates. One of them is the silkworm. Fried crispy with spices on the outside and soft and cheesy on the inside, you will definitely love this snack if you didn't know what you were eating.
Fast becoming a hit in the city, too, grab a serving for an experience that will probably leave you surprised and asking for more.
Where to get it: At Inamsing in Guwahati Club on RG Road.
12. Masor Tenga
Tourism being a major industry all over the northeast and visitors keen on trying out local cuisines has boosted demand for quality produce. In recent years, Assam has seen huge growth and advancements in local fish farming as a result of this demand.
The Rohu is one fish that is farmed extensively in the region. Masor Tenga, a fish curry, traditionally made with this freshwater fish is savored by locals as well as visitors.
The light gravy, sour and filled of flavors of coriander and mustard, this piquant fish curry is probably the most well known in Assam. Usually served with rice, this delectable curry made traditionally with locally available Rohu fish in a tangy tomato sauce, can also be eaten as a stew.
Where to get it: Most local restaurants serve it, but to have a more authentic version, look for small mom and pop stalls selling this in market places.
13. Payash
Although Assam produces over 3 millions of tonnes of rice, the state still has to import more to meet the population's demand. Rice being the main crop of local farmers is indicative of the important role rice plays in the lives and diets of the people.
It is no wonder then that one of the most common desserts in Guwahati is also made with rice. Payash or Payas is a sticky rice pudding, sweetened with palm sugar, mildly flavored with cardamom and saffron and garnished with dry fruits and nuts. Eat this deceptively simple milk-based pudding hot or cold but be sure to try it.
Where to get it: Nearly all local restaurants will have this as the dessert.
The next time you happen to be in Guwahati, be sure to look around and you will be surprised to find a treat around every street corner!