Pune is the cultural capital of the Maratha region and unsurprisingly, food is therapy for most Punekars. Right from food carts to Khao Gallis, the city has it all to allure gastronomic connoisseurs and hungry souls alike. Street food in Pune is more like comfort food, and fresh ingredients and authentic flavors are concocted right in front of your eyes – something you cannot expect even in an exorbitantly priced five-star restaurant! While you are in the city, do not miss out on the signature street grubs like Misal Pav and Bhakarwadi and many others. Excited to take a gastronomic tour through the city's streets? Let us take a quick look at the street food specialties of Pune and the famous venues that serve these delectable quick bites at affordable prices.
1. Sabudana Vada, Pune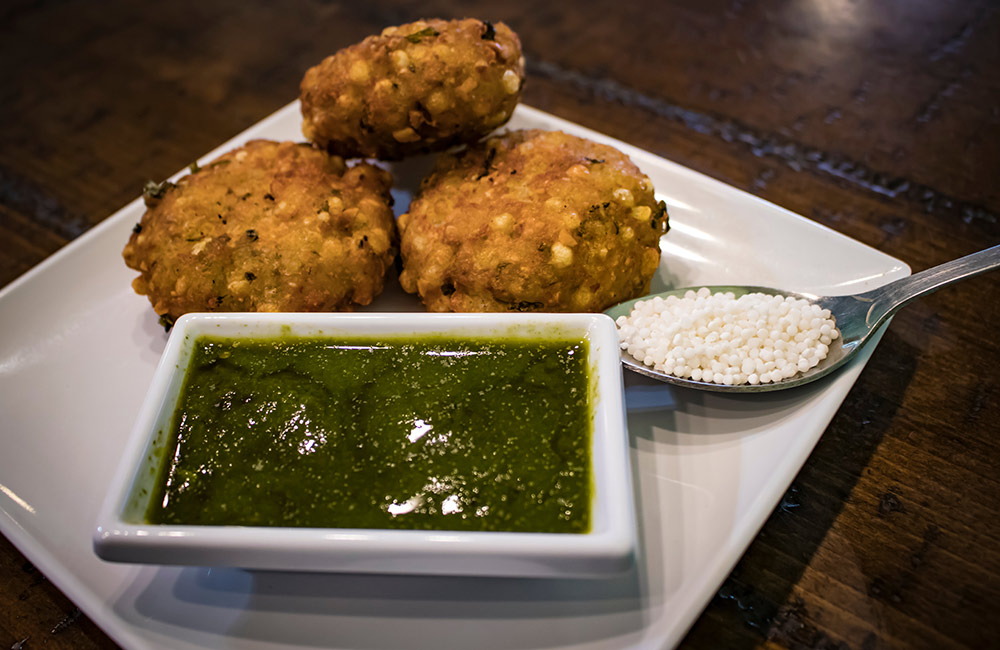 Sabudana Vada
The next famous desi treat is Sabudana Vada, a hand-patted and deep-fried tea-time snack served at the best street food places in Pune. The pearl-shaped ingredient sago is blended with mashed potatoes, coriander, peanuts, and chilies to give you a rich-textured batter that is deep-fried in oil. This delicacy is crispy on the outside and chewy inside. Even though the ingredients are simple, the joy of eating this snack is sensational. Be warned that this crispy treat is super addictive with a cup of steaming hot chai. It is usually served with mint chutney, date chutney or simply with ketchup. Get ready for gupshup with friends and some lip-smacking Sabudana Vada on the streets of Pune!
Where to Try: Hotel Vaishali (FC Road), Stalls at JM Road, Shrinathji Sabudana Vada (Rameshwar Chouk), Wadeshwar FC (FC Road)
2. Meat Kebabs, Pune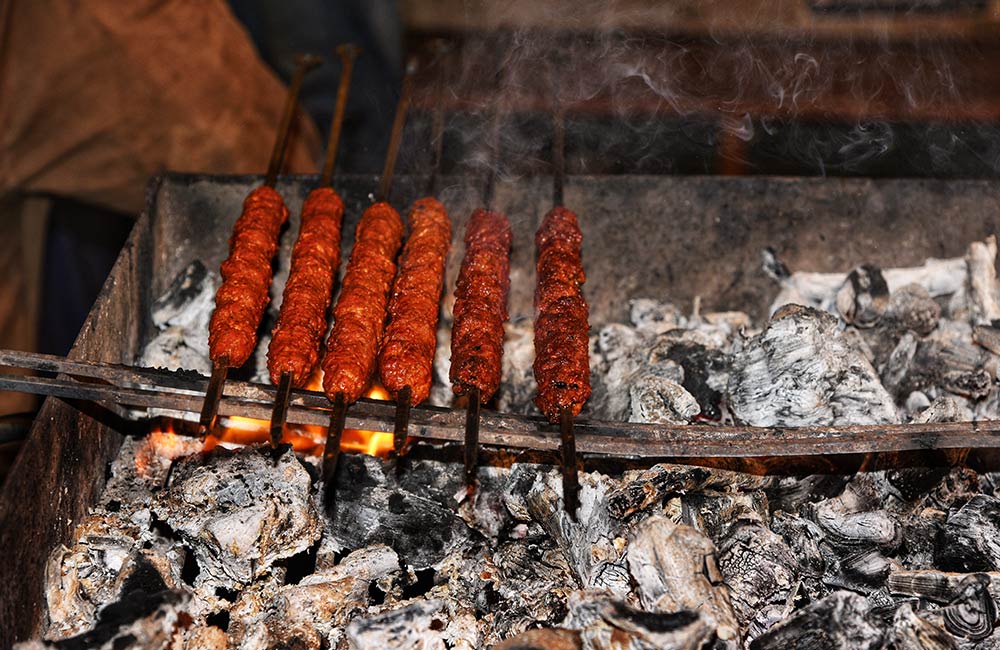 Meat Kebabs
Carnivores too can gorge on Pune's indulgent street food! The best non-veg street food in Pune can be found in the Camp area. Mutton Seekh Kebabs, Beef Kebab Rolls, and Tikkas near the High Spirits pub are melt-in-the-mouth and can get you high on protein. These meat treats are more sumptuous than the ones you get at any of the fine-dining restaurants or pubs in Pune. The kebabs available at hawk carts, food stalls, and street shops are well-prepared and great to go with chilled beer or any other beverage of your choice. So when you want to indulge in some meaty delights, you should be opting for the street food in Pune Camp.
Where to Try: Garden Seekh Kebab (Camp), Radio Hotel (Camp), Al Hifazat Kababs and Caterers (Shastrinagar), East Street Café (Camp)
3. Momo, Pune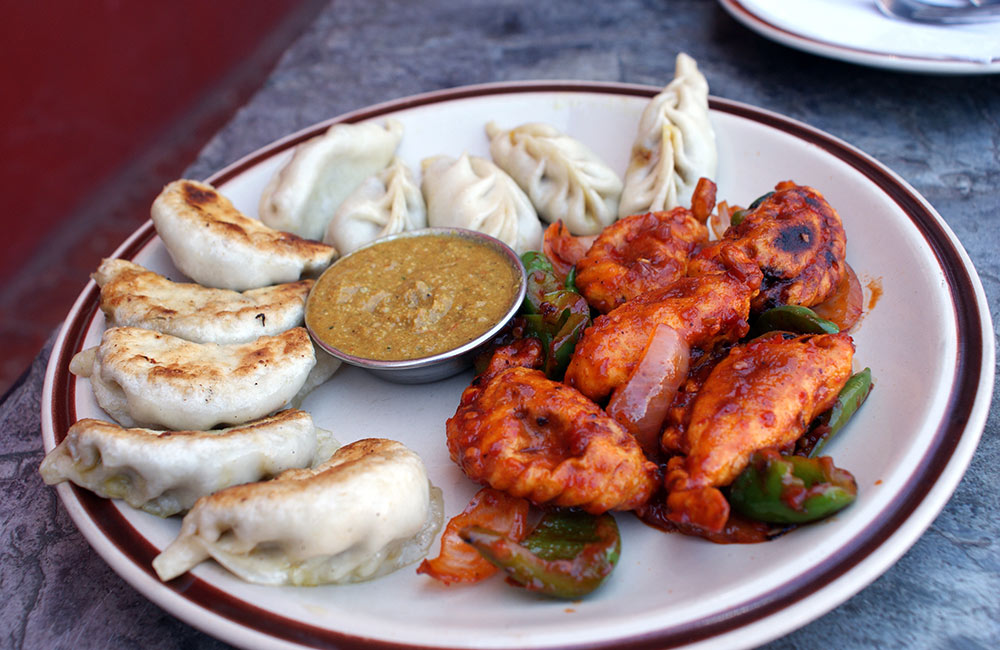 Momo
While taking wholesome bites of street-style steamed or deep-fried momos in Pune, you cannot help recalling your college days, we bet! Momos are best eaten hot and fresh right out of the steamer/fryer. They make for great evening time snacks or late-night munchies after an exhausting day around the fun places to visit in Pune with friends. This Tibetan delicacy comes with veggie, soy, meat, chicken, and cheese fillings. The conventional momos have also been twisted to give you its tandoor-style alternative. This is one dish that you can conduct unlimited culinary experiments on by altering the cooking style to suit the palates of calorie-conscious foodies, fried food lovers, and desi delight fanatics. And in Pune, you find it all!
Where to Try: Momo's Corner (Koregaon Park), Peter Momos Centre (Bavdhan), Hot Momos (Shivajinagar), Fuapullo Chinese & Momos (Vadgaon Bk)
4. Egg Rolls, Pune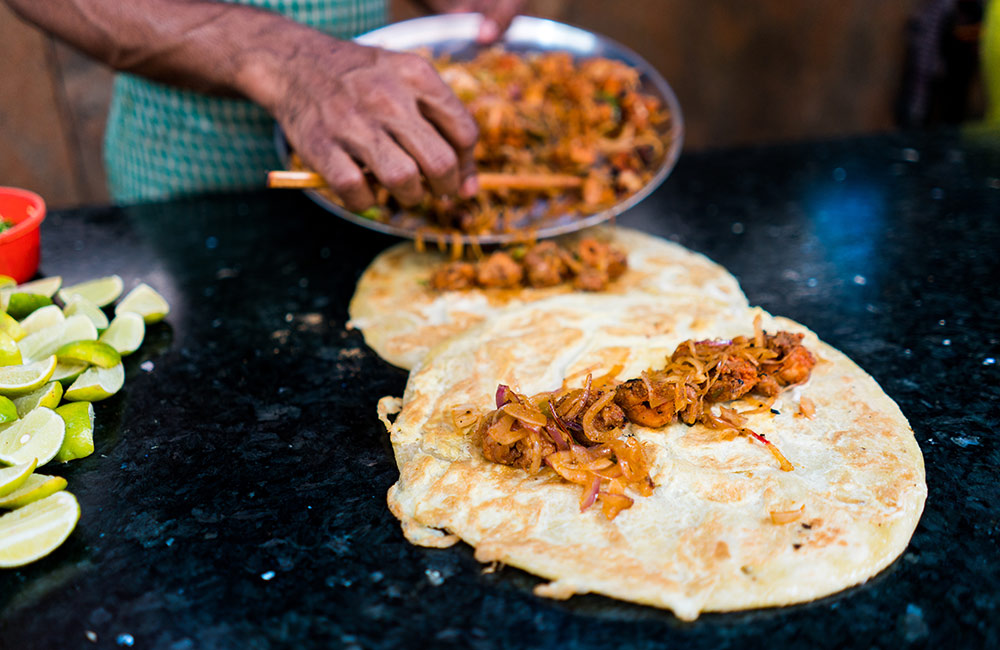 Egg Rolls
Pune offers its indigenous twist to the famous Kolkata egg rolls! By keeping the eggs fluffier and adding in caramelized onion, sautéed veggies, and a dash of lemon juice, the Kolkata rolls have been given a worthy makeover in Pune. Some outlets even serve this appetizing dish with cheese, chicken, and meat fillings. The wholesome outer part is made of either wheat or all-purpose flour dough. The same is rolled using a pin and heated on a pan to perfection. The filling is prepared separately and generously stuffed into the rolled bread. Take one bite, and ah, that's the beginning of an eternal love affair between you and the egg rolls!
Where to Try: Flavors of Bengal (Wanowrie), Kolkata Rolls (Kharadi), Rolls Mania (Multiple locations), Roll Club (Ideal Colony)
5. Parantha, Pune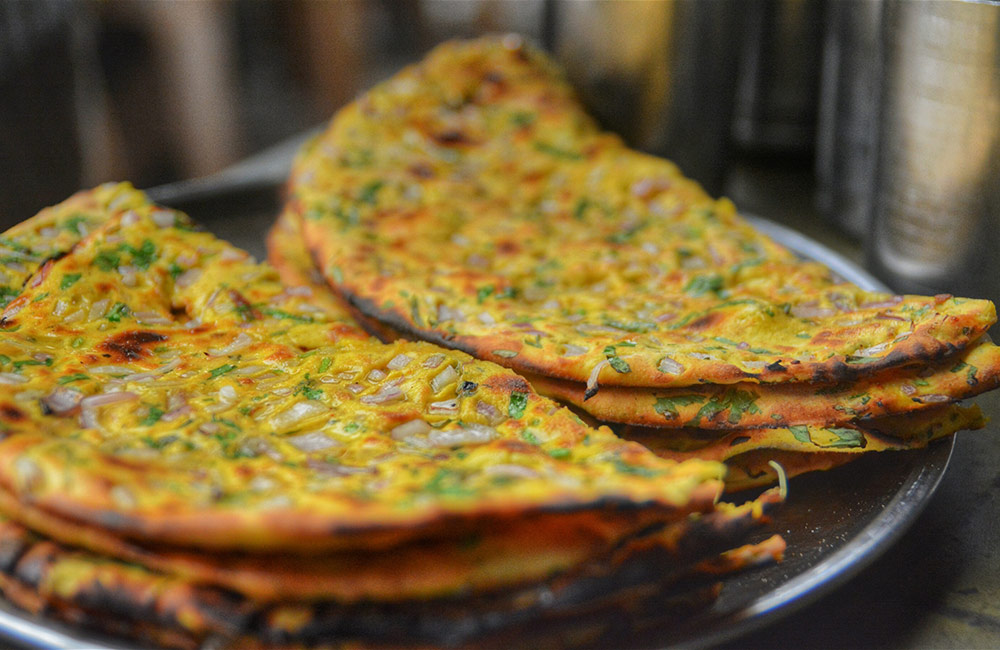 Paranthas
This Punjabi specialty is a favorite breakfast delicacy in many places. The same has been adapted to the food palates of Punekars at Pune's best street food joints. And the varieties served here will blow your mind. Aloo, Gobi, Mooli, Paneer, Palak, Onion, and mixed veg paranthas are served along with the Pizza version of this Indie delight at the best street food places in Pune. A dollop of the finest desi ghee melting on the hot parantha with the twist of achar is enough to make you fall in love. So, while in the city, don't miss the golden opportunity of savoring this epicurean enigma in all its splendid versions.
Where to Try: Chaitanya Paranthas (Multiple locations), Nandu's Paranthas (Baner), Shahji Parantha House (Raviwarpeth and Deccan Gymkhana), House of Parathas (Shivajinagar)
6. Chaats, Pune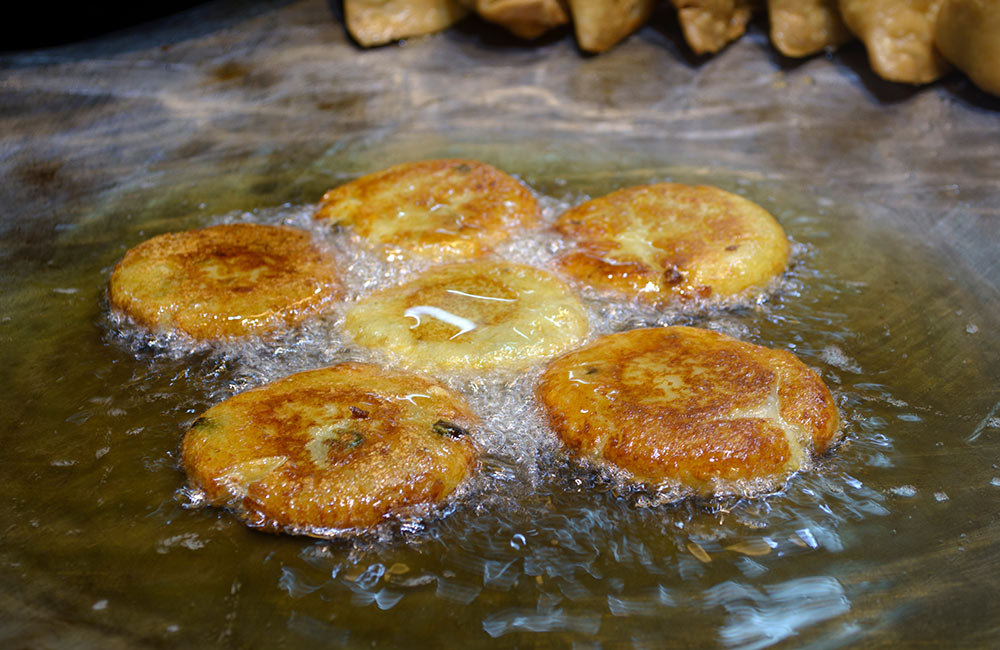 Chaats
Any hardcore desi foodie would naturally associate street food with chaat and who can blame them! Like many other cities in the North, Pune too has several chaat stalls lining its streets. In fact, the joy of having street food in Pune at night is given a new dimension by these stalls and food carts serving the delicacy until late at night. Usually consumed in the evening, the top-selling chaat items in Pune include:
Pani Puri: A set of deep-fried crispy Puris stuffed with a mixture of mashed potatoes, chaat masala, onions, chopped coriander leaves and topped with tangy jaljeera and sweet tamarind chutney.
Bhel Puri: A healthy mixture of puffed rice, onions, tomatoes, green chilies, sev, groundnuts, coriander leaves, mint leaves, chaat masala, red chili powder, mint chutney, and sweet tamarind/date chutney.
Kachori: A deep-fried savory item with a crispy outer cover made of flour and stuffed with a mixture of lentils, raisins, and other exotic ingredients.
Dahi Papdi Chaat: The crisp wafers made of gram flour and maida are topped with mashed potatoes, onions, dry peas, spicy mint chutney, sweet tamarind chutney, plain yogurt, and sev.
Aloo Tikki Chaat: Potato Patties are topped with chickpeas masala gravy and garnished with coriander leaves and sev.
Samosa Chaat: It is the same as Aloo Tikki Chaat, but with Crispy Punjabi Samosa used instead of Aloo Tikki.
Where to Try: Shegaon Kachori Center (Deccan Gymkhana), Dilli Chaat Darbar (Salunkhe Vihar Society), Om Jai Shankar Pani Puri (Jaan Mohammed Street), Natraj Bhel and Chaat House (Viman Nagar)
7. Bhakarwadi, Pune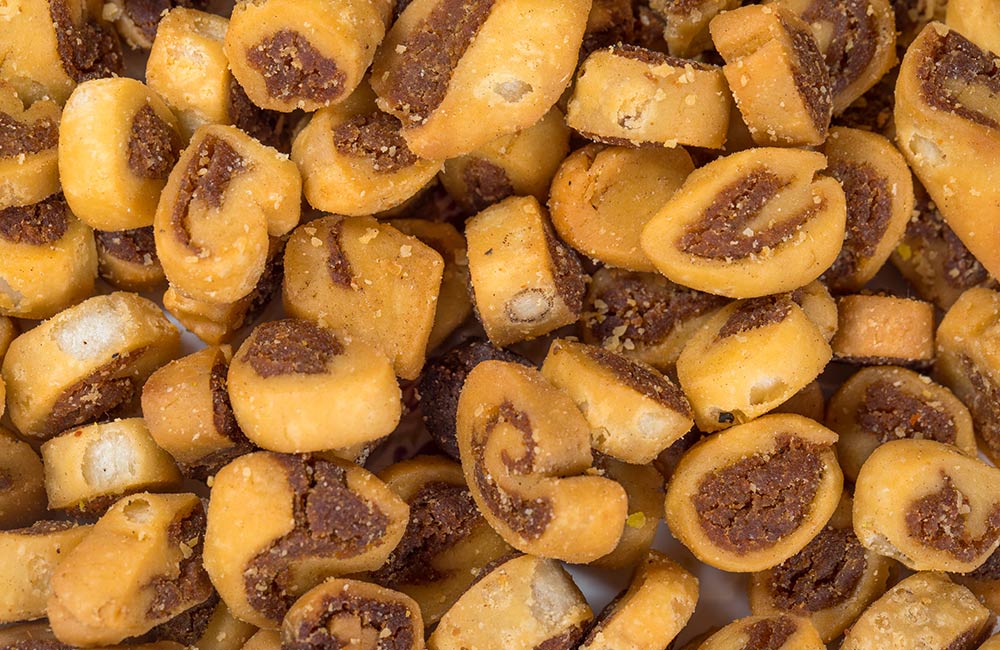 Bhakarwadi
These yummy little savories are tea-time crispy delights and are dearly loved by Punekars. The dough is made of all-purpose flour and blended with spices into a coarse powder. The same is rolled and deep fried to give you golden brown bites. Usually relished during the winters, Bhakarwadi has many variants, with a twist of sweetness and spice added to the basic recipe using dates and dry fruits. Don't let yourself feel guilty if you had to leave the city without tasting it. You can take some back home! You will get Bhakarwadi in any specialty Mithai store in Pune.
Where to Try: Chitale Bandhu Mithaiwale (Deccan Gymkhana and Sadashiv Peth)
8. Bajri Vada, Pune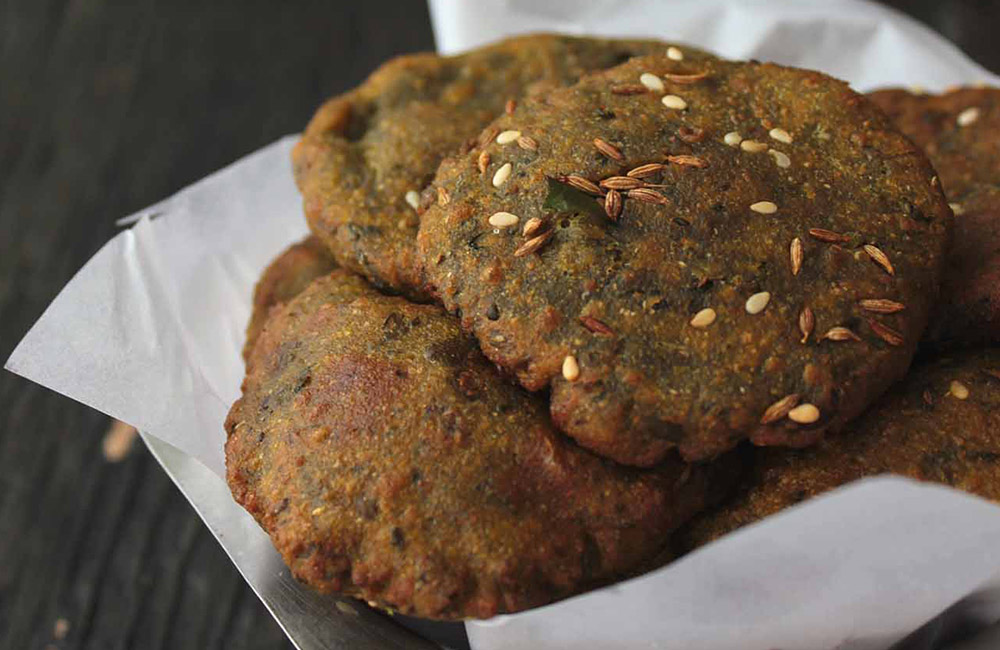 Bajri Vada
Bajri Vada is a Gujarati street delicacy that has been welcomed into the Pune street food scene recently and for all the right reasons too. These crispy and soft patties made of pearl millet flour infused with herbs and spices are magical in the mouth, to say the least. They go well with hot masala or ginger tea and are great stress busters. These healthy eats have a substantial nutritional value that gives you guilt-free indulgence.
Where to Try: Shri Mahila Griha Udyog (Erandwane), Sukanta (Deccan Gymkhana), Khandani Rajdhani (Viman Nagar), Namo Thali (Shivane)