Numerous locals queue up at local street stalls in Shillong to get their daily fix of Tungrymbai. The dish is popular in Meghalaya. Fermented soybeans are used to cook this dish. Its an unique dish here, since these soybeans are produced here only. You'll not be able to find out this dish anywhere in India except North-East India. you can eat it along with bread or Roti. Tungrymbai – you can find it in local markets and around the streets of Shilong.
Dohneiiong:
Another favorite you don't want to miss out on in Shillong. Pork cooked with black sesame seeds and soy sauce. The toasted sesame seeds, often found in Chinese cooking, takes this dish to another level altogether. Dohneiiong can be found at many food stalls in and around the main city center as well as near the Police Bazaar.
Momos:
You may have eaten momos any number of times, but you've got to try them here. Popular in the northeast region of India, momos are best eaten with spicy-tangy chutney (a blend of dried red chilly and vinegar). From street stalls to local eateries, many restaurants in Shillong serve fresh and hot momos with different fillings. Pork and chicken momos are very popular with the locals. If you would like to avoid street food, a well-liked restaurant is Hotel Broadway on GS Road, & Lamee Restaurant.
Smoked meats:
Smoked meats in Shillong (and all across northeast India) are very popular. You'll see meat being smoked all across the city and even more often once you get out. There are restaurants and food stalls all around serving these smoked meats. From pork to chicken, smoking is quite a popular cooking technique with a large section of locals. Smoked and grilled meats are eaten during the colder months in Shillong.
Jadoh:
This dish is Shillong's specialty. Rice drenched in a flavorful mix of sour and spicy, topped with an assortment of herbs like mint leaves and ginger flower, along with pork meat that packs a real punch. Jadoh is a Meghalaya treasure found everywhere on Shillong's streets. A popular place to urge Jadoh from is Jadoh's in Don Bosco Square or Trattoria in Police Bazaar.
Dohkhlieh:
A popular pork dish without a specific recipe, local eateries have many different ways of preparing Dohkhlieh. Women folk come to markets every morning with their concoction. It can be described as a salad made using pork, onions, and local spices. Don Bosco Square is where you'll find it most easily.
Pukhlein:
Another popular dish in Meghalaya, Pukhlein is prepared from fermented rice. As it is one of the few desserts in Shillong, nearly every restaurant in the city will serve it.
Chilly Pork:
Indo-Chinese cuisine is an important part of the Meghalaya food scene. In Shillong, you'll find plenty of Indo-Chinese dishes. Among them, chilli pork is perhaps most famous. In the main market area, local Chinese food stalls serve freshly cooked spicy and hot chilly pork portions at very reasonable prices.
Pineapples: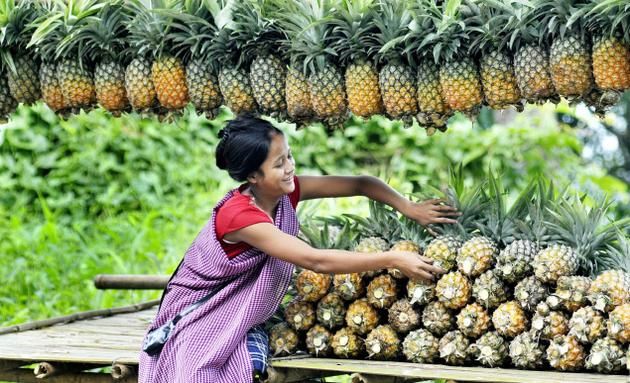 Pineapples are easily available in Shillong. Most reasonably, you would find the giant Kew variety. It's very delicious. Sweet and tender, Street vendors are found selling cleaned and cut pineapples with a tangy masala sprinkled over it. You can head towards any local market on this delicious fruit.
Shillong is a food lover's paradise. The city offers a lot of dining options, making it difficult for one to choose. There are plenty of street foods available in Shillong, but these are some of the best dishes to try if you are visiting the city. Does your city or state offer the same variety of food that Shillong has to offer? What are some of the favorite street food dishes that one should try in your city and state? We would really like to know.