Well, 2020 has turned into quite the firestorm of a year- but at least the 2020 bag and purse trends are a thing of beauty. While you might not be out displaying your arm candy at the current moment, that doesn't mean you don't want to study up on the latest handbag trends. One day, you'll be abke to wax poetic about how you were into the trend waay before it got cool, like some sort of sartorial hipster bedecked in full-rimmed eyeglasses and lumberjack flannel. Hell yeah!
2020's fashion trends are influenced by the latest runway shows and street style (if not youth culture—shoutout to VSCO girls and this resurgence of Crocs). According to fashion week, we'll be seeing a lot of sling bags, oversized totes, teeny weeny-mini bags (like seriously itsy bitsy), slouchy clutches—oh and croc-embossed handbags are coming back, too. (You heard it here first.) All throughout fashion month, models strutted down catwalks wearing next year's wardrobe, while we took notes and surrendered our faith in fashion to the runway gods who have set the precedent for our mere mortal wardrobes in the year 2020.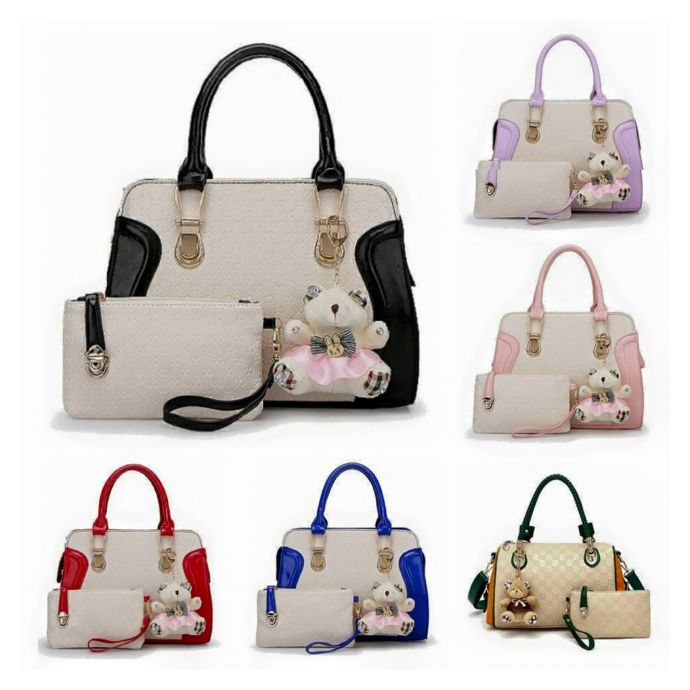 I must say, if any of the fashion trends I'm about to hit you with sound ridiculous to you, know that that's because we're living in a weird limbo right now. In time, we will understand. (It's like that one scene in "The Devil Wears Prada" where Andy is getting chewed out by the holy Miranda Priestly for scoffing at some cerulean belts and undermining the viral influence that fashion has on our everyday lives because she is but an imperfect mortal being who just needed to open her eyes. Yeah, this is exactly like that.)
So now what can you do with this information, you ask? Well, not only can you boast about having the 411 to your friends, you can also comb through shops and snag these bags ahead of the crowd. Heck, you might even find one for a great deal before retailers catch on and start selling them at seriously ridic prices. Or you can just satiate your curiosity by scrolling through and reading up! Whatever you want to do! (It's your life, not mine.)

I work in fashion, so my friends (and strangers I meet at parties) are constantly asking: "What trends should I know about?" And I always have an answer. After all, I've prepped for this. I skim retailers' trend reports, keep a pulse on what went down on the runways, and peruse shopping websites for the latest product drops. (My wish lists are never-ending.) Though I can toss out new clothing trends in my sleep—for a refresh on those for 2020, here you go—there's more to the story. Aside from the ready-to-wear trends, there are the must-have jewelry, shoes, and bag trends to consider.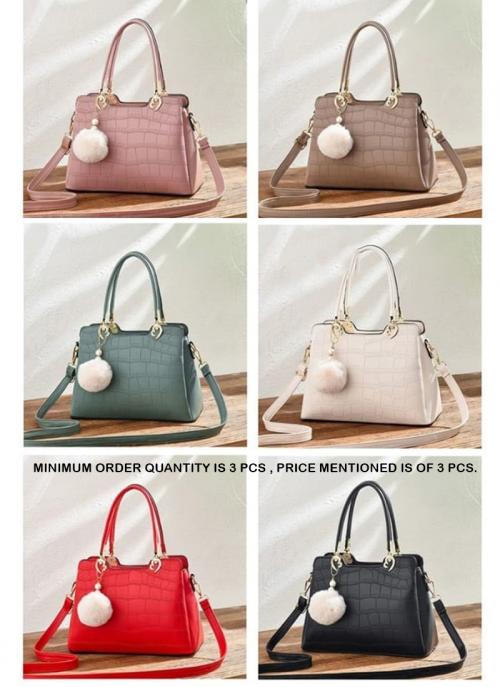 For the handbag obsessives, let's dive into the latter a little more. This year will bring a fresh array of bag designs, and already we've gotten a sneak peek of what both spring and fall 2020 collections have to offer. In order to make all this information digestible, here are the top bag trends to know for 2020. Bookmark this page or text it to your group chat, because everyone deserves to know about the latest must-buy arm candy. Quilted bags of all sizes and colors ran the gamut on the runways, from Alexander McQueen (pictured above) and Burberry to A.W.A.K.E. Mode. This classic style lends an air of sophistication to any crossbody or tote bag you choose for the 2020 season. Like most things in fashion, what is old eventually becomes new again, and quilted accessories will have its moment this year. Whether you end up choosing one from the likes of Chanel (Coco Chanel first created her quilted leather 2.55 handbag in 1955!), which is a timeless choice, or from other more contemporary designers out there, this style is sure to last you a lifetime.
Chain Embellished Bags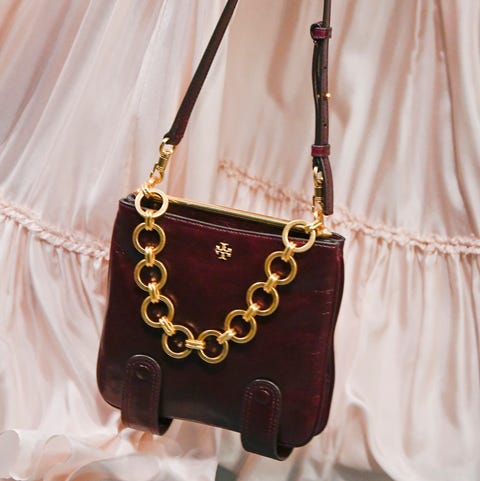 Victor VIRGILEGetty Images
Chains are popping up everywhere, from your jewelry to shoes and now handbags. Look for your favorite totes, satchels, and minaudières to all receive a chain strap as an added detail. Tory Burch's fall 2020 collection debuted a host of chain-embellished handbags (as pictured above) while JW Anderson decided to make it the statement design on its accessories. Meanwhile, Ulla Johnson offered glamorous thick, braided chained bags on its fall runways. If you're feeling ambitious and crafty, you might even want to DIY your own gold or silver chain on a bag in your closet.
Puffy Pouches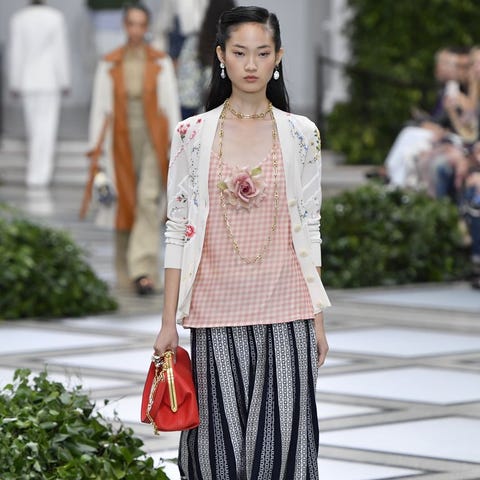 Getty Images
Overnight, it seemed like every fashion girl had Bottega Veneta's gathered leather bag under their arms. It's cool, minimalist, and tasteful—everything you want in an It accessory. The fervor for this style will only continue to grow in popularity as more designers create variations of these cloud-like pouches in different colors and sizes.
Shoulder Bags
One of the most popular handbag options, the shoulder bag comes in a range of materials, designs, and hues. The holy grail of the shoulder handbag world is of the designer variety; these are usually flat and rectangular in shape, manufactured from high quality leather, and have dual handles. Think: Prada, Michael Kors, and Kate Spade.Related Articles
Even though it's called a "shoulder" bag, many have both short handles and longer shoulder straps; often women just prefer to hold the handles of this fashion accessory or wear it on their arm for a casual, effortless look.
Tote Bags
There are different styles of tote bags, and they can come in many prints and colors. Some, like shopping totes, are similar to shoulder bags but they are often larger and roomier for shopping purposes. The idea is to be able to fit a number of recently purchased items into this type of bag with ease. There are also other types, like executive styles, that are sleek but functional. A tote is almost always rectangular in shape, but sometimes the width of the bag is larger than the length or vice versa.
Crossbody Bags
Crossbody bags are huge on the handbag scene because they make life easier. They allow you to have your hands free while you're on the go or have other items to carry. These bags got their name as they have a long strap that's designed to be worn across the body. Some women also perch this strap on their shoulder to enhance the high-fashion, thrown-together aspect of this accessory.
Satchels
Satchels are like crossbody bags but they are more specific in shape. Crossbody bags can be circular or square and have a zip or clasp fastening, whereas satchels are almost always rectangular in shape with an envelope flap and dual buckle fastening. These make great everyday handbags.
Furthermore, as well as having the long crossbody strap, satchels tend to have a singular, short strap along the top that makes it easy to grab in a hurry.
The Clutch
Clutch bags are perfect for nights on the town, date night, or more formal occasions. From beaded and boxy to soft and slouchy, there are plenty of options available to suit every budget and personal taste.
The only downside with clutch bags is the amount of space that they have for your important belongings. You might find that you can only take the bare minimum with you to your special event, like your keys, cards, and phone.
The Bucket
Bucket bags earned their name from their unique silhouette. Typically, they are fastened with a drawstring around the top and have a long, crossbody strap. Sometimes they have a shorter strap in addition to this.
Whether you prefer the sturdy leather or cute embroidered versions, the bucket bag is a larger bag that tends to have plenty of storage for all your possessions, making it functional as well as fashionable.
Duffle Bags
Traditional duffle bags are practical and the perfect answer for busy moms, college students, or gym-goers. They tend to be large in size and boxy in shape so that they can fit a lot of items inside. However, barrel-shaped bags and mini duffles are popular fashion choices for everyday casualwear. They typically have two short handles and one long strap to wear it across your body for convenience.
In terms of materials, duffles tend to be made from waterproof canvas or nylon, which make them extremely easy to clean. For a more luxurious feel, you can opt for a leather duffle bag. Mini duffles and barrel bags can be done in fabric, leather, or other materials.
Hobo Bags
Hobo bags are essentially shoulder bags with a particular silhouette. They are well-known for their roomy practicality and chic aesthetic.
Typically, this kind of handbag is slouchy in a half-moon or trapezoid shape with a single handle and curved zip fastening. However, other variations that are more boxy, have two handles, and fasten with a press stud are also extremely common.
Messenger Bags
Loved by men and women alike, messenger bags are designed to suit certain lifestyle demands. Whether you're a school student, a business professional, or an on-the-go mom, these handbags are slim yet roomy and usually contain many pockets to help keep you organized.
Messenger bags can be large or small in size depending on your personal requirements, are usually rectangular, and have a long strap so that they can be worn across the body for ease and comfort.
Backpack Purses
Undeniably the most practical handbag option, a backpack purse is ideal for those who prefer hands-free handbag options. Backpack purses have two shoulder straps and are designed to be worn on the back, so they evenly distribute the weight of your everyday essentials to prevent shoulder or back injuries.
They may vary in size but are usually much smaller than a typical backpack. Though this is a more casual bag style, there has been a surge of stylish options in backpack purses, including designer looks.
Showcase Your Personality
Even though handbags are practical first and foremost, they can also used as a fashion accessory to finish off or add interest to an outfit. Don't be afraid to experiment with different options to find out what works for you in terms of your lifestyle needs, your personality, and the occasion.