Jaisalmer is a place with a lot of character, a beautiful yellow stone that reflects the sunlight. The entire town has a golden feel in the afternoon. Jaisalmer is referred as a paradise for Shopaholics, tourists (especially for those looking for authentic Rajasthani items), and regular window shoppers as well. Unlike high-end boutiques, shopping malls, and designer labels found in metropolitan cities, shopping in Jaisalmer is a completely different experience to all travelers alike.
The famous markets of the city give you a complete tour of the rustic charm of the Golden City. The age-old traditional markets of Jaisalmer enable the Shopaholics to savor the essence of the ancient Rajasthani culture, for which the travelers from around the world flock to this colorful paradise. When strolling down the street markets in Jaisalmer, you will come across many antique shops. From brassware showpieces to copper pots and a lot more, the items available in these shops may seem less expensive from outside. However, when you go inside, you will be pleased with the amount spent on these items.
Jaisalmer is famous for special and exquisite mirror-work embroidered garments, unique camel hair carpets, old stonework items, oil lamps, colorful fabrics, silver jewelry, silk textiles, wooden items, and blankets. All these items can be availed at very reasonable prices.
Jaisalmer is a paradise for shopaholics, tourists (looking to buy authentic Rajasthani items) and even regular window shoppers. What better place to shop than the oldest market in the city – Pansari Bazaar. Known as the villager's market, Pansari Bazaar offers ethnic and traditional items in large varieties and quantities. It is the best place to look for some typical Jaisalmer goodies like bells, puppets and wall hangings. The colors, prints, patterns and materials are simply marvelous. With such a wide range of knick-knacks to choose from, you can take back a bit of Rajasthan with you when you leave Jaisalmer.
Pansari Bazaar is Jaisalmer's oldest market, which is saying something when you consider the age of this ancient Rajasthani gem. Prepare yourself for sensory overload – the colours are bright, the sights, sounds and smells are bold, and the vendors are brash, but well-meaning and cheerful. Shop for stunning textiles and remarkable art that cannot be found anyplace else in the country, and rub elbows with locals and families that have called this ancient fort city home for generations.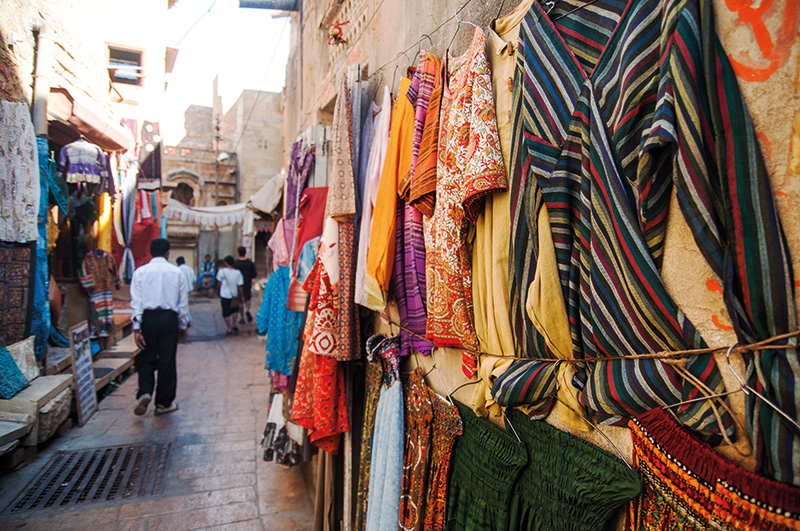 Jaisalmer
There's no better place to shop than the oldest market in the city – Pansari Bazaar. Commonly and popularly referred as the villager's market, Pansari bazaar puts forward exquisite ethnic and traditional items in huge varieties and quantities. This is the best place if you are looking for some typical Jaisalmer goodies like puppets, bells, and wall hangings. The colors, patterns, prints, and materials are just marvelous. With such wide-ranging variety of knickknacks to choose from, you will surely take back a bit of Rajasthan with you when leaving Jaisalmer.
How to reach Pansari Bazaar
The Pansari bazaar is located just 1.5km from the Jaisalmer railway station and 0.2 km from the Jaisalmer Fort. You can book a cab from the railway station or use public transport, like rickshaws, to reach the bazaar. Pansari bazaar is its own landmark and easy to reach from any part of Jaisalmer.
Timings
The market is open from 10.00 AM to 6.00 PM. You can visit any time between these hours depending upon your schedule and the weather.
There is no best visiting time or "no rush" hours as there is all day rush in the market.