India is one of the leading providers of onshore wind, with Jaisalmer Wind Park one of the country's most important sites, generating more than 1,000MW of power. It comprises of a cluster of wind farm sites within Jaisalmer including Amarsagar Badabaug, Tejuva and Soda Moda among others. The wind park houses projects of various companies including Mytrah Energy, Hindustan Zinc Limited, Hindustan Petroleum Corporation Limited, Rajasthan State Mines & Mineral Limited, Rajasthan Renewable Energy Corporation Limited and Rajasthan Gums Limited.
The Wind Power Project Jaisalmer (WPPJ), installed capacity of 50 MW is located at Village-Lakhmana, Tehsil- Fatehgarh, Dist.-Jaisalmer (Rajasthan) has been setup by NHPC through EPC contractor i.e. M/s INOX Wind Limited.
The contract price for the entire scope of works under the EPC contract was Rs 302.50 Cr & O&M contract for 10 years was Rs 47.55 cr.
Power Purchase Agreement has been singed with Rajasthan State Discom. Further, Project has been registered under Generation Based Incentive (GBI) @ Rs 50 Paisa at IREDA and Renewable Energy Certificate (REC) at NRLDC respectively.
Presently the power station is in Operation stage through O&M Contractor M/s Inox Wind Limited, Noida for the period of 10 years.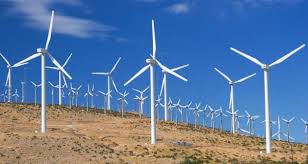 The Jaisalmer Wind Park, India's Largest operational onshore wind farm developed by Suzlon Energy in Jaisalmer, Rajasthan
The Government of India is offering various fiscal and financial incentives to promote wind power projects across the country via private sector investment. Through the National Institute of Wind Energy (NIWE), the government has installed more than 800 wind monitoring stations.
The assessment undertaken by the country's National Institute of Wind Energy suggests a gross wind power potential of 302GW in India at 100m above ground level.Jaisalmer Wind Park
India's largest operational onshore wind mill farm, Jaisalmer Wind Mill Park is located in Rajasthan near the Yamuna River between the Vindyha Mountains and the Himalayas.
Tourists often like to visit this park to witness these massive windmills and know more about them, this huge windmill project attracts people as a lot has been spread and heard about them.