Food is an integral part of the culture of India. Wherever we go we get greeted with several items right from drinks to the mouth-watering desserts. Being a connoisseur of good food, Gujarati food has always pulled me. Our taste buds are quite different and the different states have a variety of food. We see a severe difference between the food of North India and South India. Most of us love both of them. One very popular cuisine in India is the Food of Gujarat. We are mainly accustomed to seeing it in sweet shops but it is as diverse as their culture.
Gujarat State is Located on the Western side of India. The state's capital Ahmedabad is an important city in India. Gujarat has a distinct flavour to their food and their use of spices stand out the most. The state is also a predominantly vegetarian state, so most of the delicacies belong from that category. Gujarat uniquely combines the sweet and savoury tastes into the same dish. In Gujarati Food a wholesome meal gets a priority. So, let us see some of the dishes that are a must try.
1.Dhokla – The King Of Gujarati Snacks.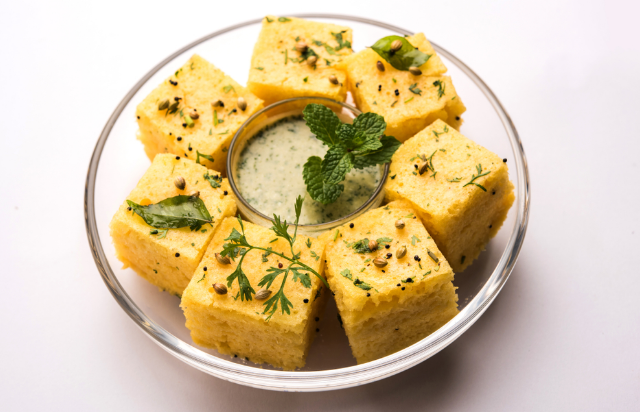 This is the most famous Food item of Gujarat that almost, every Indian knows about. Dhokla is a widely eaten Gujarat Food Dish for breakfast or as a snack. Fermented rice and chickpeas are the main ingredients of this dish. Due to steaming the dish comes out quite fluffy. The Dhokla is then garnished with fried mustard seeds, green chillies, cumin seeds and grated coconut. People enjoy dhokla with sweet chutney and coriander chutney. Dhokla is also found in several other forms like rawa dhokla, besan dhokla or khatta dhokla. Another similar dish is the Khaman dhokla which gets entirely made from gram flour. They may distinctly be fluffier and lighter in colour.
Dhokla is Best Served With: This dish goes well with chutneys of all kinds. Dhokla may work as a  complimentary dish or it stands out alone as a snack.
2. Stuffed parantha (stuffed Indian flatbread)
Parantha or paratha is an Indian flatbread made from wheatflour dough (atta) and is cooked almost every day in many parts of the country. When this flatbread is made with a variety of spicy stuffings such as potato masala, paneer curry, fenugreek (methi) leaves, cauliflower stuffing (gobi) and so on, it is called a stuffed parantha and is often served with curd and pickle. Did you know, there are over hundreds of varieties of stuffed paranthas in India. One of the popular household name in stuffed paranthas is the aloo parantha made with potato stuffing. It is a frequent breakfast in Ahmadabad and a must-try delicacy.
3. Rotlo
A common food of many in the state of Gujarat now is becoming an attraction in hotel menus of other states too. Rotlo is bread made of Maize/Millet flour, often taken along with raw white onion, green chillies, Ringan Odeo and butter milk. The combination is surely irrefutable, but Rotlo when combined with jaggery and hot Ghee is totally unbeatable.
4. Sev Usal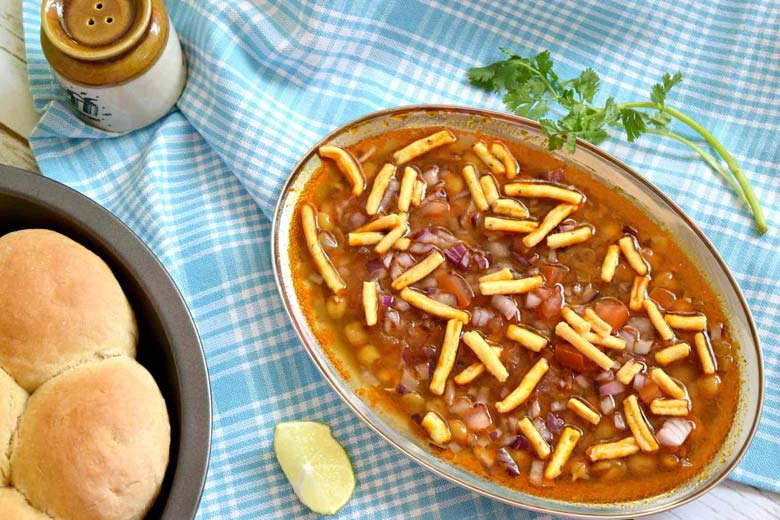 Sev Usal
Sev Usal is a delicious local snack that comes in many varieties as well as is composed of peas, a range of Indian spices as well as of course, garnished kindly with sev. It is served with a side of chopped onions, and lemons in also to a spicy gravy and also pav (bread buns).
Where to eat: One of one of the most popular places in Vadodara to consume Sev Usal is possibly Jay Mahakali Sev Usal, a stall that emjoys a high daily footfall. It is located at GF 14/15, Prathamesh Plaza (behind Nehru Bhavan) on Palace Road.
Timings: It is open daily from 08:15 hours to 21:15 hrs.
 5. Dabeli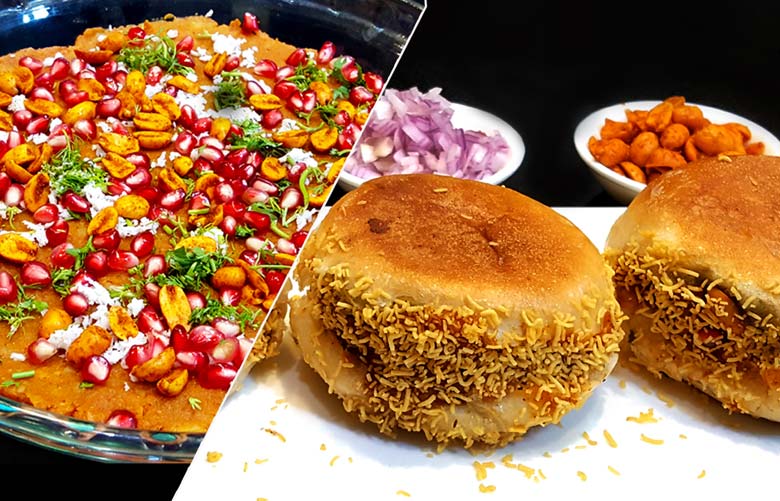 Dabeli a much-loved recipe there, having originated in the Kutch region of Gujarat. The spicy treat is used mashed potatoes and a unique Dabeli masala, which is then put inside pav (burger buns) and offered with chutney. One of the most popular places to have this delicious snack is Bhai Dabeli.
Where to eat: There are numerous outlets throughout the city, some bearing the slight variant name of the dish.
Timings: Most of these outlets, however, open in the late afternoon post 15:00 hours.
6. Gordhan Thali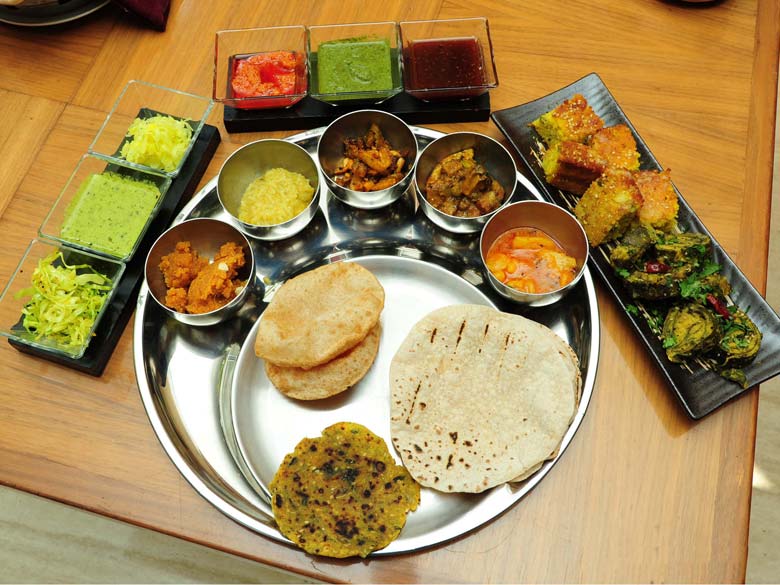 A local food of Gujarat, Undhiyu is a vegetarian dish which is spicy yet healthy. This dish, which is a mix of numerous vegetables, is prepared by Suratis throughout the winter season and is also served at wedding events. You can try the dish at the well-known Gordhan Thali in Surat. The restaurant only serves vegetarian food and is quite popular for their Giant Veg Thali too.
What to have: Undhiyu, Thali
Perfect for: Vegetarians
Address – 5/6, Ground Floor, President Plaza, Opposite Vanita Vishram Ground, Old RTO Office, Ring Road, Surat, Nanpura, Surat.
7. Fafda and Jalebi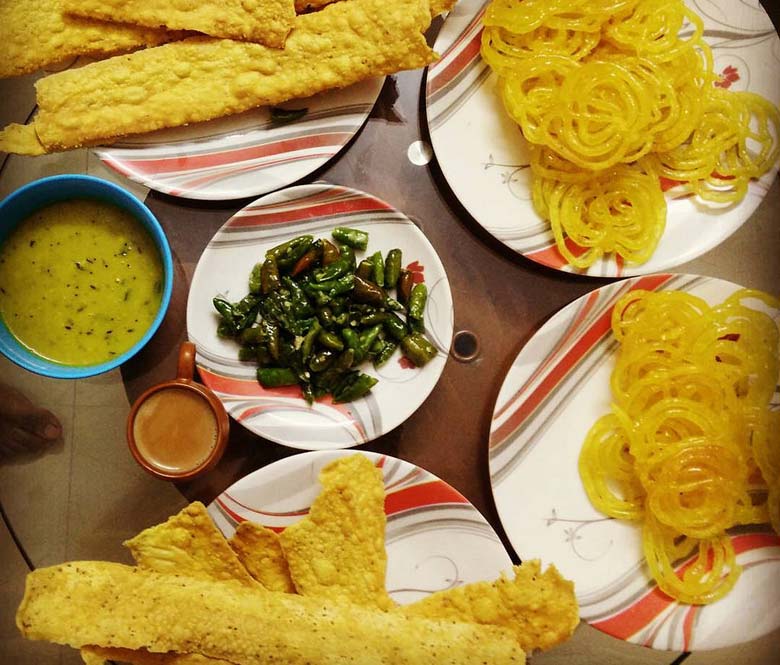 Indulge with the wonderful taste of jalebis and balance it with a bite of Fafda. These two snacks are frequently consumed in mix as well as often in excess. Fafdas are made with gram flour, turmeric and cardamom seeds which are fried right into lengthy crispy strips and offered with a side of chutney. Jalebis likewise, are made by deep frying Maida flour batter and also saturating it later on in sugar syrup.
Where to consume: While some roadside stalls do carry both Fafdas and jalebis, it is found in different shops as well. Many stores offering Farsan, such as Payal Farsan and also Jagdish Farsan normally carry fafda. During festivals such as Dussehra, the availability of fafda and also jalebis on the streets of Vadodara increases exponentially.
8.Thepla – Healthy Gujarati Breakfast.
Thepla is yet another form of flatbreads that the Gujaratis enjoy. Mostly popular among the Jains, it can become a breakfast or even a light snack. The ingredients of Thepla are quite simple and mostly consist of wheat flour, gram flour, and spices. Different families make variants like methi, mooli or dudhi thepla according to their taste. We can also use milk to make the dough of Thepla to make it more lasting. Thepla is also widely available in all places around India.
Best Served With: One may enjoy this dish with several things but the most common choices are curd, pickle or red garlic chutney.
9.Gujarati Kadhi 
When we are in Gujarat we are often served with a side dish called Kadhi. It is one of the most famous and refreshing Gujarati food. Even Barack Obama had a taste of it when he visited India. The main components of the dish are buttermilk or yogurt and gram flour. You may easily slurp down the dish because of its liquidity. The spices used commonly in the dish are asafoetida or hing, red and green chillies and chopped ginger. The mixture gets boiled and is also served hot. It is also said to be an amazing medicine for sore throats.
Gujarati Kadi is best accompanied with: As we said, Kadhi is very prevalent all over Gujarat. We can enjoy the dish with khichdi, chappati, rice or even naan.
10.Undhiyu- Winter Dish of Gujarat.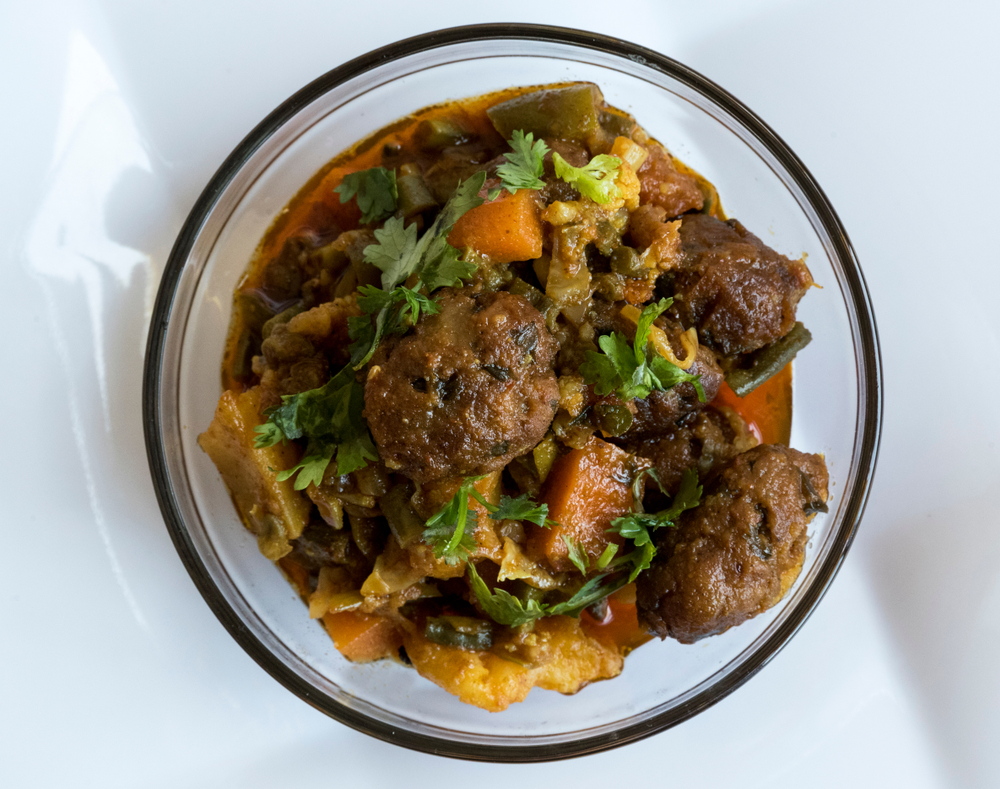 This is an amazing winter dish that originated from the city of Surat and is an iconic Gujarat Food. It is basically a dish made of several vegetables and then cooked with a lot of spices. Loved by several people, it is eaten mainly during the kite festival. The common vegetables used are brinjals, unripe banana, green beans, pea, potatoes and purple yam. It gets cooked in a unique inverted clay pot. Several ways exist to cook the dish but we can vouch that every one of them comes out tasty. Another version called the Surti undhiyu exists which gets served during weddings. It generally has a sweeter taste to it because of the usage of palm sugar.
Best Served With: No one can leave this delicacy alone after the cooking gets done. People readily gulp it down with the help of rice, chappati or similar accompaniments. But it goes well with shrikhand and puri.
11.Muthia 
The most famous aspect of Gujarat Food has to be snacks. Muthia is also one of the snacks that Gujaratis may enjoy on a daily basis. The name comes from the use of our palm while making the dish. Gujaratis like to eat them either as a breakfast or even an evening snack with tea. The main ingredients of this snack are chickpea flour, bottle gourd, methi, and spices. After shaping the dough it is generally steamed and then pans friend. Many may eat it in the steamed form as well. Other variants of the dish also exist where leafy vegetables like spinach or amaranth are also used. The dish is also tempered with sesame seeds, mustard seeds, and red chilies.
Muthia is Best Served With: Muthia goes well with all forms of chutneys, but you may consume it on its own as well.
12.Doodhpak : Gujarati Sweet For Diwali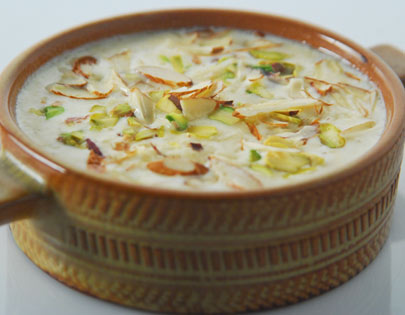 In India, we find sweetened rice in several forms. Doodhpak is also a speciality dish that originates as a Gujarat Food. Doodhpak mainly gets made during the festivities of Diwali. The rice pudding has ingredients such as milk, sugar, saffron, almonds and other things. It makes you feel satisfied after a sumptuous meal
Best Served With: This dish gets eaten on its own as a dessert after any meal.
13.Gota 
This is yet another savoury snack dish that tastes awesome. We may compare it to pakora as they look and feel quite similar. The most preparation among it is Dakor ka Gota which mainly get eaten during Holi. Besan and semolina flour are the main ingredients and other spices are also added to give it a savoury taste. The batter then gets deep fried in oil and gets served. Gota is also an evening snack that you may find in roadside shacks in Gujarat.
Best Served With: This dish is best when accompanied by sweet and tangy tamarind chutney or even a pickle.
14.Chorafali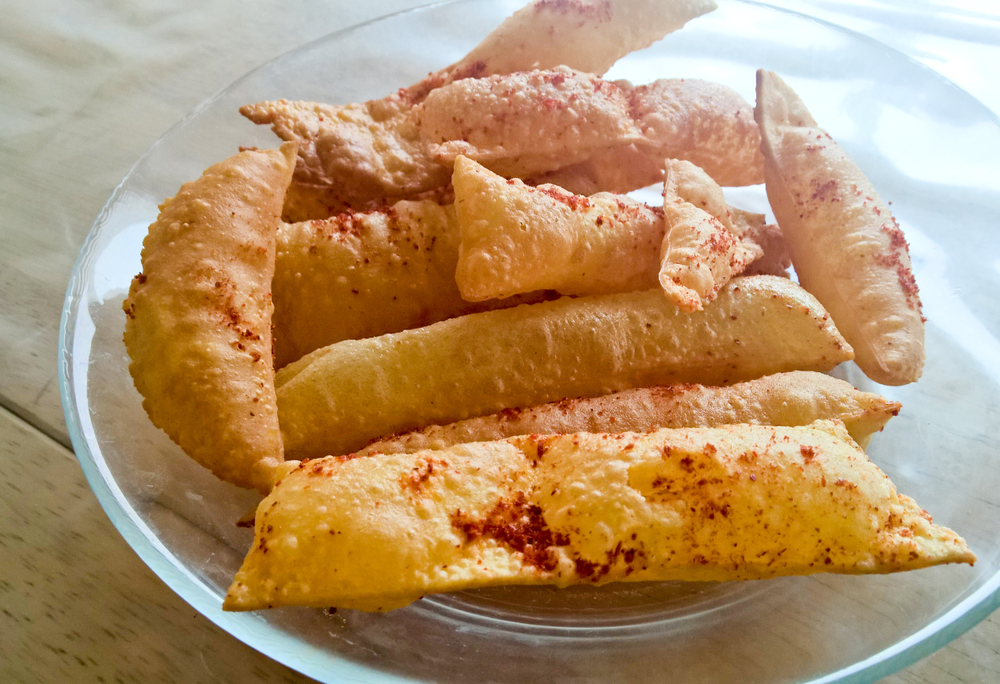 These days you may find this snack in the form of packages. But it is very popular in Gujarat as a quick snack. It almost feels like the consumption of chips or other crunchy snacks. Diwali is the time when Chorafali gets the most acceptances. The makes flatten the dough made from gram flour and urad flour. Then they cut strips and deep fries them till they poof up. The Chorafali is also tossed in a spicy masala to add more flavors to it. People who like to taste street food may also find this snack in the streets of Gujarat.
Best Served With: You may eat this dish on its own because of its flakiness. A dip in the pickle or chutney may also enhance the flavour.
15.Mathiya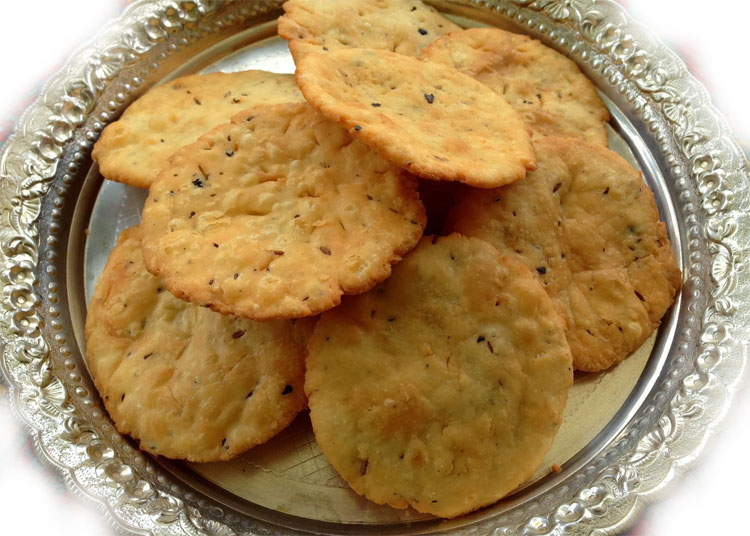 If you visit your Gujarati friend during Diwali then this Gujarat Food may await you. This spicy and crunchy snack hails from the papad family. Mainly they use Mathiya flour to make this snack. Along with it, they use spices such as ajwain, chili powder and other spices for taste enhancement. The making process is also interesting and plays a key role in the outcome of the dish. A sprinkle of spice powder on the Mathiya makes it even more savoury.
Best Served With: This dish is always best on its own along with tea or other snacks.
16.Khandvi 
A batter of gram flour or besan and yogurt is the key thing in making this dish. The main appeal comes in the tight small rolls that have the perfect size to eat. One may make them at their home but people these days prefer to buy them ready-made. The snack has a topping of mustard seeds, coconut, and other spices.
Best Served With Khandi as a dish go best along with some kind of sweet or savoury As it is a snack, it doesn't require a whole platter to become ready for consumption.
17.Khichu – Healthy Gujarati Food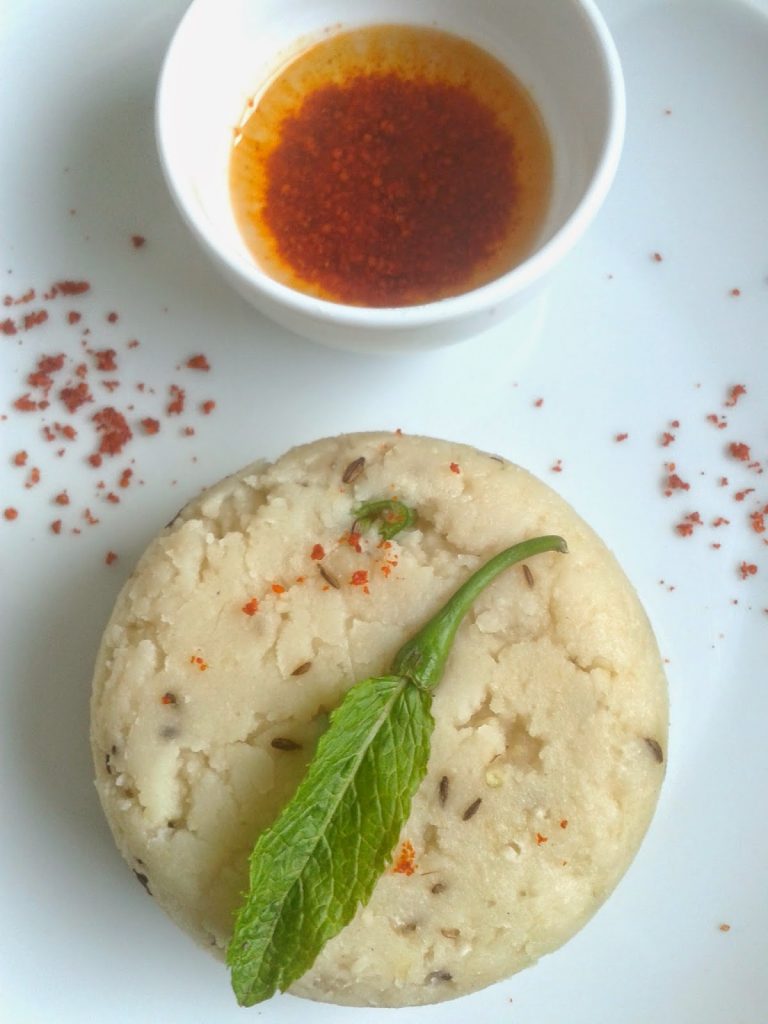 Most Gujarat Food is deep fried but to counter it you have the Khichu. People found the taste of the dough quite appealing and gave it the rank of a snack. So, if you don't want to have a deep-fried papad you may have khichu. The main ingredient is rice flour and along with it, we may add cumin seeds and a special salt. This preparation is best eaten during the monsoon season.
Best Served With Khichu is often topped with a little oil and red chilli powder. But you may also consume it with pickle or chutney.
18.Handvo – Gujarati Cake made by Vegetables.
The description of the dish may be tricky. So, we may refer to it as a cake with vegetables. Before baking the cake you will need to ferment the ingredients which are urad dal and rice. After mixing the batter and the vegetables we bake the cake. Sesame seeds are often sprinkled on the top of the cake. The Handvo turns golden in the oven or pressure cooker and it gets ready to get served. Gujaratis tend to love their Handvo and never misses a chance of eating it.
Best Served With: Handvo acts like a one-in-all meal. People like to eat it with tangy green chutney and a hot cup of tea.
19.Ghughra – Most Famous Gujarati Sweet.
Indian cuisine cannot live without its sweet dishes. Gujarat Food mainly gets appreciation because of its admixture of tastes. But the deserts are also quite appealing and tasty. Ghughra becomes one of them and we may compare it to the Gujia of Northern India. The maker puts mawa, sugar and dry fruits inside a pastry and then deep fries it. The outside gets crispy but the inside remains soft and it melts in your mouth. The design and the taste pull you towards this amazing dessert.
Best Served With: You can have this dish just on its own.
20.Shrikhand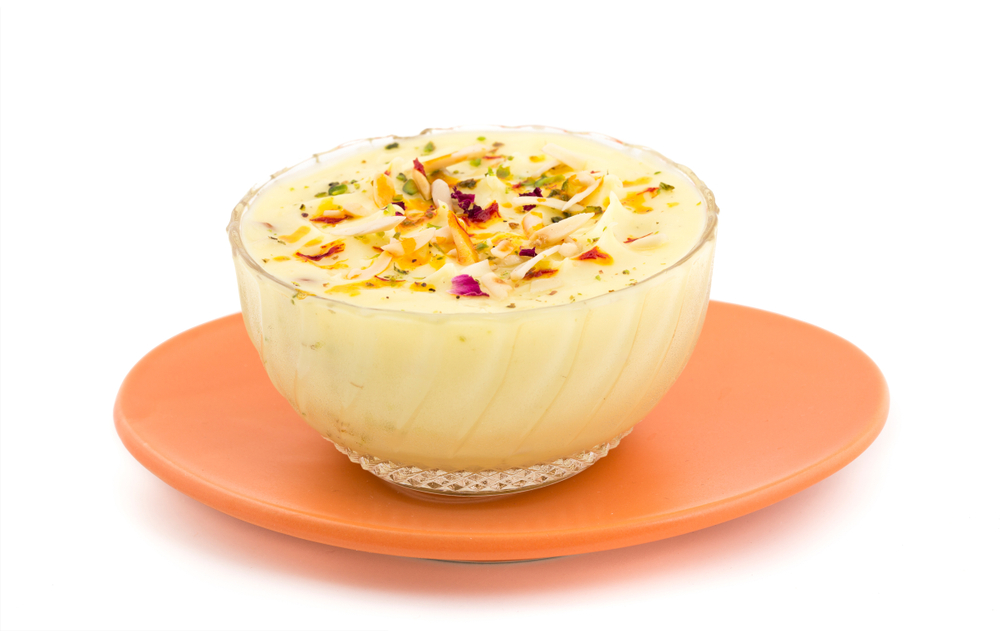 You may have never had curd like this before. Shrikhand is a unique hung curd dish where it gets mixed with sugar and cardamom. But people may also use other spices to add flavours that they enjoy. The history of Shrikhand takes us back to ancient India so we may say that it is definitely worth a try. These days people enjoy fruit based Shrikhand as well as mango Shrikhand.
Best Serve With: You can consume it as it is after diving into a full-blown meal. People say that a desert-like Shrikhand helps in better digestion.
21.Murghanu Shaak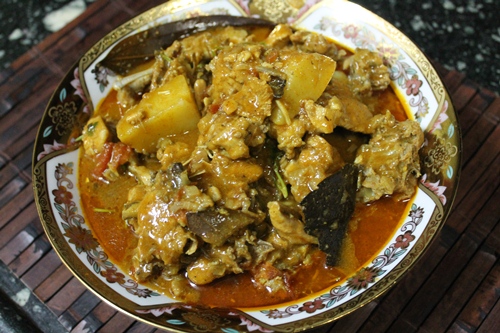 Gujarat is still predominantly vegetarian but some do enjoy meat and chicken dishes. Murghanu Shaak is one among them that uses chicken and vegetables in the same dish. The marination of yogurt and added spices make it savoury. We may make it in our kitchen quite easily or enjoy it in the non-vegetarian region of Gujarat. Recipes for this dish are also widely available.
Best Served With: One may enjoy this dish along with rice, chappati, naan for a satisfying meal.
22.Mohanthal – The best of Gujarati Sweets.
We can never leave Gujarat or a Gujarat Food shop without tasting this sweet. The people make the sweet by roasting besan and then adding sugar and spices to it. It is also a part of every festival that is a part of Gujarat. Once you consume the sweet, it melts in your mouth leaving behind a lingering taste of the cardamom. If you haven't tried it, definitely do so and get the one with lots of dry fruits.
Best Served With: Mohanthal is sweet so you can accompany it with other sweet dishes after a meal.
So, here is an extensive list of Gujarat Food. A fortunate person should definitely try each dish as they are amazing in themselves. The unique flavour and the extensive use of spices will pull you towards the dishes. Gujarat provides a variety of snack dishes and they have great influence all over India. Grocery stores stock their shelves with easy to eat Gujarati snacks because of their convenience and taste. No one should ever miss out on such tasty and sumptuous cuisine. If you enjoyed reading this, please do share it on your social media and also Do Pin This For later. 🙂
You may also enjoy reading:
Rajasthani Food 
Jharkhand Food
Chhattisgarh Food