Gangapur dam across the Godavari river, the main source of water for Nashik city, is filled up to 97 per cent of its total 5630 Million Cubic Feet (MCFT) capacity this monsoon so far. While Darna dam is 96 per cent full 20 reservoirs in the district have 90 per cent stock thanks to good amount of rains in their catchment areas, officials said on Wednesday.
However, medium-capacity Manikpunj and Nagasakya dams are still dry.
Officials said intensity of rains in the north Maharashtra district is reduced significantly in the last fortnight except in Igatpuri taluka, which has recorded 24 mm rainfall in the last 24 hours ending Wednesday morning.
Some 14 talukas in the district have received scanty rainfall so far, they said while indicating uneven rain pattern.
Nashik district had received heavy rains in the last week of July, triggering floods in many areas and boosting water stock in dams and reservoirs
Built on River Godavari, Gangapur Dam is a prominent tourist attraction where visitors can soak in natural beauty. The dam is visited by tourists who seek to spend a few hours amid calm waters in a photogenic environment. Gaze out at the vast expanse of blue, flanked by mossy green rocks. The place is quite beautiful and peaceful, allowing you to leave the hustle and bustle of the city behind and just enjoy the serenity that it has to offer.
While Gangapur was an important water source for the nearby villages, growing silt deposits in the reservoir have reduced its storage capacity, prompting the construction of another dam upstream. Therefore, Gangapur is now primarily promoted as a pleasant stopover for tourists.
Nashik: Gangapur dam that proides maximum quota of the drinking water to the Nashik city had 99% live storage on Monday, providing some relief to the residents given the civic body had earlier in July suggested water cuts owing to poor rainfall.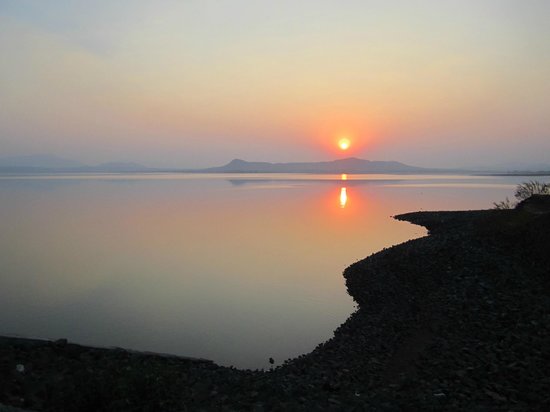 The Gangapur dam complex that comprises Gangapur,Kashyap and Gautami-Godavari dams, has 90% water storage. Kashyapi dam that belongs to exclusively to Nashik Municipal Corporation ( NMC) has 71% live storge which is way too low when compared to the corresponding period last year.
Rainfall in Trimbakeshwar taluka has not been that effective this year since beginning. " In fact the entire wastern region of Nashik which is known for heavy rainfull and has highest number of dams has received comparatively less rainfall this year," resident deputy collector Bhagwat Doifode said.
This is the reason that the dams took longer time to reach satisfactory levels. Last year, entire storage of the district stood at 96% despite water being discharged from the dams almost continuously, while this year the storage across all those 24 major and minor dams has barely touched 92%
"We haven't seen even Gadavari river in spate this year dur to gradual rainfall," Doifode said.
"We feel that Kashyapi dam will be filled to the brim by the end of September," sources from Water Resourced Department said.
Similarly, Ozharkhed complex has 74% storage, while Palkhed complex is filled to 85% of its storage capacity.
Girna – biggest dam in Nashik district with capacity of 18500 million cubic feet (mcft) – has 96% of water in store this year as against 92% last year. This dam takes care drinking water needs of Malegaon and adjoining parts of Nashik district, Chalisgaon and Jalgaon district.