About Echo Point
When talking about natural beauty, Munnar is blessed in abundance and there is no other place that can replace her for her charm. Each and every destination here has their own spectacular feature for which they attract several eyes. Located 15 kilometres from Munnar, at an altitude of 600 feet above the sea level is the famous Echo Point. There is a reason why this place is called "Echo Station." The voices made through the reservoir here, resound back into the surroundings breaking the serene silence of the hill station. This natural echo phenomenon gives this place its name "Echo Station," which is the second most popular attractions in Munnar, after Top Station, also on the same route.

Essentially, Echo Point is the confluence of three famous South Indian mountain ranges. These are the Mudrapuzha, Nallathanni and the Kundala ranges. Situated alongside the banks of the enchanting Kundala Lake, Echo Point boasts of a misty background while being surrounded by greenery. One can enjoy a lot of activities here at Echo Point. Be it a peaceful stroll around the hill slopes, or a trek to the hilltop, Echo Point is a paradise for adventure junkies.


You can also go for boating in the lake, and choose between a speedboat or a paddle boat according to your liking. Echo Point also serves as a great place for bird watching, as many people come here to get a glimpse of the vibrant species of native and migratory birds here.


Amongst the most interesting and beautiful attractions at Echo Point are the rare Neelakurinji flowers. Also known as Strobilanthes, these flowers are known for blooming once every 12 years, thereby enhancing the beauty of the entire valley. Located close to the Echo point are various other peaks and attractions, which are worth visiting if you are coming to Munnar and wish to spend a day amidst its natural beauty.
HIGHLIGHTS
Echo Point is a popular adventure tourism destination, which offers activities like trekking, nature walk, boating, etc. It is also a great place for nature lovers, photographers, and wildlife enthusiast, who takes pleasure in viewing the picturesque valleys of Munnar and capture the images of green hills, clad in tea plantations and spice gardens. This place is covered with abundant green sceneries and give a perfect location to travelers to have a nature walk or trekking.
How to Reach Echo Point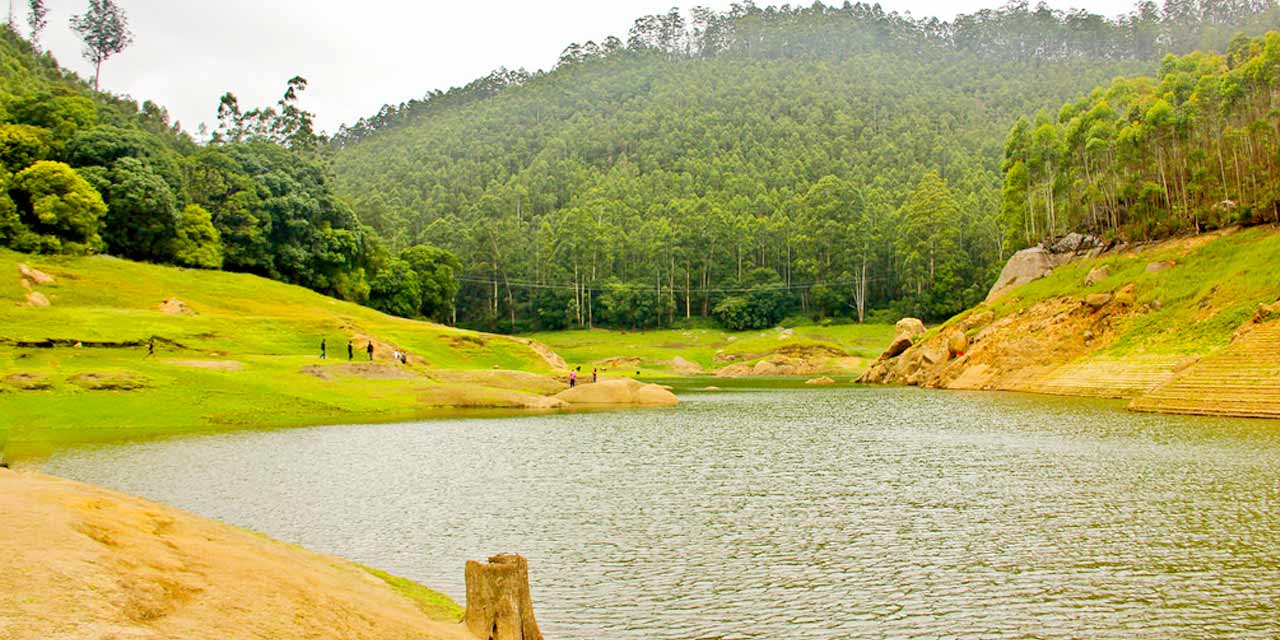 From city centre: The distance between Echo Point Munnar from the city centre is around 17.2 kilometres. Echo Point is located on the Top Highway Road in the Idukki district of Kannan Devan Hills.

From the city centre, you can easily take a private car or rent a taxi to reach Echo Point. However, it is always advisable to hire a car to get to this place since the local transportation system in Munnar is not very developed. This way, you can reach Echo Point in almost 35 minutes to an hour, depending upon the conditions of the roads as well as the traffic.
Best Time to Visit Echo Point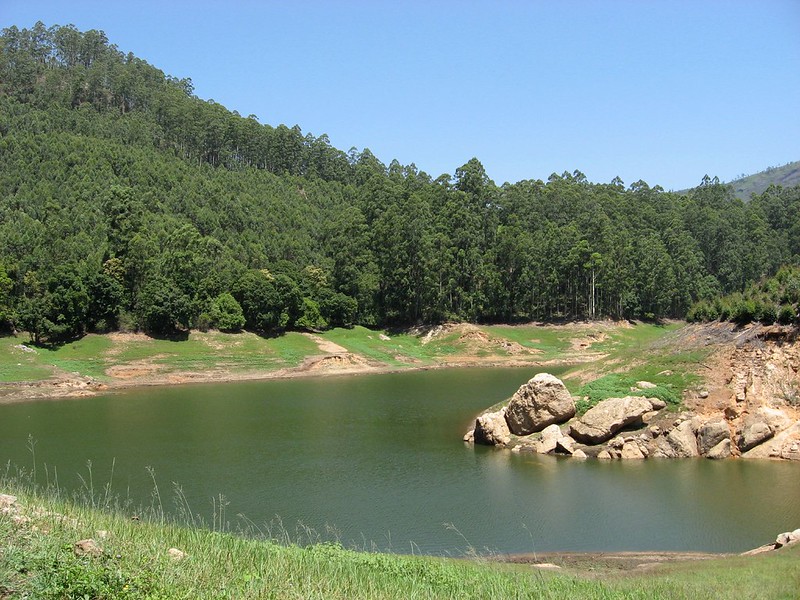 The best time to visit Echo Point is during the summer and winter seasons. Munnar experiences summers between the months of March to May, when the weather here is comparatively colder than the rest of the region. With temperatures ranging between 15 to 25 degrees Celsius, this is the perfect time to get away from the heat and enjoy the coolness of Echo Point.

Following summer, from June to August, Munnar experiences rainfall. Visiting the Echo Point during this time is not advisable, since the slopes and treks are slippery and the rains very heavy, making it difficult to reach the point. However, the most ideal time to visit Echo Point is from September to February, when the weather is cold, calm and serene. Temperatures range between 5 to 20 degrees Celsius in these months. Moreover, you can also enjoy the mist around Echo Point, offering you the feeling of walking amongst clouds.
What Not to Miss at Echo Point
Places to Visit near Echo Point Munnar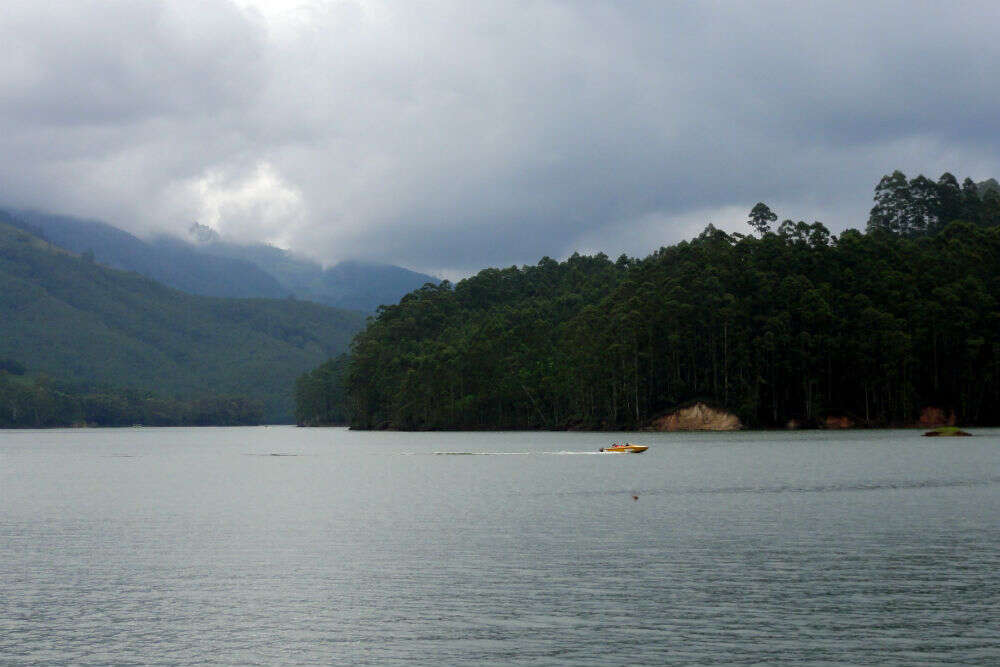 There are many places that you can visit near Echo Point Munnar. Not only are these places equally scenic and beautiful, but can also offer visitors scintillating sights of nature and the surrounding regions. Some of these places are:
1. Top Station Munnar: Located around 32 kilometres from Munnar, Top Station was formerly a trans-shipment point where tea used to be delivered by trains to Munnar and Mattupetty. It boasts of spectacular views of the Western Ghats. Furthermore, Top Station also gets its name due to the fact that it is the highest railway station in the region, situated at an elevation of 1700 metres in the Kundala Valley. Tucked in cosy amidst the majestic mountains and pale clouds, this scenic place is also one of the top favourite weekend getaway destinations in Kerala.
2. Mattupetty Dam: Surrounded by verdant Mattupetty hills, this dam is amongst the major tourist attractions in the region. Located almost 13 kilometres from Munnar, the Mattupetty Dam is a nature lover's haven, since it is surrounded on all sides by green valleys, lush meadows, mist-laden hills as well as enchanting rivers. You can also ride a boat in the dam, be it a speedboat or a paddle boat.
3. Anamudi Peak: Mist-laden hills, verdant valleys and picturesque roads surround the magnificent Anamudi Peak in Munnar. Known as the highest peak in South India as well as the tallest in the entire Western Ghats, Anamudi boasts of a height of 2,695 metres. Popular among trekkers, the Anamudi trek boasts of being the most coveted trails in all of Southern India.
Other Essential Information About Echo Point

– Location: Echo Point Munnar is located on Top Station Highway in the Idukki District of Kannan Devan Hills in Kerala, 685616.
– Timings: You can visit Echo Point Munnar between 07:00 a.m. and 06:00 p.m. You can visit this place on all days of the week.
– Entry Fee: The entry fee to Echo Point Munnar is INR 30 for adults. On the other hand, for children, it is INR 15.
– Photography Charges: There are no photography charges levied at Echo Point Munnar.


Places to Eat near Echo Point Munnar
After your visit to Echo Point Munnar, you are bound to be hungry. And so, in order to satiate your hunger, you can visit one of the following places.
1. Copper Castle Restaurant: Situated right along the scenic valley and offering amazing views of the lush green mountains, the Copper Castle Restaurant is a modern-day eatery. It offers scrumptious Indian, Asian as well as International cuisines to guests.
The most famous of all dishes here are the various kinds of sizzlers, along with authentic South Indian food. Along with that, you should also try their Veg Korma, Alleppey Fish Curry and Pasta.
2. Eastend Munnar Dining: Located quite close to Echo Point, Eastend Munnar Dining boasts of lip-smacking Indian food. It also ranks amongst the top Indian restaurants in all of Kerala. Moreover, the staff here is quite friendly and warm, and make sure that you have a great experience eating here. Some of their best dishes includes Butter Paneer, Tadka Dal and Egg Fried Rice.
3. Hotel Sri Nivas: One of the most famous of all restaurants in Munnar, Hotel Sri Nivas is known for its amazing South Indian food. It is a pure vegetarian restaurant, which excels in dosas and idlis. However, it also offers unlimited buffet thalis at a fixed price, which you can indulge in after visiting the Echo Point.
Travellers' Tip before visiting Echo Point Munnar
When visiting Echo Point Munnar, travellers need to keep a few tips in mind. Some of these travellers' tips are:
1. Many local hawkers and farmers come to Echo Point to sell their fresh produce to tourists, the most famous of which are mangoes and pineapple which you should definitely try.
2. It is advisable to always pack woollen clothes, along with scarves and ear mufflers when visiting Echo Point in Munnar. This is mainly because Munnar is a cold place, where the weather fluctuates a lot.
3. It is recommended to carry a walking stick with you, regardless of your age, when visiting Echo Point. This is because the climb to Echo Point is quite a steep one, with lots of rocks and slippery boulders. A walking stick will help you maintain your balance while trekking to the top to reach Echo Point.
4. It is also advisable to carry your Identity Cards and their proofs, in both the original forms along with their photocopies.
5. Always wear comfortable shoes when visiting Echo Point Munnar, firstly because of the cold, and also because you need to walk quite a lot here.