Kolkata is equal parts chaos and charming! From its busy corners to its ever-evolving markets, the City of Joy has plenty on offer to tourists who are ready to explore. Whether you are a literature student or a person who likes to dive deep into different cultures, there is something for everyone.
If you are planning to visit the city anytime soon, here is a list of all the best places to visit in Kolkata. While some are iconic, there are some places that are hidden from the touristy crowd of the city and still demand a visit.
The city of Joy-Kolkata has ample of sightseeing places. It welcomes tourists through the fascinating art, splendid architecture, amazing culture, and declamatory literature of the city. It is also the best destination for shutterbugs, where they can find immense places for perfect pictures. The city is popular for its magnificent temples, historical landmarks, local shopping complexes and many other sightseeing places where you can explore the culture of Kolkata. So, plan your vacation to this amazing city to witness the charm of Kolkata with your own eyes. Take a tour of all these famous places in Kolkata to experience the best of your vacation.
1. Victoria Memorial, Kolkata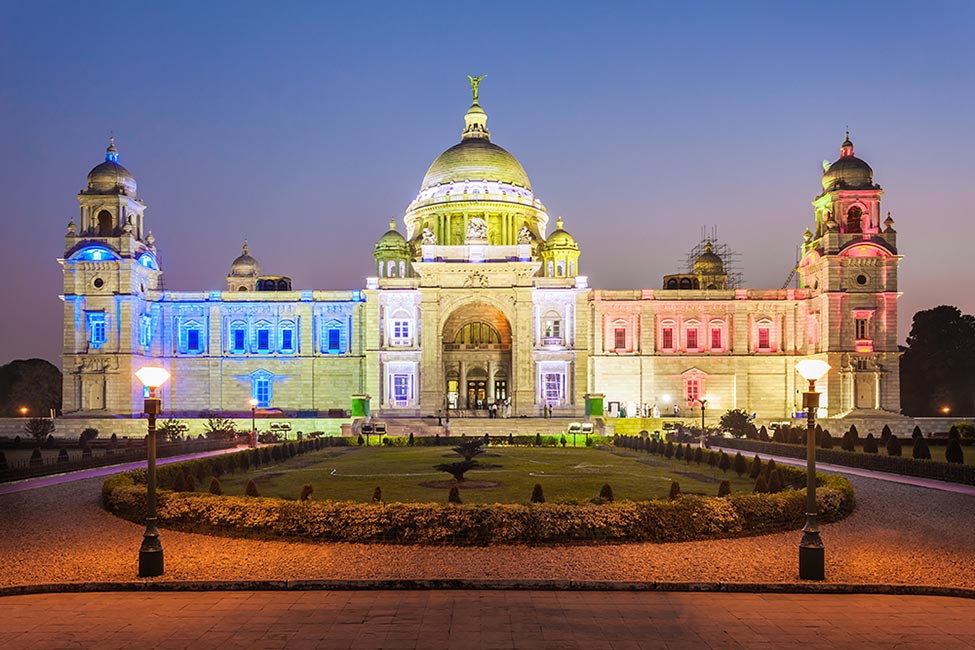 An imposing white monument, Victoria Memorial is one of the most visited places in Kolkata, and for all good reasons. Named after Queen Victoria, it now serves as a museum and is perfect for history buffs. If you ever feel like taking a walk down our past and reflect on how long India has come from its colonization days, visit this place. There are light and sound shows held in the evening. The era of India's freedom struggle is shown not only through the light and sound show but through a series of paintings, artifacts, sculptures and books. We would recommend spending at least 3-4 hours to gain knowledge about our country's past.
Timing:
Museum – 10:00 am to 05:00 pm; closed on Mondays and National Holidays
Gardens – 05:30 am to 06:15 pm; every day
Entry Fee:
Museum – ₹20 for Indians; ₹500 for foreign nationals
Gardens – ₹10 per person
2. Howrah Bridge, Kolkata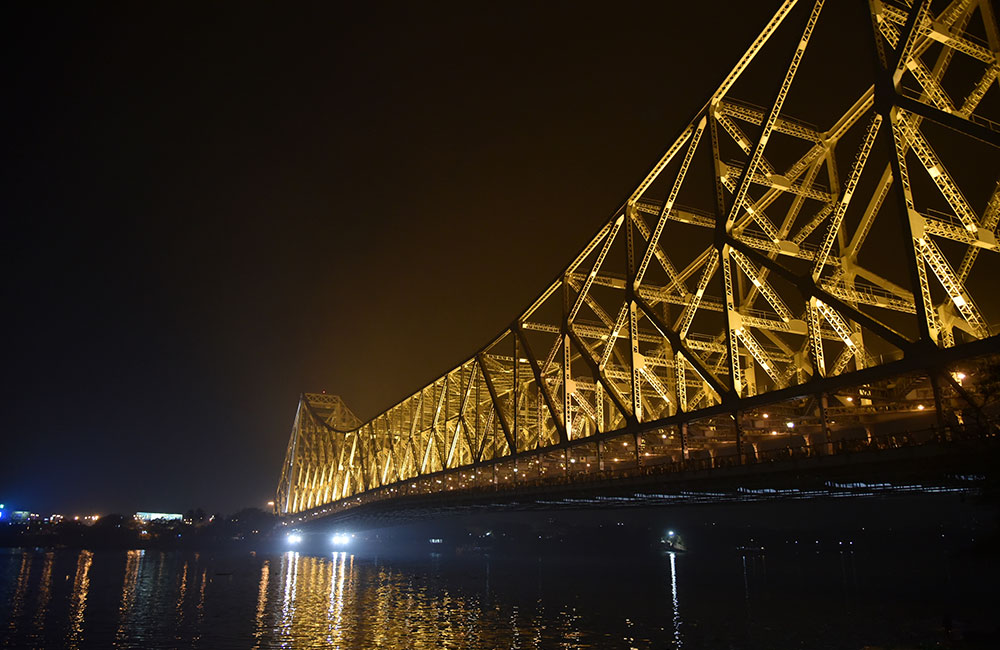 To say that Howrah Bridge is one of the top places to visit in Kolkata would be an understatement. An unofficial emblem of the city, Howrah Bridge merits a visit if you want to spend some time alone with just the ocean in front of you. Sit here in silence or simply observe the fishermen go about their work at dawn and dusk.
Trivia: Did you know that the bridge has been renamed after Rabindranath Tagore and is now called Rabindra Setu.
3. Park Street, Kolkata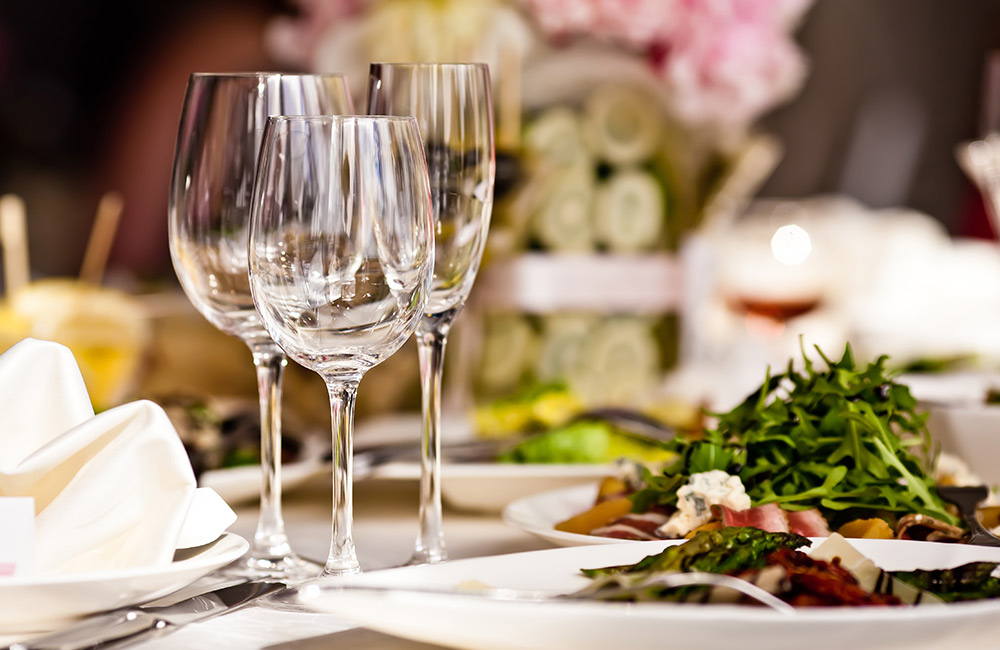 If posting photos of brunches with your bffs is your favorite thing to do, head to Park Street. Because this place has the most instagrammable cafes and restaurants! Park Street has become a hub for people who want to chill out in the evening. From high-end restaurants to iconic clubs and pubs, this place has them all.
Trivia: Park Street is also home to India's first independent nightclub. 
4. New Market, Kolkata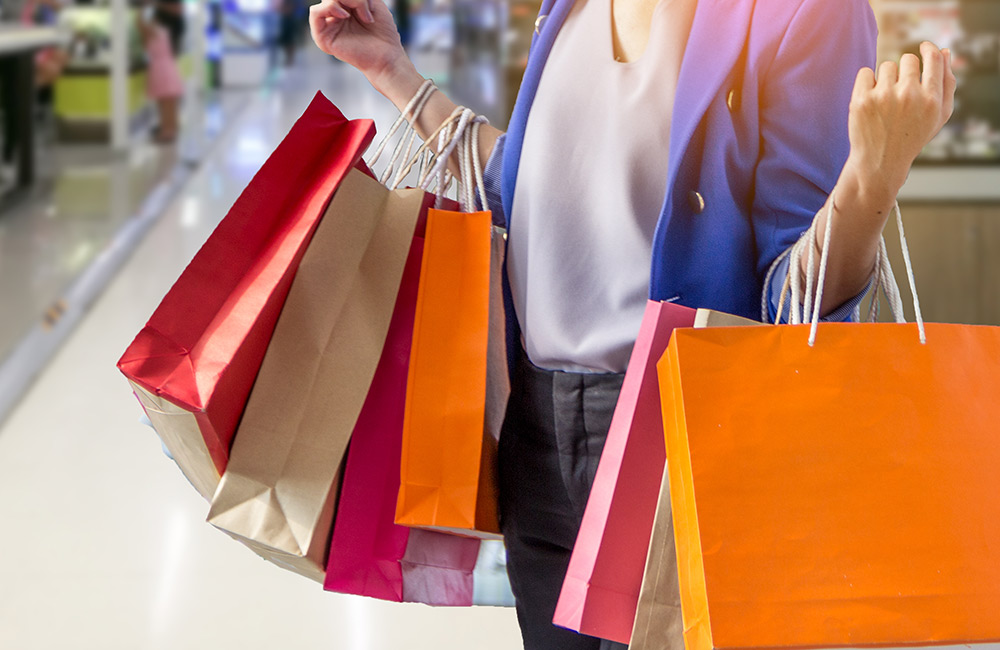 Built by the British in 1874, New Market is the place where all the shopaholics go to get the best of clothes, jewelry, and other items. One of the places to visit in Kolkata for youngsters, the market is a maze of stalls and has around 2000 of these. If you can bargain and have a good eye for items, this market is perfect for you.
Pro Tip: If you cannot shop in crowded spaces, avoid the place during the weekends. Check Malls in Kolkata
5. Dakshineswar Kali Temple, Kolkata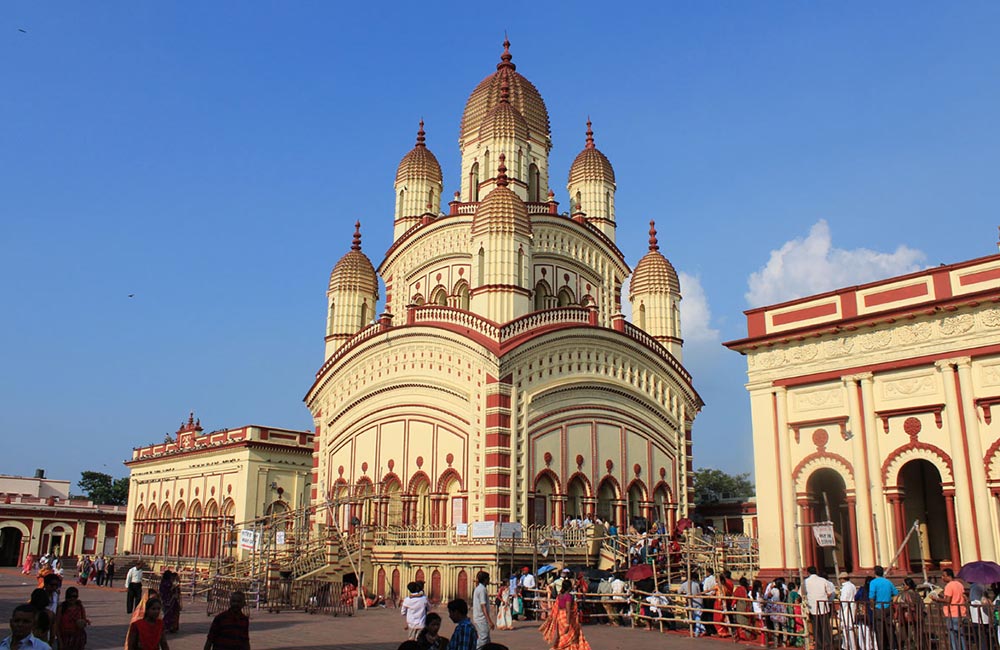 The temple is dedicated to Bhavatarani, an aspect of Goddess Kali and 'the savior of the universe'. One of the oldest and most important temples to have ever been built, it receives pilgrims from all over the world.
The temple was founded by Rani Rashmoni, who lost her husband and was left with a vast amount of wealth. The idea of building this temple came to her in a dream and this was the last thing she did before going on a pilgrimage to Varanasi.
2. Fort William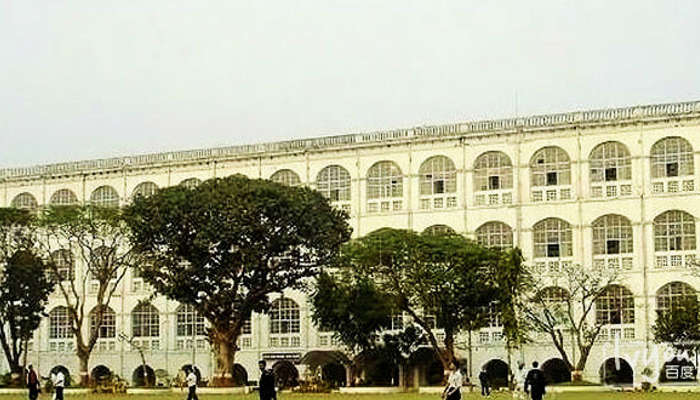 Situated on the eastern banks of the Hooghly river, Fort Williams is a huge building from the colonial era that has served multiple purposes till date. It is one of the few Kolkata points of interest which is a must-visit place during your Kolkata sightseeing tour. Known as the 'black hole of Calcutta', this place was once a temporary jail where prisoners were hauled, but now it serves as the headquarters of the Eastern Command.
Location: Fort William, Hastings, Kolkata
Timings: 10 am to 5:30 pm
Entry Fee: Free Entry
Specialty: This building used to be a jail for prisoners.


3. Marble Palace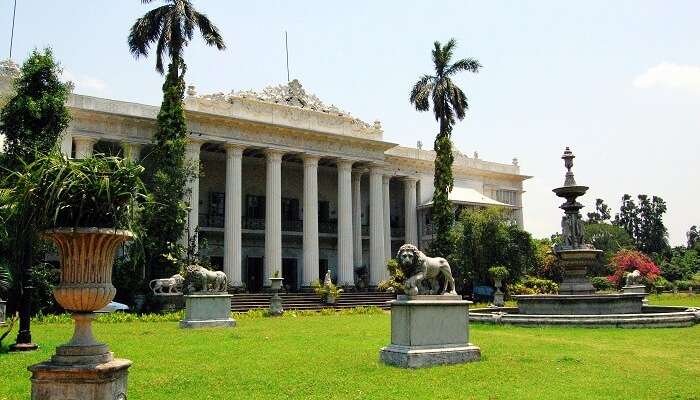 This nineteenth-century palatial mansion in North Kolkata is one of the most visited tourist places in Kolkata. It is one of the best restored royal family palaces in India that boasts of artistic statues, elegant glassware, and noteworthy paintings of illustrious artists of the British Raj. The regal architecture and unique design attract visitors from all over the globe who come in great numbers to witness this marble masterpiece, calling it one of the best places to visit in North Kolkata. To add, this museum has also earned itself a space on the list of most beautiful historical places in Kolkata which is exactly what makes it a must-visit!
Location: 46, Muktaram Babu Street, Jorasanko, Kolkata
Timings: 10:30 am to 4 pm
Entry Fee: Free Entry
Specialty: This structure showcases Neoclassical architecture.
5. Tagore's House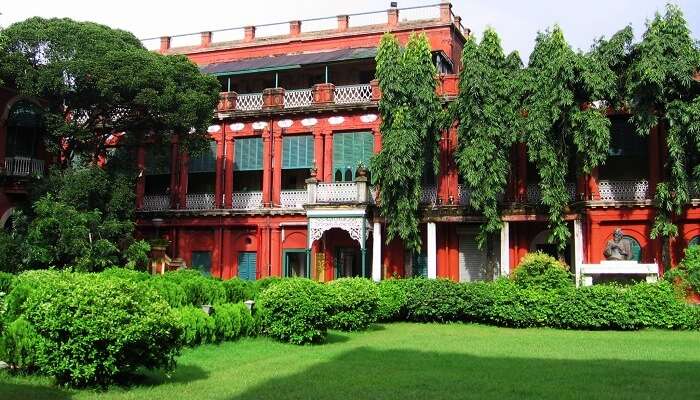 Known as the 'Jorasanko Thakur Bari', Tagore's house is one of the most important historical places in Kolkata. The former residence of India's most renowned literacies, Rabindranath Tagore, is now converted into a museum which houses a photo gallery, fascinating paintings, and Tagore's literary works.
Location: Girish Park, Chittaranjan Avenue, Kolkata
Timings: 10 am to 5 pm
Entry Fee: INR 10 per person, and INR 5 for students
Specialty: There are still some drafts of his work in the house.

6. Mother House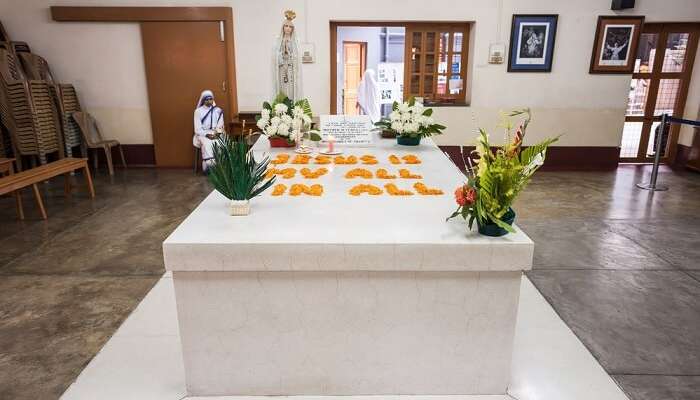 Also known as the Missionaries of Charity, Mother House was established by Mother Teresa in 1950 as a religious assembly. The primary aim for the Sisters of the house is to provide free services to the sick, the poor, drug addicts, physically and mentally challenged individuals, victims of natural calamities, orphans, and even run schools to educate street children. Today, the institution has several branches running all over the world to follow the same practices of selfless devotion and serve those in need. The most intriguing part of the house for visitors is the tomb of Mother Teresa. Located alongside this tomb is also an exhibition displaying her life's work and her personal belongings like sarees, sandals, and her bag, which makes this one of the most unique places to visit in Kolkata.
Location: 54A, Acharya Jagadish Chandra Bose Rd, Ripon Street, Kolkata 700016
Timings: 8 AM – 12 PM and 3 PM – 6 PM (closed on Thursdays)
Entry Fee: Nil
Specialty: Many who seek to devote their lives to social service come here to learn and serve the community.
R
7. Sundarbans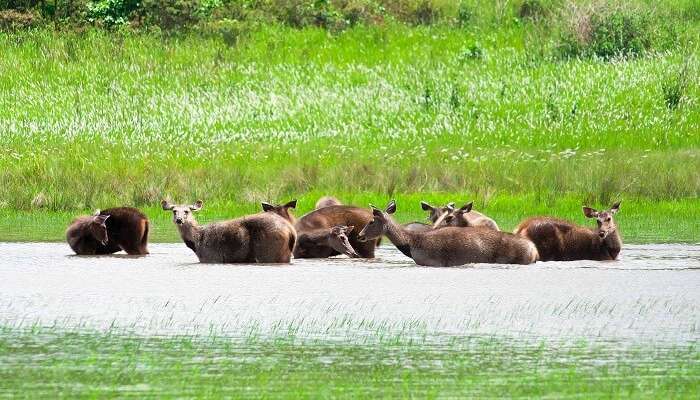 IThe most famous Kolkata tourist spot, Sunderbans is one of the natural wonders of the world. Listed as a UNESCO World Heritage Site, Sunderbans is a part of the world's largest delta formed by the Ganges, Brahmaputra, and Meghna. It is also the largest tiger reserve and national park in India. Other than wildlife, the Sunderbans are an epitome of breathtaking natural beauty and the most surreal landscapes which make them one of the best places to visit in Kolkata for couples.
Location: Dayapur, Gosaba, West Bengal
Timings: 8 AM – 6 PM
Entry Fee: INR 15 for Indians | INR 150 for foreigners
Specialty: It is home to the Sundarban White tiger

8. Rabindra Sarovar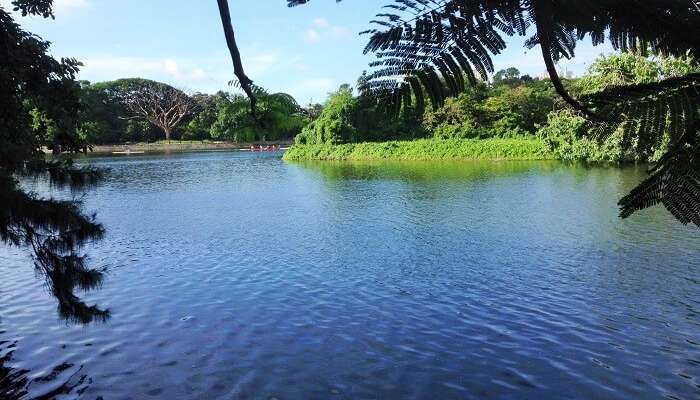 IPreviously known as Dhakuria lake, Rabindra Sarovar is an artificial lake in Kolkata. It is one of the best places to visit in Kolkata if you are looking for a quiet, and peaceful time. Every morning one would find numerous people jogging, or walking along the shores of the lake. It is also a perfect spot for nature admirers who wish to get close to the beauty of nature.
Location: Southern Avenue, Golpark, Tollygunge, Dhakuria, Lake Gardens, Kolkata
Entry Fee: Free
Specialty: You can also try fishing in this lake

9. Botanical Gardens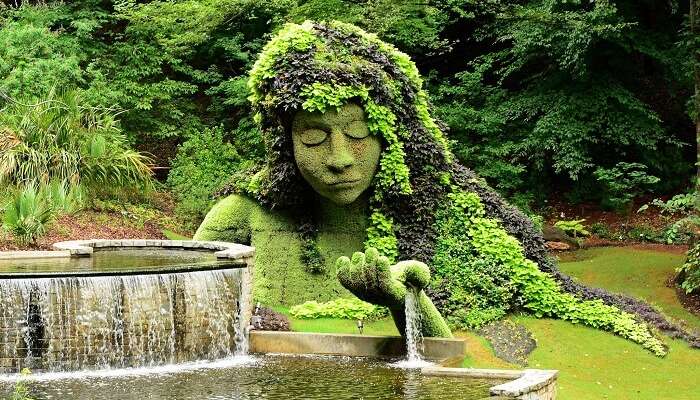 Located along the western banks of River Ganga, Botanical Garden is a 273-acre garden known for its extensive floral diversity. Housing more than 12,000 different species of plants, it is one of the most beautiful places to see in Kolkata for travelers who wish to witness the mesmerizing beauty of nature.
Location: Shibpur, Howrah, West Bengal
Timings: 10 am to 7 pm
Entry Fee: INR 10 for Indians | INR 100 for foreigners
Specialty: Tourists often toss coins in the water to make a wish

10. Aquatica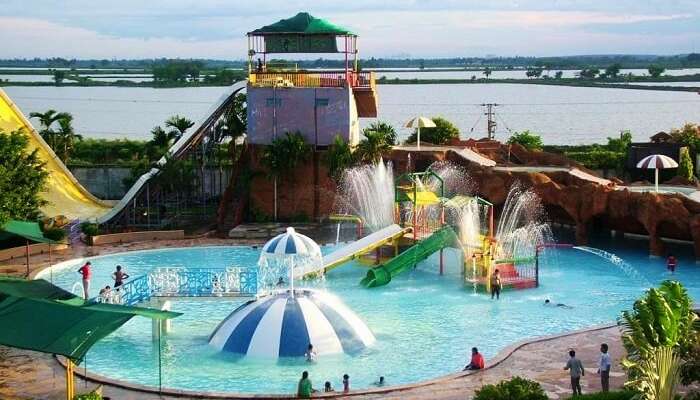 Spread across a huge 75,000 square feet area. Aquatica is one of the largest water amusement parks in Eastern India. For people who seek light-hearted adventure along with some fun-filled activities, Aquatica is one of the best places to visit in Kolkata with friends where one can enjoy numerous thrilling rides and activities.
Location: Kochpukur, P.O Hatgachia, Near Rajarhat Township, Kolkata
Timings: 10 am to 6 pm
Entry Fee: INR 450 to 550 for adults, and INR 300 for children
Specialty: It is the largest and busiest resort in Eastern Inda.


11. Nicco Park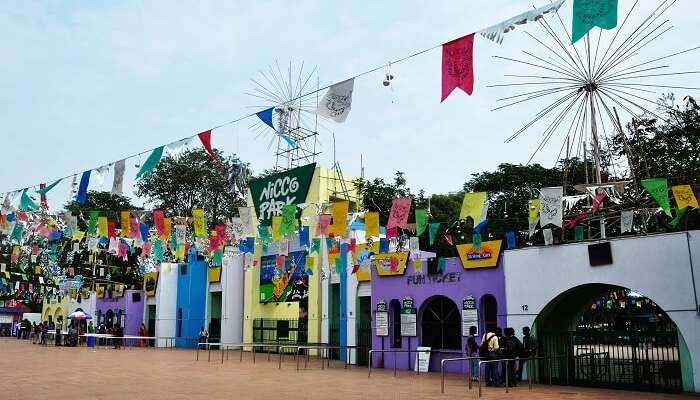 One of the best places to visit in Kolkata, Nicco Park is an exhilarating amusement park developed for the sole purpose of recreational activities for families. It is one of the oldest amusement parks in Kolkata that houses various adventurous, and fun-filled rides for children as well as adults where they can spend some rejuvenating time with their families.
Location: Jheel Meel, Sector IV, Salt Lake City, Kolkata
Timings: 10:30 am to 7:30 pm
Entry Fee: INR 200 to INR 650
12. Alipore Zoo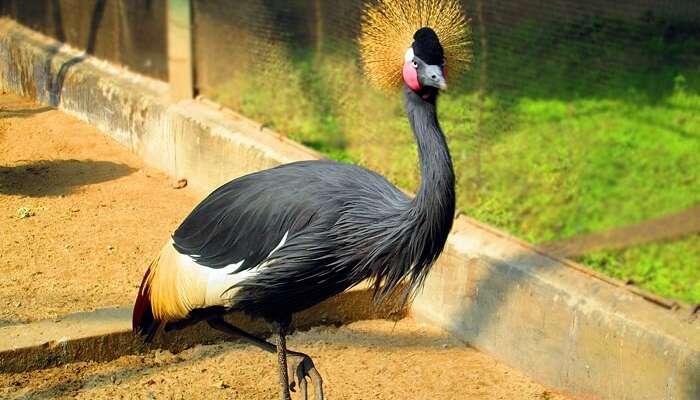 The Alipore Zoo is also sometimes called the Calcutta Zoo or the Zoological Garden of Alipore. It is India's oldest ever zoological park and surely one of the best places to visit in South Kolkata. Attracting wildlife enthusiasts and nature lovers from all over the country, it is immensely popular for once being the home of the 'Adwaita', the 250-year old Aldabra giant tortoise that had died in 2006. The many exotic animals living here include the Royal Bengal Tigers, white tigers, Asian elephants, one-horned rhinoceros, zebras, antelopes, and deer. Apart from these animals, the park is also home to bird species like Macaws, Swinhoe's Pheasant, Lorikeets, Lady Amherst's Pheasants, Ostriches, Emus, Hornbills, and even the Sarus Cranes that migrate here during winters. A sheer delight for families traveling to Kolkata, this park and its numerous wild animals always manage to bring a smile on the faces of youngsters and children.
Location: Belvedere Road, Lake Place, Alipore, Kolkata 700025
Timings: 9 AM – 5 PM (closed on Thursday)
Entry Fee: INR 25 (adults) | INR 10 (kids below 5)
Specialty: Zoological Garden, Alipore is one of India's oldest zoological parks.
2. Belur Math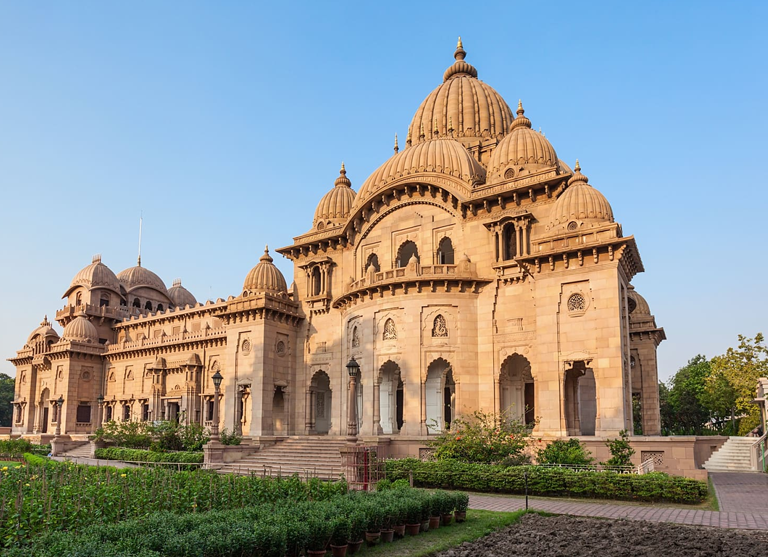 It is a pilgrimage place in Kolkata that is popular worldwide. Here, people from every country come to experience peace and enjoy the tranquility that is available in this environment. The temple is constructed very beautifully, skillfully and artistically that speaks out the heart of the Ramakrishna Movement. It also consists of a museum that you can visit for additional delight. Take a tour to Belur Math, a headquarter of Ramakrishna Math and Mission to find inner peace.
Location: Belur, Howrah, WB
Timings: 6:00-11:30 AM & 4:00-7:00 PM
3. Science City Kolkata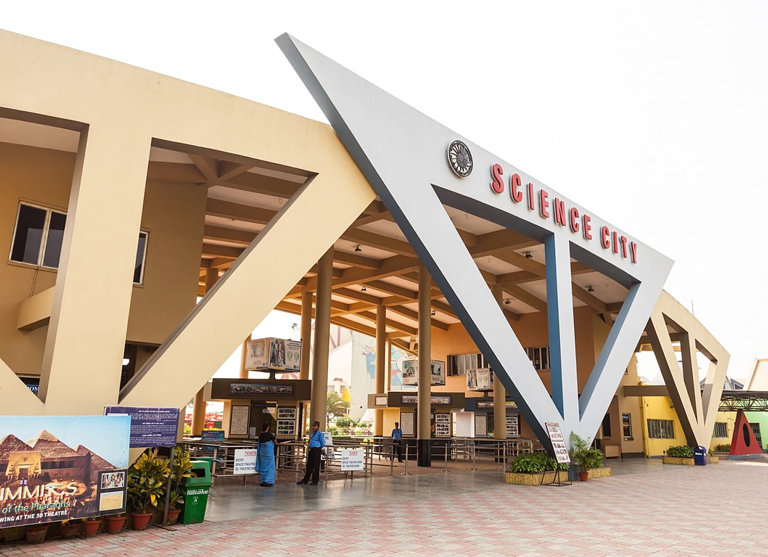 This is one of the best places to visit in Kolkata in one day andalso the popular destination among tourists. The highlights of this place include Space Theatre, 3D shows, Natural Science Park, Evolution Theme Park, Dinosaurs Complex, and Time Machine. It is the best place for children as well as youngsters to grab knowledge about light, speed, and electricity through several simple experiments. The unique idea of elaborating science is liked by everyone who visits this museum. You must visit this spot with your family and friends while taking a tour of Kolkata.
Address: BS Haldane Avenue, Basanti Hwy, Kolkata, WB
Timings: 9:00 AM-7:00 PM
5. Indian Museum
It is the largest museum in India where over 60 galleries are there that are divided into different categories like Artistic, Zoological, Anthropological, Artistic, Geological, and Industrial items. The fossils of extinct animals and the Egyptian mummy are the main highlights of this museum. Also, you can see different arts displayed here from every corner of the world. The paintings of eminent artists and old coins with stones are also shown here. This is one of the places to visit in Kolkata for youngsters where you will find many interesting things.
Address:27, Jawaharlal Nehru Rd, Fire Brigade Head Quarter, New Market Area, Dharmatala, Taltala, Kolkata, West Bengal 700016
Timings: 10:00 AM-5:00 PM
8. St. Paul's Cathedral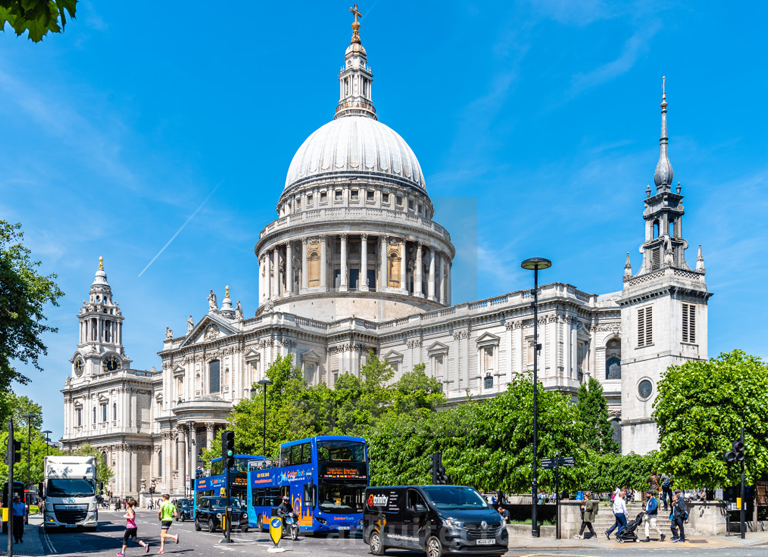 Located in the heart of the City of Joy – Kolkata, St. Paul's is a major tourist attraction that operates under CNI. A visit to Cathedral offers you extra delight to those who love historical landmarks and architectural style. During Christmas, the Cathedral looks more beautiful when it is decorated with lights and candles. Even there is a garden that surrounds the Cathedral and enhances the beauty of this white structure. It is one of the best places to visit in Kolkata at night during Christmas Eve.
Location: Maidan, Kolkata
Timings: 9:00 AM-12:00 PM & 3:00 PM-6:00 PM
9. Nakhoda Mosque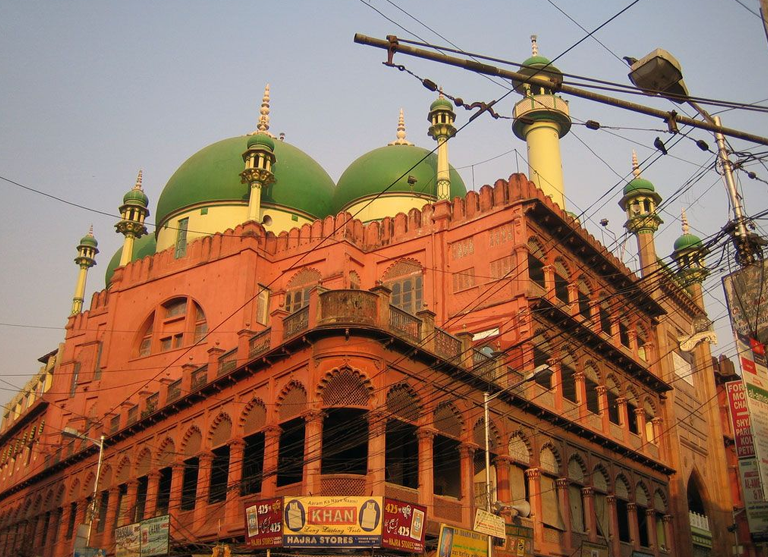 One of the largest mosques in Kolkata and a spiritual place for Muslims- the Nakhoda Mosque is the most visited place by tourists in Kolkata. The prayer hall can accommodate up to 10000 devotees. The domes and minarets of the mosque are constructed in the same style as of Fatehpur Sikri. It is one of the holy places in Kolkata that is quite famous among trippers.
Address: RabindraSarani, Chowringhee North, Bow Barracks, Kolkata, West Bengal 700073
Timings: 6:00 AM-8:00 PM
10. Fort William, Kolkata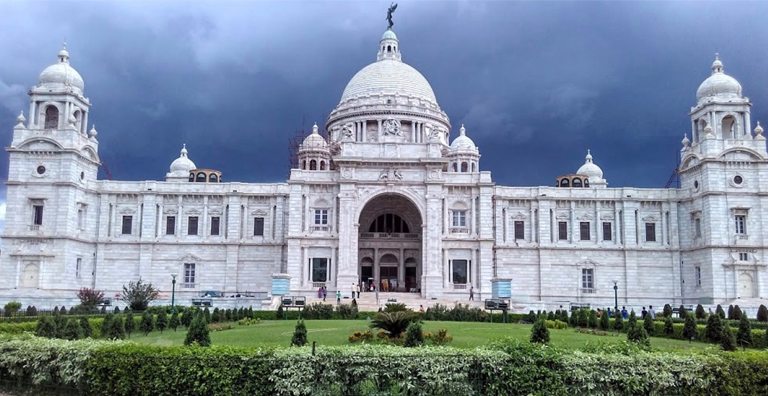 Itis one of the unique places to visit in Kolkata where you must visit during your trip to the land of Joy. The splendid structure covers a large piece of land with hundreds of arched windows with a fantastic garden. It is also named 'Blackhole of Calcutta" where prisoners were hauled. Don't miss a visit to this incredible place with your family and friends.
This doesn't end here. The list is very long for places to visit in Kolkata where you can spend your weekends and plan a vacation. Some places like Birla Planetarium, Indian Museum, Marble Palace Mansion, Mother House, Rabindra Sarovar, Aquatica, Tajpur, and Eden Gardens holds the charm of the city where you should not miss out your visit. Book domestic flights to travel to Kolkata and visit these wonderful places for a perfect weekend gateway.