Chennai is the capital city of Tamil Nadu and one of the biggest cities in South India. It is a city that is famous for its rich culture and heritage, but not many of us know that it is one of the top food destinations in India. Be it street food or authentic south Indian dishes, Chennai will always be a favorite destination for foodies. Street food in Chennai is not limited to just veg dishes, but include a plethora of non veg dishes as well. And let us tell you, it is not just seafood; there is more to non veg street food in Chennai than fishes. Chennai the place of origin of the "Chicken 65" dish, is a top food destination. It has a lot more to offer than just idli and dosa. Its rich and vibrant culture is reflective of its varied food palate. The capita of Tamil Nadu has a wide array of street foods. It was featured in the second spot in National Geographic's list of "Top 20 Food Cities" from around the globe. If you're a foodie, you cannot give this city a miss.
1. Thukpa, Chennai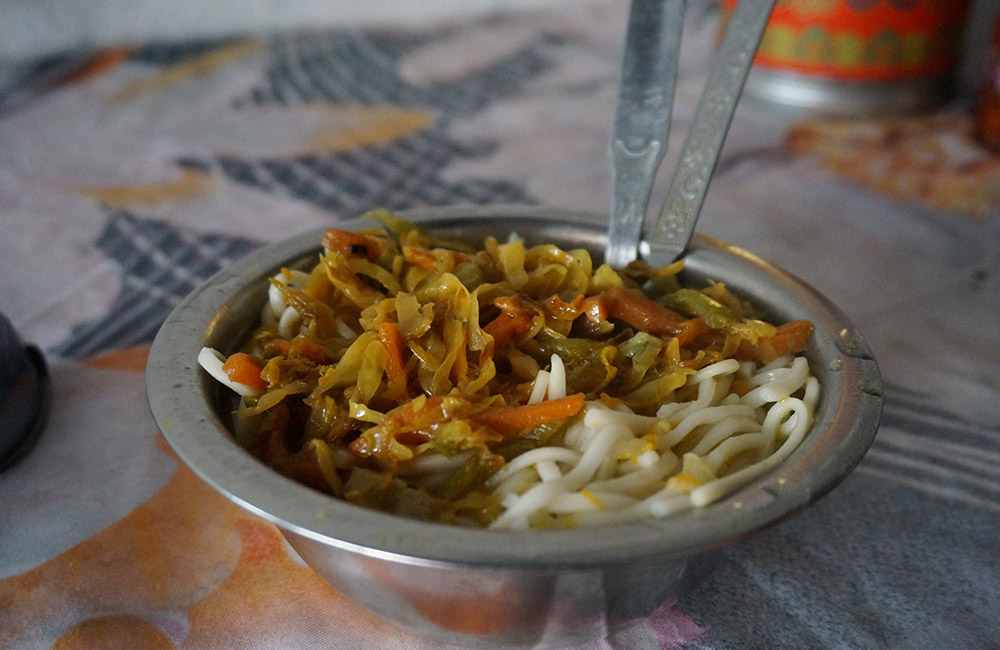 A very famous non-veg street food in Chennai is the Tibetan import, thukpa. Thukpa is best described as noodle soup. The thukpa in Chennai is generally served in beef broth with a variety of vegetables and beef chunks.
Top Places to eat Thukpa in Chennai
Kailash Kitchen
Dallay
Instant Karma
Approximate cost for two: INR 250
2. Athouk, Chennai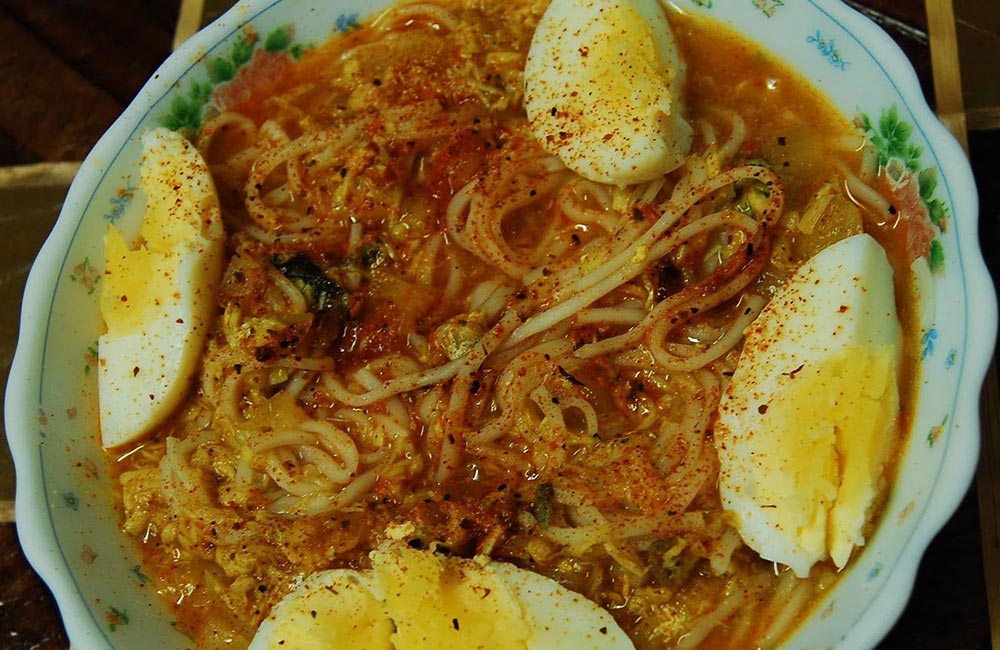 Athouk is a kind of Burmese salad with boiled eggs served with a traditional soup called Mohinga. A variation of Athouk with noodles is also very popular among the locals. It is a really old recipe from the far away lands of Burma which has almost literally merged with the food culture of Chennai.
Top Places to eat Athouk in Chennai
A number of stalls at the Burma Bazar
Approximate cost for two: INR 150
3. Atho, Chennai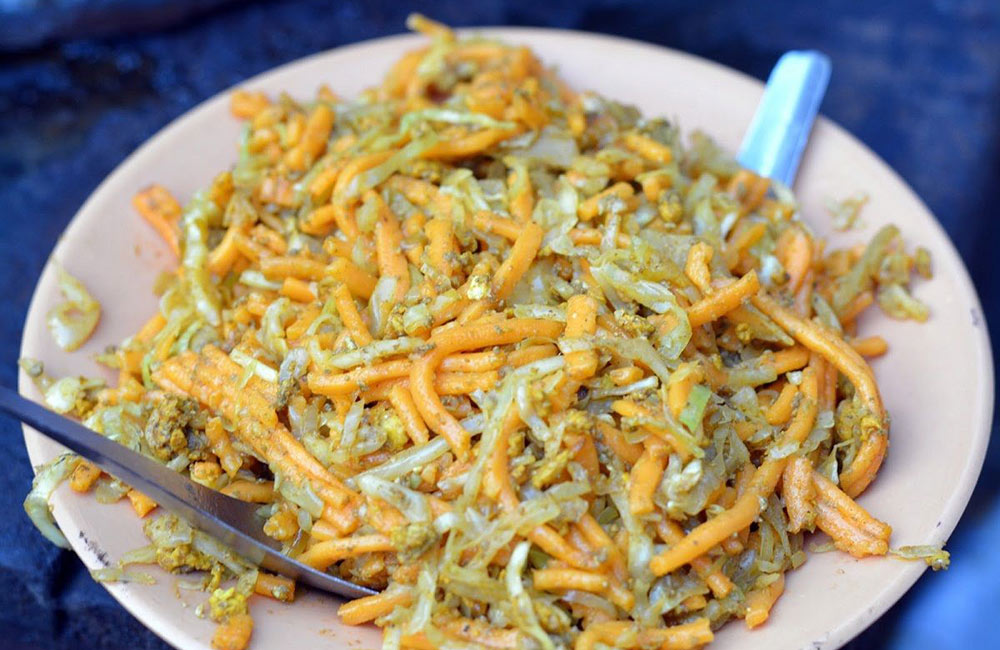 Another Burmese dish famous in Chennai is Atho. Atho is essentially orange noodles mixed a multitude of spices, vegetables, and meat. While Veg Atho is also available at many places in Chennai, Egg Atho and Chicken Atho are more popular among the locals.
Top Places to eat Atho in Chennai
Atho Man
Mulberry Star Burma Atho Shop
Atho Corner
Approximate cost for two: INR 200
4. Kothu Parotta, Chennai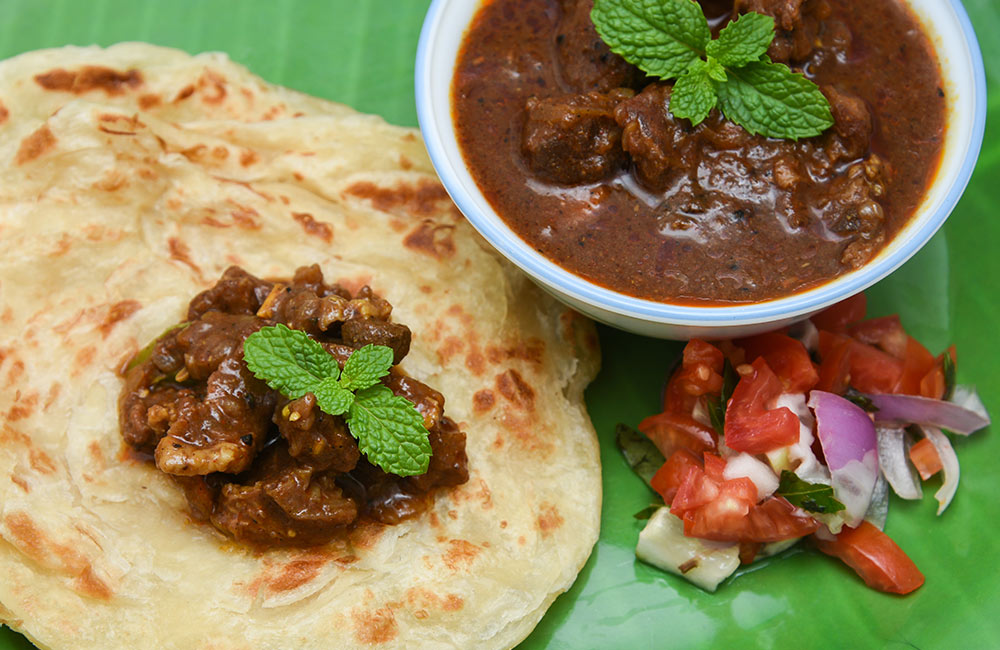 Parotta is a flatbread made from flour and is very similar to the North Indian Laccha Parathas. However, Kothu Parotta is basically shredded parotta. But, that is not the end of it; the shredded parotta is mixed with vegetables, egg or meat.
Top Places to eat Kothu Parotta in Chennai
Maplai
Madurai Kumar Mess
Thambi Vilas
Approximate cost for two: INR 350
5. Idly
Being the staple food of Tamil Nadu, Idli is readily available on almost every street corner. It is made from rice and is usually served with sambar and coconut chutney. Murugan Idly Shop is a popular joint in Chennai which serves their idlis with a wide variety of chutneys. Although the process of making these is quite easy, however, not everyone can get them to be fluffy and as light as air.

Top 3 Places to Eat Idly in ChennaiMurugan Idly Shop
Idly Factory
Idly Express
Cost for two: INR 100 (approx)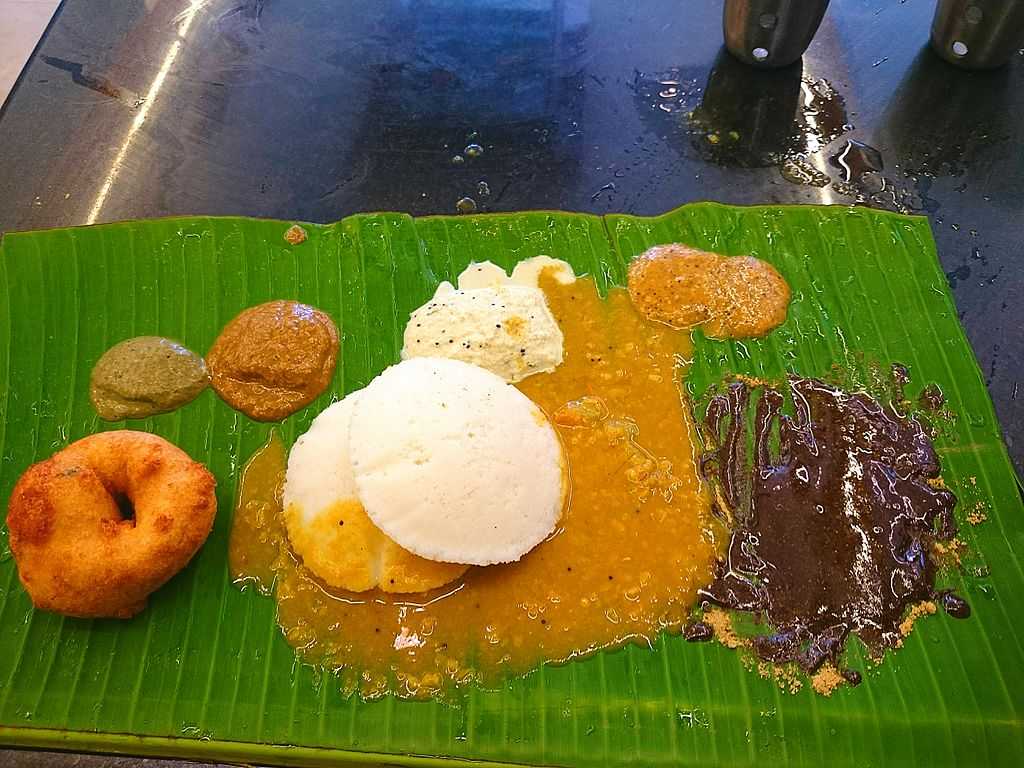 6. Pani Puri
Pani Puri or Gol Gappa is a popular street food across India. In Chennai, the locals head over to Mint Street to snack on pani puris. Among the various street vendors, one particular vendor stands out. It is for Vishnu's Pani puris that people queue up. He has been in the business for more than 40 years and to this day sells pani puris from the exact same spot.

Top 3 places to eat Pani Puri in ChennaiVishnu's Pani Puris
Gangotree
Shree Mithai
Cost for two: INR 40 (Approx)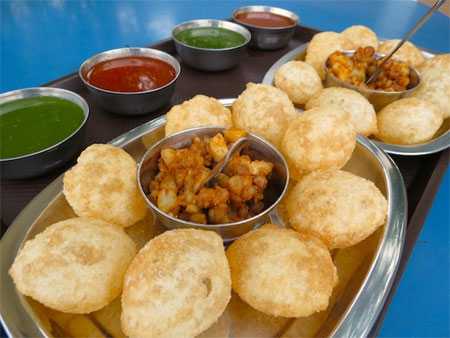 7. Uthappam
Uthappam is another popular South Indian dish. Unlike a dosa, it is a lot thicker and filled with vegetables and is usually served with sambar or chutney. No other place serves better Uthappams than Seena Bhai Tiffin Centre which has been selling the same items for 36 years. Located in Mint Street, George Town, people come here from all across Chennai to indulge in their only two dishes, ghee uthappam and ghee idli.

Top 3 Places to Eat Uthappam in ChennaiSaravana Bhavan
Anachi Dosai Kadai
Ratna Cafe
Cost for two: INR 150 (Approx)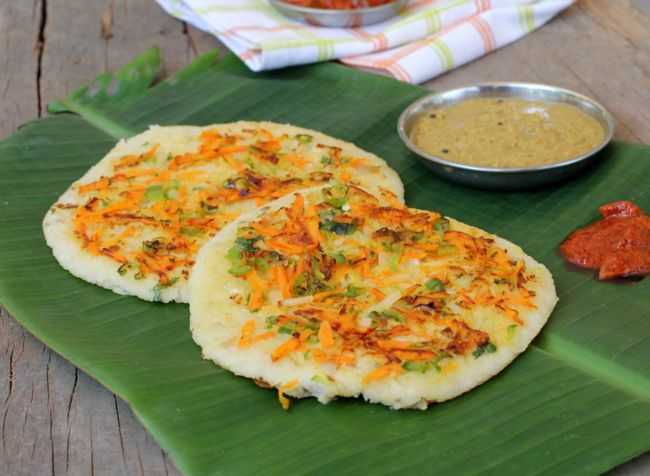 8. Jalebi
Jalebi is a sweet which is loved by one all. It is usually served with rabri, but one can have it by itself as well. Ram Prasad's Jalebii stall in Sowcarpet is where one can find the crispiest jalebis. He has been in business for more than 20 years and has a huge customer base.

Top 3 Places to Eat Jalebi in Chennai Ram Prasad's Jalebi stall
Shubh
Rotiwala
Cost for two: INR 200 (Approx)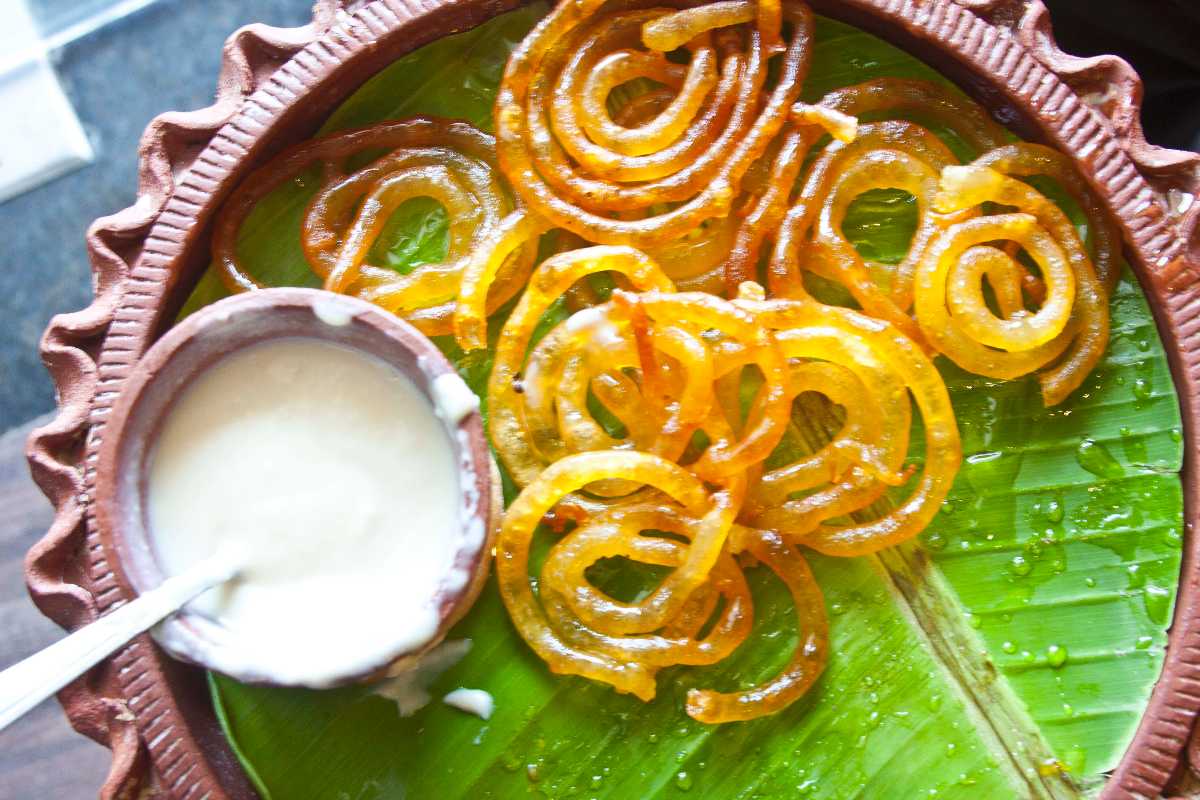 9. Dosa
Dosa is a staple food of South India readily available at every street corner. They are made from rice and are crisp, light and also easy on the pocket. You can find various food stalls in T. Nagar area which serve Podi Dosa usually with ghee. They are available at a price of INR 30 and are delicious.

Top 3 Places to Eat Dosa in ChennaiRemix Dosa
Krishna's Dosa Kadai
Dosart
Cost for two: INR 200 (Approx)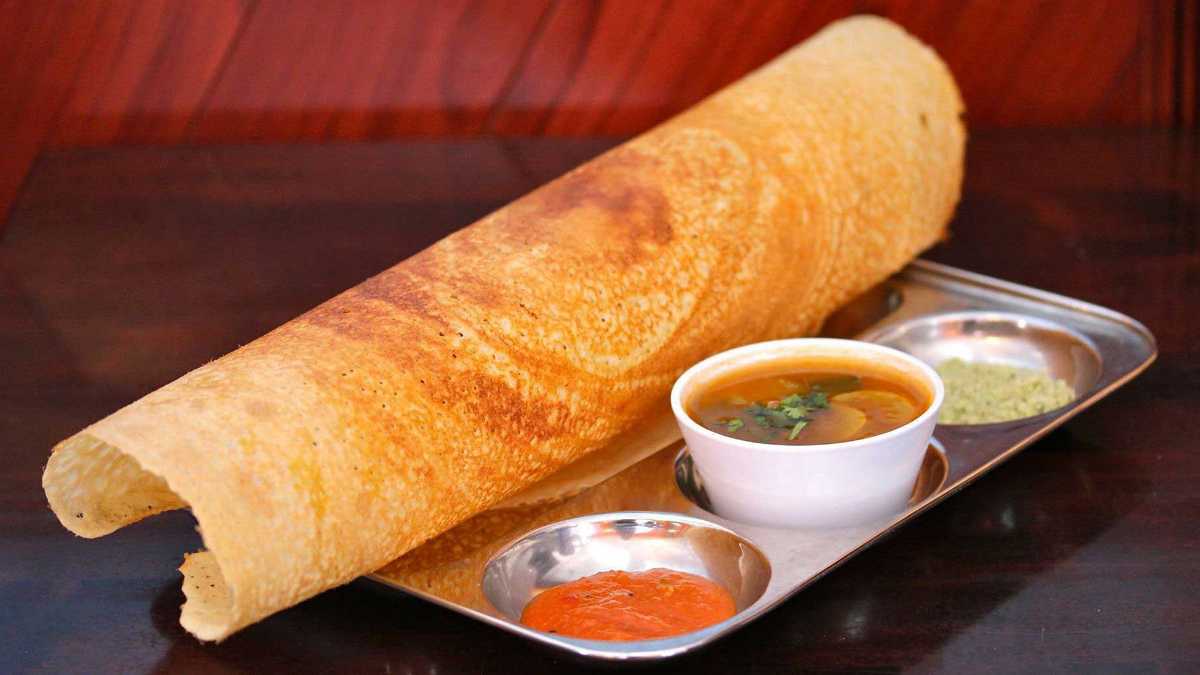 10. Chaat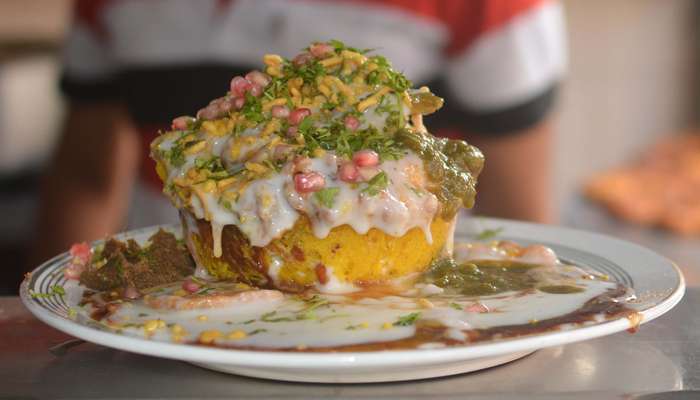 Chennai chat includes multiple varieties of delicious street chaat. Aloo chaat, chana chaat, and papdi chaat are a few of them. Chat is one of the most popular items throughout India and even the locals in Chennai love your favorite puchkas. Do try the street style chaat serves in this stunning city!
11. Boli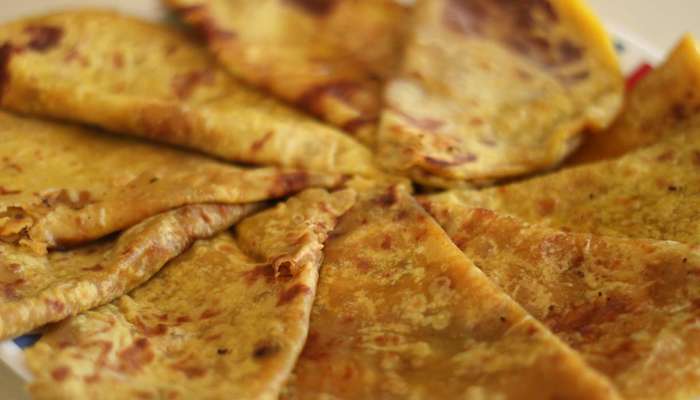 Once poor man's dish, Boli is among the most delicious street foods in Chennai. The aroma of hot-hot boli will surely draw you to a nearby stall. It is basically a sweet refined flour paratha stuffed with masded toor dal, jaggery, charoli, cardamom, nuts, and raisins. If you have a sweet tooth, you must try this yummylicious street dish.
Top places to eat Boli in Chennai
Venkateshwara Boli Stall
Sri Srinivasa Boli Stall
12. Vada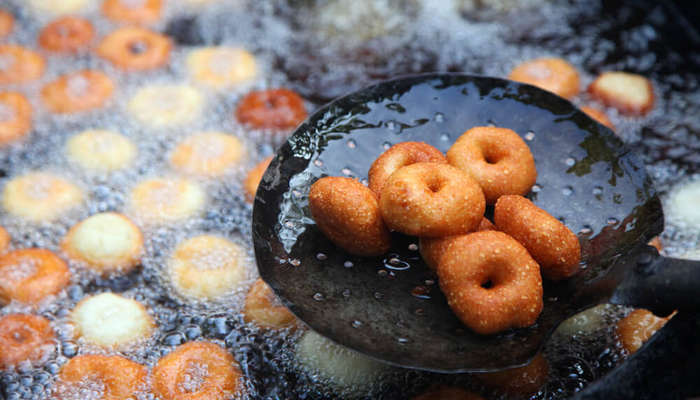 Wada, vade, vadai, wadeh and bara, you can call it anything, but it will remain the best street food in Chennai. This snack can be seen in almost every nook and cranny of the city. Made of spices and Bengal Gram, these deep fried donuts may not be a healthy option, but it certainly is a delicious delicacy. The street-side stalls in Chennai sell vadas with either sambhar orcoconut chutney.
13. Bhel Puri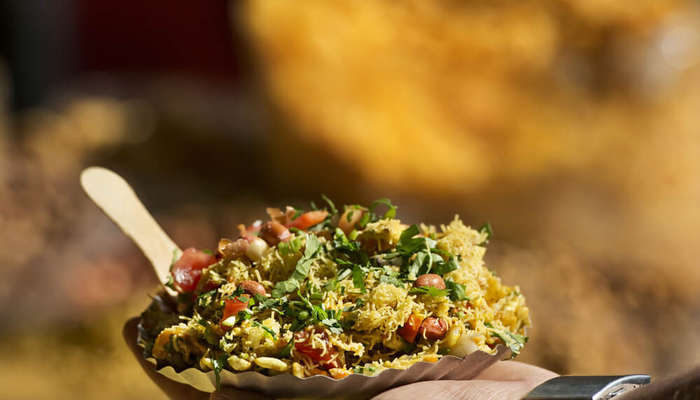 A savory snack, Bhelpuri is originally from the Indian subcontinent. A type of chaat, it is a light snack made of puffed rice, tomato, onion, peanuts, and tangy tamarind and mint chutney. This may not be typical Chennai chaat, but it has become quite popular among Chennaikars.
14. Kulfi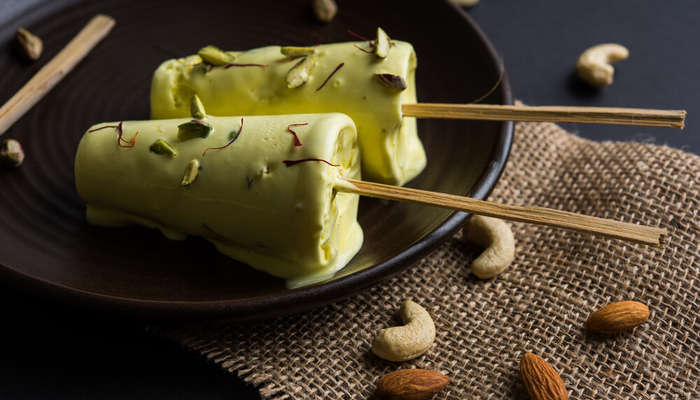 A dense and creamy ice-cream, which is tastes better than the normal ice-cream, Kulfi can be found in almost every city of India. In Chennai, you can see people lined up out small outlets or road-side stalls to try various types of kulfis. From the thick malai flavour to the a bit bitter coffee flavour, you get what you want.
15. Idiyappam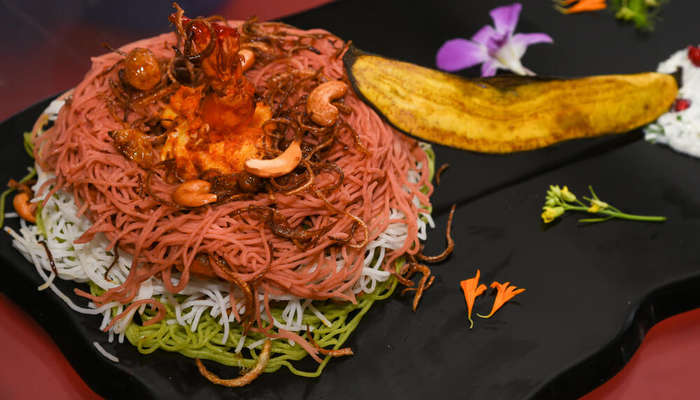 Idiyappam may look like noodles, but they taste quite different. Made with rice flour and served with coconut milk and curry, Idiyappam is a popular street food in Chennai. There's no dearth of street-side stalls selling Idiyappam in the city.
16. Jigarthanda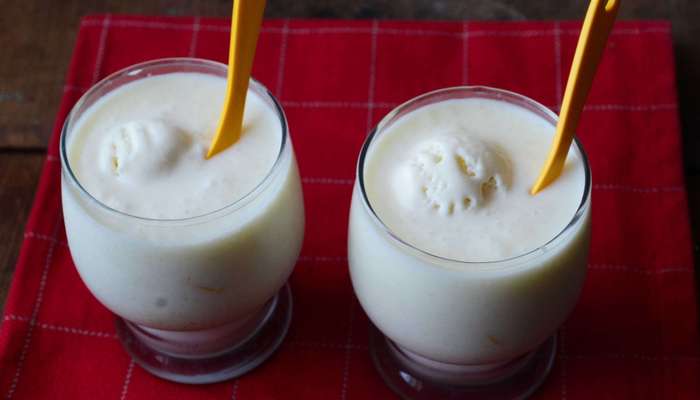 A Chennai special drink, Jigarthanda, which literally means 'cool heart' is a cold and refreshing drink quite popular in Chennai during summer. The drink was originated in Madurai and gradually became popular among younger generation. Served at roadside stalls, these drinks are perfect to beat the harsh Chennai heat.
17. Bhajji, Chennai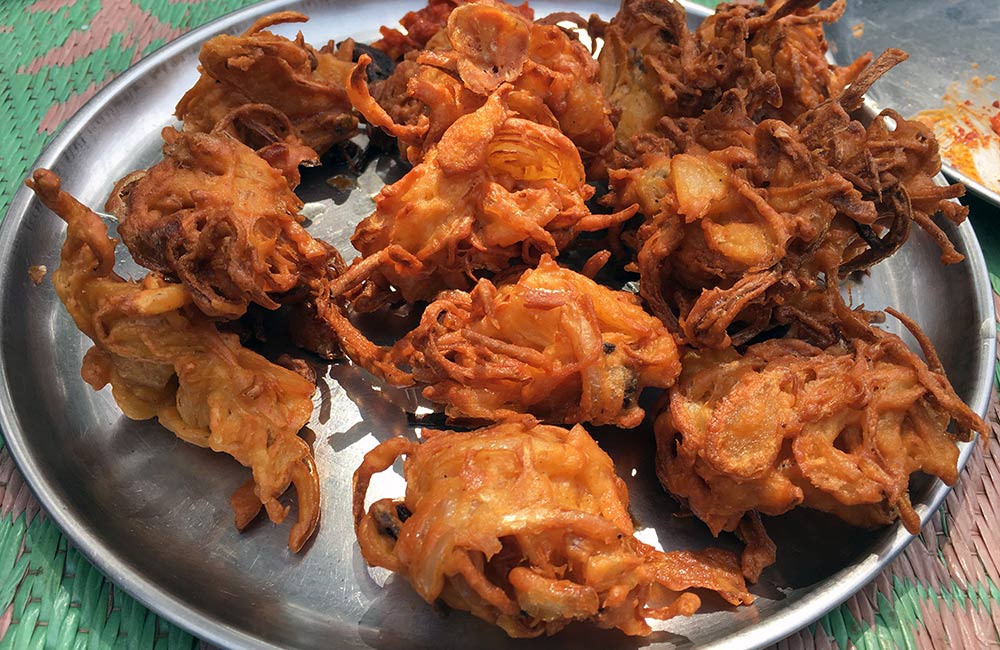 Bhajji is very famous in Chennai, no not the Indian off-spinner (well, he is famous too), but the street food. Bhajji is a South Indian version of pakora, but the taste varies enough for even North Indians to love it. Served with spicy and tangy chutney, a plate of freshly fried and spicy bhajji can be found quite easily in Chennai.
Top Places to eat Bhajji in Chennai
Jannal Kadai
Nair Mess
Mak N Bhajji Shop
Approximate cost for two: INR 100
18. Muruku & Muruku Sandwich, Chennai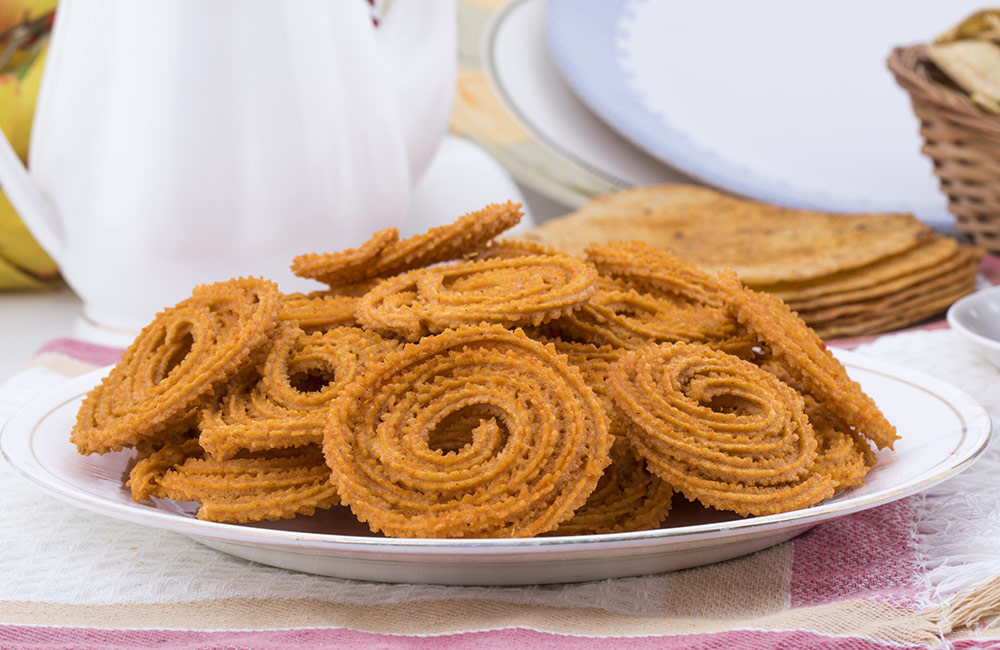 Muruku is a crunchy snack made from a combination of gram and rice flour, with salt and cumin seeds mixed into the dough, then deep fried. While Murukus might look like jalebi, they are salty to taste and are served with hot tea, and are very popular among the locals. However, murukus have evolved over time; several restaurants and street food places in Chennai have come up with mururku sandwich. The idea is to replace bread from the traditional sandwich with muruku pieces and add the rest of the ingredients like cucumber, tomato and onion slices between them.
Top Places to eat Muruku in Chennai
Links, Purasawakkam
Ajanabi
Feastinn
Approximate cost for two: INR 150
19. Sundal, Chennai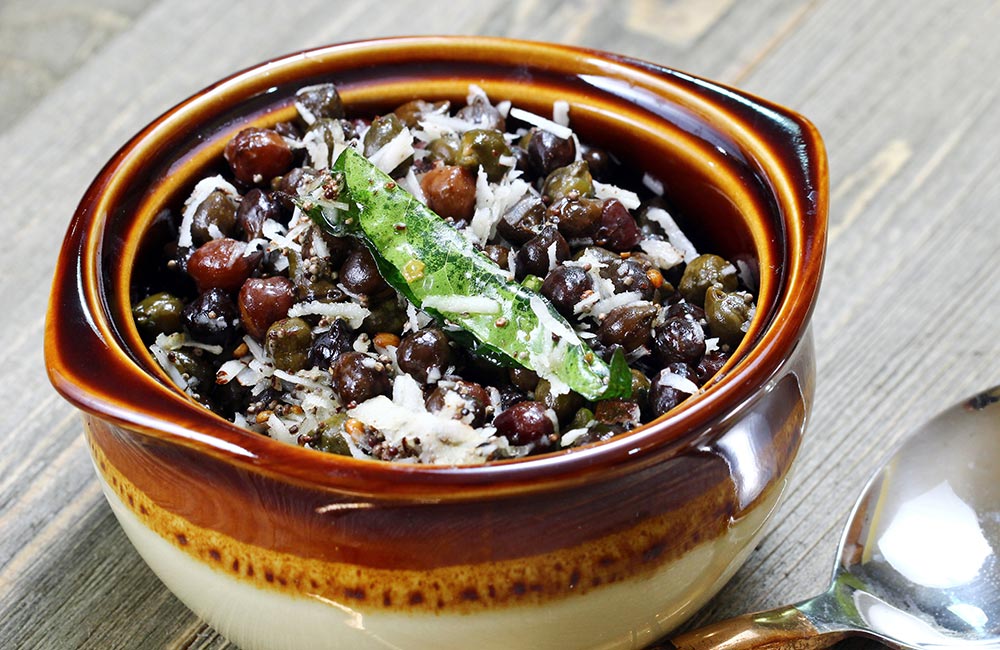 A very popular and tasty street food in Chennai, Sundal is found at many beaches. However, the ones found at Marina Beach are considered to be the best. Sundal is made from boiled chickpeas mixed with onions, an assortment of spices, herbs, and topped off with shredded coconut. It is an exotic street food worthy of the exotic city.
Top Places to eat Sundal in Chennai
Royal Sandwich
OSB hot and chat
Mathsya
Approximate cost for two: INR 30
20. Puttu, Chennai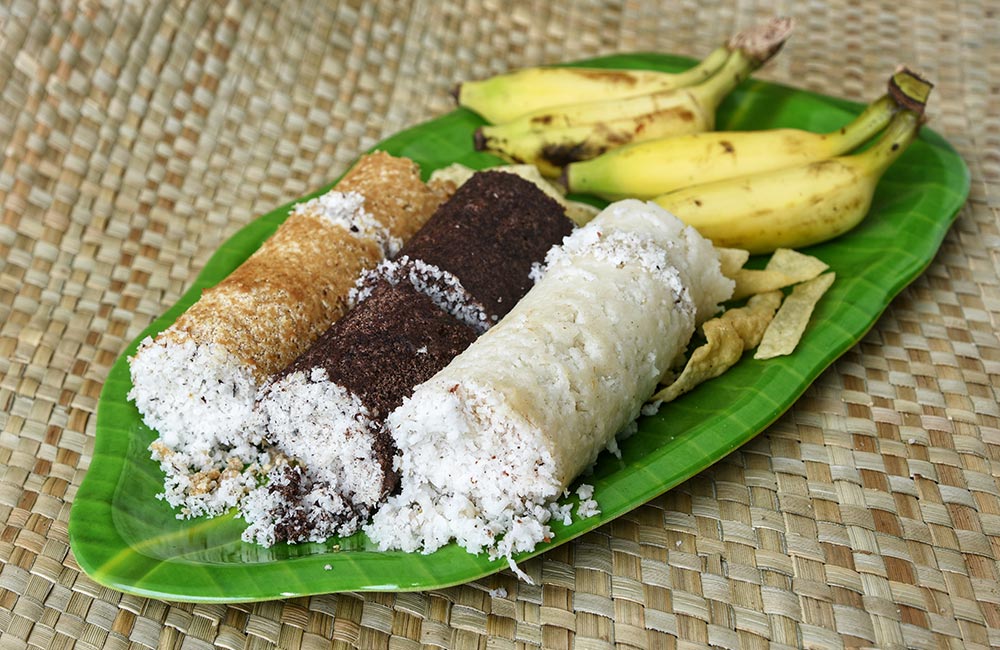 Puttu is a dish made from rice flour and coconut, and a staple for many households in Chennai. The rice flour is mixed with a few spices and then steamed in special cylinders (puttu kutti vessels).
Top Places to eat Puttu in Chennai
Nair Mess
Ente Keralam
Maplai
Approximate cost for two: INR 300