A little off the territory of Nashik, Anjaneri Mountains offers the right amount of solitude and peace from the fussy city life. But reaching here is a big task. Tourists will have to first take a bus from Nashik to reach Trimbakeshwar, and further trek for another 10 kilometers to reach the Anjaneri mountain. It will be tad tedious but the promising view that one gets to see worth all the efforts.
Anjaneri Parvat is quite significant amongst the devotees as locals say that the cave on the top of the hill was the place where Goddess Anjana gave birth to Lord Hanuman. And that's how the mountain got its name. Along with the cave, believed to be the place where Lord Hanuman was born, there's Anajani Mata temple. A lot of other places associated with the life of Lord Hanuman are also there, which can be seen while trekking on the hill. One such place is a cave, which is believed to be the spot where Lord Pawan Dev took Bal Hanuman when he was hit by the 'vajra' of Lord Indra. Also, there is a Mata Anjana temple; the place where Goddess Anjani meditated for a kid, and Shiva ultimately appeared in front of her to bless a boon. There are two pindies inside the temple; the big one is of Mata Anjana and the small one is of Bal Hanuman. A cave decorated with inscriptions that are as old as 1000 years also appears while trekking on the hill.
Located 20 km away from Nashik towards Triambakeshwar road, Anjaneri hills hold a lot of historical and religious significance. As per the Hindu mythology, Anjaneri is the birthplace of Lord Hanuman. Situated at 4264 feet above sea level, Anjaneri hills hosts a beautiful fort which is famous amongst the hikers and can be reached via Anjaneri village. Caves, temples, waterfalls and lakes are some of the common sights along the trek to Anjaneri Fort.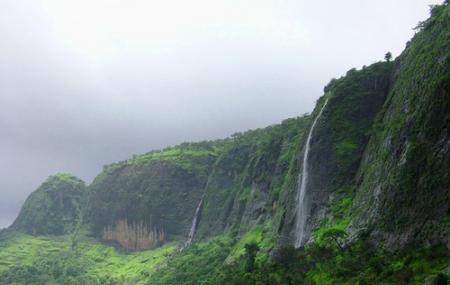 At a distance of 11 km from Trimbakeshwar Temple and 26 km from Nashik, Anjaneri Hill is a spiritual place that lies between Nasik and Trimbakeshwar. Anjaneri is one of the famous forts in the Nashik-Trimbakeshwar mountain range and also one of the popular trekking places in Nashik.
Situated at an altitude of 4264 feet, Anjaneri is the birth place of God Hanuman. Anjaneri fort is named after God Hanuman's mother Anjani. It is said that God Hanuman spent his childhood in these mountains. Being the birthplace of Lord Hanuman, Anjaneri has major significance for devout and hikers alike.
The main attraction of Anjaneri Hill is the Anjaneri Fort which can be reached via Anjaneri village. One should get down at Anjaneri Phata, which is 20 km away from Nasik on the Nasik-Tryambakeshwar road. Anjaneri village is at a walking distance of 10 to 15 minutes from Anjaneri Phata. There are some steps next to the village entrance, through which one can reach the plateau of Anjaneri. From Anjaneri village, it takes about one and half hour to reach the plateau of Anjaneri. This path leads to a magnificent trekking adventure through diverse sceneries of Anjaneri Lake, caves, waterfalls etc. It takes only 10 minutes to reach the temple of Anjani Mata from the plateau.
Visitors can see two different ways at a certain distance from Anjani Mata temple; one is to the left hand side that takes visitors to Sita cave in 10 minutes. There are two rooms in this cave where almost 10 to 12 people can stay comfortably. There are many beautiful carvings inside Sita cave. The other way goes to Citadel, where one can see one more temple of Lord Hanuman and Anjani Mata. It takes 20 minutes to reach the Fort. The fort has got a vast perimeter and commands splendid views of the Trimbakeshwar Peak, Vaitarna back waters and Brahmagiri.