Valley of Flowers Trek – Heaven on Earth
Bestowed with the rare and exotic Himalayan flora, the Valley of Flowers is a bouquet of nature peacefully snuggled in the West Himalayan region of Uttarakhand. The trek of Valley of flowers goes through dense forests, along with Pushpawati river and can be reached by crossing many bridges, glaciers and waterfalls on the way. 
This glaring piece of nature is an Indian National Park and a UNESCO World Heritage Site exhibiting plush meadows blossomed with endemic alpine flowers and diverse fauna in this valley.
The Complete Guide To Valley Of Flowers Trek
A Legendary Trail The World Wants To Trek In
The Valley of Flowers trek is one of India's most popular treks in the Himalayas. People who haven't even stepped in the Himalayas, have heard about the Valley of Flowers trek.
But there is a solid reason behind Valley Of Flower's legendary popularity – it is one of India's oldest known treks.
In 1980, Indian government created the Valley of Flowers National Park, and later in 2002, it was recognized as a UNESCO World Heritage Site. This pushed Valley of Flowers on the bucket list of trekkers from around the world.
Having said that, you must note that Valley Of Flowers trek is not easy. It is a moderate level trek, with slightly longer trekking days and a steep ascent to Hemkund Sahib that will challenge your endurance. So, prepare well for this trek. We have talked in detail about this in the 'difficulty' section of this trek guide.
This extensive trek guide contains all details you need to know to do this trek.
And, it also contains an interesting insight, a story of how one can fall in love with Himalayan treks after trekking to Valley of Flowers and Hemkund Sahib. Yes, that can happen. We know, because it happened with Sandhya U C, Co-Founder and COO of Indiahikes.
Use these pointers to navigate through this extensive trek guide:
What I Like And Don't Like About Valley Of Flowers Trek
Best Time To Do Valley Of Flowers Trek
Weather and Temperature on Valley Of Flowers Trek
Is Valley Of Flowers Trek Safe?
How To Reach Valley Of Flowers
Green Trails On Valley Of Flowers Trek
What To Pack For Valley Of Flowers Trek
Frequently Asked Questions About Valley Of Flowers 
Places To Visit Around Valley Of Flowers – Badrinath
Valley Of Flowers Trekker Blogs
---
What I Like And Don't Like About Valley Of Flowers
Sandhya UCCo-Founder & COOValley Of Flowers was my first Himalayan trek. I not only loved the trek but also fell in love with trekking in the Himalayas because of it. After Valley Of Flowers, I went on to do a lot more Himalayan treks, but the Valley of Flowers stays very close to my heart! A lot of people tend to discredit the trek thinking there is not much to it. That would be a mistake. There is a lot going for the trek.
---
What I like about Valley Of Flowers
1. The Valley of Flowers
The biggest reason for me to love and remember the trek is the beautiful valley itself. When you stand at the entry of the valley you see ahead of you a colourful carpet laid out. The valley is at least a couple of kilometres wide and more than 10 kilometres long. In front of me was the carpet with waves of pinks, blues and yellows flowing along with the breadth and width.
A narrow path in between the flowers beckons you to go deeper. You now start seeing a variety of flowers. Not only in colours but in shapes, sizes, textures and smell. A few tens of steps bring you to a totally new variety of flowers. You wonder who got them here. What made the variety change? It was also interesting to see the big fauna change along with the changing flora.
I stood by the flowers, sat down beside them, lay down on the small exposed trail trying to immerse myself and feel a part of the multitude of flowers in the valley. The cool mountain breeze coming from the glacial end of the valley brought with it scents that I had never known before.
2. The climb and Hemkund Sahib
Valley Of Flowers is a moderate trek but the climb to Hemkund challenges you on the next level. In 6 km you gain almost 4,000 ft. This not only introduces a new challenge, it also takes you to a scenic zone that you did not expect.
I loved the entry into the alpine zone while climbing up to Hemkund. You almost get a drone or helicopter view of Ghangaia and Valley of flowers while on the way up. You can see where you came from and where you went the previous day. A bird's-eye view puts in so much perspective even to landscape scenery.
As you climb up steeply you go through varied experiences. Leaving the tree line, entering alpine meadows, feeling the thin air and looking up to the pure alpine cliffs.
Once at Hemkund Sahib, the quietness of the lake and the surrounding mountains stun you. The majestic lake reflecting its surroundings – the mountains and the Gurudwara makes you reflect in gratitude about your entire journey. For many, it is a moment of quiet reflection of their entire lives.
3. The cultural experience
Valley Of Flowers is not just a trek. Along with a trek to the beautiful valley, it shows you an incredible journey of faith undertaken by humans. You see youngsters, middle-aged, elderly, children, toddlers on this incredible climb to the lake at 14,000 ft. Many take the support of ponies or even porters but quite a few of them climb on their own might.
It was heartwarming to see volunteers sweeping every section of the trail to keep it clean and working at Hemkund Sahib Gurdwara in freezing temperatures. It was a wonderful feeling to wake up in Ghangria at dawn to the parade calls of the Sikh Gurudwara. The trek shows you a world you would hardly see otherwise.
---
What I don't like about Valley Of Flowers Trek
1. The fact that I cannot camp
Camping is an intrinsic part of a great trekking experience for me. Unfortunately, the Vally Of Flowers trek does not offer that experience. Ghangaria being on the pilgrim trail to Hemkund needs to house hundreds of people and thereby modern infrastructure of lodging is indispensable. Camping is not allowed by the authorities.
The Valley of Flowers is a very ecologically sensitive area. Nobody is allowed to stay in the valley at night. No animals are allowed to enter the valley either. Given these restrictions, it is not practical to camp anywhere on the trek.
2. The innumerable shops selling packaged goods
All along the trail to Hemkund Sahib we see innumerable dhabas and shops selling food and packaged goods. While we may say that the huge footfall necessitates the supply, I wish the shops were more regulated. I also wish there was better regulation on what could be sold in an eco-sensitive zone like this.
Packaged goods freely available everywhere only means prolific litter everywhere. Perhaps time to question how we solve our needs of food and drink on a high traffic trail like this. Would you have any suggestions?
---
Best Time To Visit Valley Of Flowers
The gates to Valley Of Flowers open at the beginning of June. But the best time to visit is between July and September. You can extend it to the end of September.
Even in the best months between July and September, the trek is not the same every month.
• Valley Of Flowers Trek In July-August-September:
| | |
| --- | --- |
| July | It is lush green. The flowers are just beginning to bloom. Peak flowering season starts after mid-July. There are a few old snow bridges and some melting snow patches. Expect a riot of colours. Rains pick up after mid-July. The valley is least crowded in July. |
| August | The first 15 days of August see a huge number of flowers Though there's a good amount of rain at Govindghat. But at higher altitudes, it's not always heavy. It's crowded around weekends. But on weekdays you don't have to worry about crowds. |
| September | Flowers have wilted by now and valley is swelling with a crowd of pilgrims. |
• Valley Of Flowers In July:
In July expect a lot of greenery. You will also find a bit of snow till rains begin in full swing. But there won't be many flowers until mid-July. Since the trek climbs to such a high altitude (~14,000 ft), it retains snow even in July. Only later in July, the rain washes off the snow.
Monsoon also starts setting in in July. But it doesn't rain much in the first half. Monsoon gains momentum in the second half of July. Snow too starts getting washed off by then.
The Valley Of Flowers starts blooming – in the true sense – from mid-July onwards. And if there is a favourite time to do this trek, it has to be from mid-July to mid-August.
• Valley Of Flowers In August:
In August, monsoon clouds hang low and wash over the entire valley. Maximum flowers in the valley bloom during this period. While you get a good amount of rain at Govindghat during this time, at the higher altitudes it turns into a drizzle.
| Tip: Watch out for the precious Brahmakamal as you climb to Hemkund Sahib. This beautiful flower only grows around the altitude of 14,000 feet so is a rare sighting.
Even the crowds aren't heavy during the initial days of August. This makes it a perfect time to explore the valley blooming with flowers.
• Valley Of Flowers In September:
Flowers begin wilting by the second half of August and by September very few flowers are left. But there's a different kind of beauty to this month of retreating monsoon. Skies start clearing up and you witness some clear mountain views.
But September is also the time when the crowd in the valley starts thickening, During this month, pilgrims flock to visit the Gurudwara of Hemkund Sahib.
| Note: During peak monsoon, make it a point to visit the Valley of Flowers in the first half of the day and be back by 2 pm. Post that, the intensity of the rain increases. And that makes it risky to cross the rickety bridges over Lakshman Ganga.
---
Weather And Temperature On The Valley Of Flowers Trek
• Temperature on the Valley of Flowers trek: It is not very cold on the Valley of Flowers and Hemkund Sahib trek because the trek is done in the post-summer months of July, August and early September.
A second reason is that the highest place at which we stay overnight is Ghangria which is a shade below 10,000 ft.
Having said that, the trek is quite cold for someone coming in anywhere else but from the Himalayan villages. On the trek you can expect night and minimum temperatures to be about 3 – 5 degrees. Day temperatures are expected to be between 10 – 18 degrees based on precipitation and cloud cover of the day.
• Rainfall on the Valley of Flowers trek: Monsoons officially reach Uttarakhand by the second week in July. But we don't see much rain until the first half of July. It is very pleasant trekking in the valley. After mid-July, we see regular rains which continue all the way into August.
But do not fret over the rains. On the trek, the rain is always manageable by wearing your rain gears like a poncho and a rain pant. We also see that the first half of the day usually sees lighter rain as compared to the evenings and nights. Our trek days start early everyday and end by early afternoon.
Our strict start times and turnaround times keep us out on the trail during the best parts of the day and back in the safety of our lodge when the rains become heavy.
Come the end of August, the rains start to retreat. You get clearer skies and crisp views.
• Snow on the Valley of Flowers trek: The Valley of Flowers trek is not timed for its snow experience but early in the season you do get to walk on snow bridges and snow patches. The trail to the valley of flowers has snow bridges formed over the river and at many places, you walk right beside the snow bridges.
On the trail to Hemkund too, you get a handful of snow patches to cross early in the season. Expect to see melting snow flowing into Hemkund Sahib early in July. Most of the snow is gone once the rains set in by August.
---
With the best time and weather information covered, the next question with respect to a Himalayan trek on a trekker's mind is – how difficult is the Valley Of Flowers trek?
---
How difficult is Valley Of Flowers trek?
To be honest, Valley Of Flowers trek, which climbs to 14,400 ft, is not really difficult. It is rated as 'moderate'. That too only because trekking days are slightly long.
A moderate rating refers to marginally longer trekking days with a few steep climbs (example: climb from Ghangria to Hemkund Sahib). This makes it a notch more difficult than the easy-moderate treks like Kedarkantha and Dayara Bugyal.
To give you a perspective, the Valley of Flowers trek is 38 km long. And you cover this distance in 4 days. Every day you gain an altitude of approximately 2000 ft, and on some days even more. For your body to handle this trekking distance and altitude gain, you need to have good fitness levels.
And here's a yardstick for that – before the trek begins, you should be able to comfortably run 5 km in under 40 minutes. Click here for the fitness schedule to achieve that goal.
But the trek has easy exits and there are no technical sections.
To make it easier for you to take note, here's a list of difficult and tricky sections on the Valley Of Flowers Trek:
1. Rockfall area in the valley. There are two rockfall sections on this trek. You will come across the first one between Govindghat to Ghandria on the first day. And the second one lies around 20 minutes from the forest checkpoint as you trek from Ghangria to Valley of Flowers.
| Safety Advice: Be quiet and cross without stopping, in one go. Both rockfall sections on Valley Of Flowers trek are only about 20 metres long. Be mentally prepared for these and stay alert.
2. The melting snow blocks on the way to Hemkund Sahib in July and August. There is no snow on the trail but you can get snow melts coming down from the mountainside above the trail. Be mindful and keep an eye out especially on the mountainside when you are climbing up to Hemkund.
| Safety Advice: If you are feeling unsure, ask for guidance. Your guide usually puts stones to step upon without getting your feet wet. No other major risk here.
3. The hard climb to Hemkund Sahib and altitude sickness. Symptoms of AMS like headache, dizziness and nausea are common on the climb to Hemkund Sahib. Climbing almost 4000 ft from 9,600 ft to 14,100 ft in a single day is the big culprit behind you feeling these symptoms. So, trek up slowly but steadily. Take breaks after every 100 meters and take deep breaths.
| Tip: Micro-steps is a useful technique to climb uphill effortlessly. According to this technique, trek with a minuscule gap of 2-inch between the heel of one foot and toes of the next. Read more about micro-steps here.
| Safety Advice: Stay alert for any symptoms of AMS. When you climb too high too soon above 9000 ft, you risk the chance of developing Acute Mountain Sickness. On the Valley of Flowers trek, our itinerary is designed to reduce the chances of you being hit by AMS. We visit the Valley of flowers before we visit Hemkund Sahib to help your body acclimatize slowly to the increasing altitude.
4. Bridges over rivers. There are a couple of bridges on the Lakshman Ganga (Govind Ghat to Ghangria) and a bridge over Pushpavati (Ghangria to Valley of Flowers) on the trail and they are narrow. Be mindful of mule trains crossing over the bridges. Do not get stuck on the bridge with them. Be mindful about the water level below the bridges too. Do not crowd over these bridges either.
| Safety advice: Walk always on the side nearer to the mountain, primarily because of mules. We make trekkers pass through this section of about 100-150 metres quickly without stopping for photographs or otherwise.
5. Hard snow crossing en route the Valley of flower Early in the season, en route valley of flowers, there is usually a patch of hard snow extending across the trail all the way to the Pushpavati river. It is a short 10-meter patch but nevertheless requires you to negotiate it with firm footing.
A trekking pole and your trekking shoe come in handy to put firm footings in the snow. If you do not have a trekking pole, make patches on the hard snow with your shoe to get a firm footing.
| Safety advice: If you are feeling too nervous on the hard snow crossing, request your guide to help you out by showing the steps or holding your hand through it.
Is Valley Of Flowers Trek Safe?
Yes. Valley of Flowers trek is safe because it is one of the most well-known treks in the Indian Himalayas and has well-laid trails frequented by pilgrims. Yet, you would need to be careful on slippery sections on the trail especially when it is raining.
The altitude gain while trekking from Ghangria to Hemkund Sahib is also something that you need to be mindful of since AMS can hit trekkers at this altitude.
At this point, it is important to look at the details of the trek from the perspective of safety. It helps in being mentally prepared for the trek. That is as important as being physically prepared to stay safe. For this, it is crucial to have a clear mental picture of the trek. Quickly, here it is:
| Trek in a nutshell: On the Valley Of Flowers trek you go up to an altitude of 14,400 ft over a trek of 38 km. This is spread over four days where you trek for around 6 hours and gain 2000 ft on an average every day. It is possible that you could be hit by AMS on any of these days, especially while on your way to Hemkund Sahib Gurudwara. At Indiahikes, we believe that as long as you are well-informed and well-prepared, you can easily survive at high altitudes.
To do this effectively, let's break down and examine various aspects of Valley Of Flowers trek from the perspective of safety:
Safety Of Valley Of Flowers – Terrain Wise
When it comes to terrain, Valley of Flowers can be considered as highly safe.
The entire route is marked with well-marked trails
Well trodden routes
Most ascents are gradual except the climb to Hemkund Sahib.
Well placed campsites (important when considering AMS)
Easy exit points
There are hardly any sections that are challenging and require technical assistance. The only challenging section is the climb to Hemkund Sahib. However, even this section does not require technical assistance.
Safety of Valley of Flowers – Altitude Wise
As discussed in the above section, you are exposed to the risk of AMS during the stiff climb from Ghangria to Valley of Flowers. Stay alert for any signs of altitude sickness.
Attend to your uneasiness and take curative measures. Check oxygen levels, go on a curative course of Diamox, drink water and rest. If you do not feel normal after a few hours or overnight, do not proceed further on the trek.
To help you understand AMS better, we've put together a complete guide about it. This is a series of videos you must watch before you get onto any high altitude trek:
What Is Altitude sickness? A Quick Look At AMS, HAPE And HACE
How To Treat Altitude Sickness – AMS, HAPE, & HACE
How To Prevent Acute Mountain Sickness (AMS), HAPE and HACE
3 Life Saving Drugs You MUST Have To Tackle Altitude Sickness – AMS, HAPE and HACE
If you experience any symptoms of AMS, even in the slightest, start taking steps to treat the sickness.
At Indiahikes, our trek leaders are trained and equipped to take care of any emergencies related to AMS.
Safety of Valley of Flowers – Weather Wise
The trek is safe throughout the monsoon season. It may get slippery in parts due to rains. Good trekking shoes can take care of it. So, choose your trekking shoes wisely.
Apart from that, keep an eye out for the strong river currents while crossing bridges on the trek (view difficulty section for details). To be safe, trek in the first half of the day when rains aren't heavy.
Exit points on Valley of Flowers trek
Valley of Flowers, being a pilgrims trail, is well laid out and has easy exits from Ghangria. The nearest hospital in case of a medical emergency is the army hospital at Joshimath. It is around an hour's drive from Govindghat.
The most beautiful flower valleys in India
1. Valley of Flowers in Uttarakhand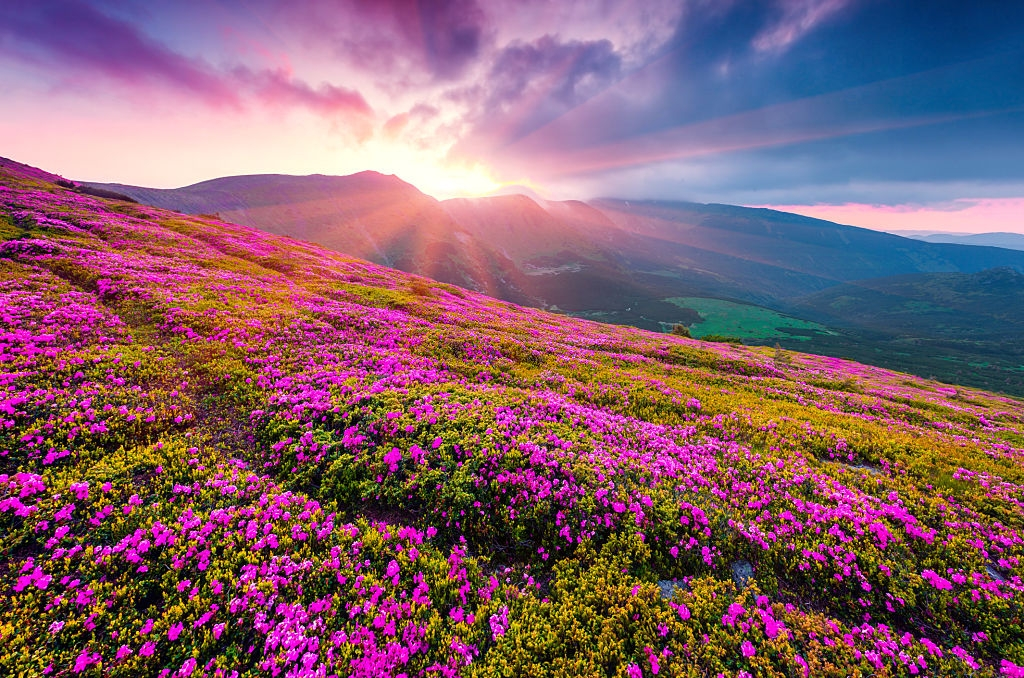 Purple and yellow flowers on a hill side of Valley of Flowers
White wildflowers in Valley of Flowers.
The valley is covered with purple flowers
Valley of Flowers in Uttarakhand is India's most mesmerizing flower valley, which is also a UNESCO world heritage site. The valley is flourishing in the middle of Bhyundar Valley, up in the western part of the Himalayas at an elevation of 3,658 mts above sea level. It is popular for its verdant valleys of endemic alpine flowers and the unbelievably mesmerizing scenic beauty.
When you trek to Valley of Flowers, you see rare flowers, including Brahma kamal, Yellow Cobra Lily, Jacquemont's Cobra Lily, Wallich's Cobra Lily, Elegant Slipper Orchid, Himalayan Slipper Orchid, Himalayan Marsh Orchid etc. The trek has been done and praised by many mountaineers, botanists, and renowned trekkers in the past.
Where is Valley of Flowers: Govindghat (Near Joshimath) in Uttarakhand
Best time to visit Valley of Flowers: June to September
Entry fee: INR 150 for Indians and INR 600 for foreigners
Entry time: 7.00 am till 2.00 pm
Exit time: By 5pm
Camera charges: Nothing for still camera. INR 500 for a professional video camera for Indians and INR 1500 for foreigners.
2. Kaas Plateau in Maharashtra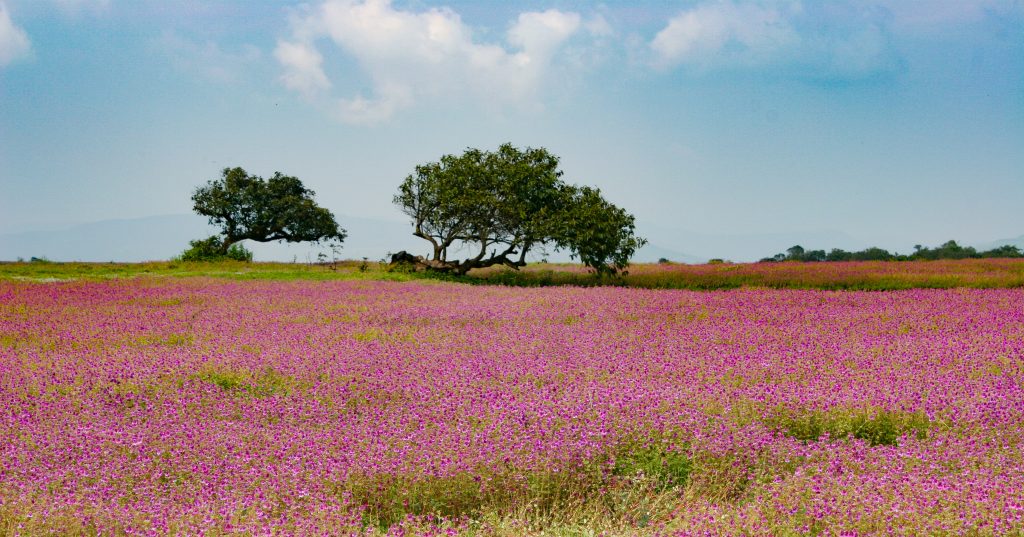 Purple flowers burgeoning on Kass Pathar
Yellow flowers covering Kaas
Wildflowers on Kaas Plateau
Drown in the ocean of pretty, multicoloured flowers and watch the fluffy, blue clouds right in the middle of Kaas Plateau. Some call it Maharashtra's answer to Valley of Flowers and sometimes, Switzerland of Western India, but it is none of them; it has its own divine beauty that makes you forget everything in this world. Once in every seven years, Kaas turns into an incredible sight to behold when the rare purple-blue wildflowers explode into colossal flowering.
This flower valley near Pune is a 3-hour drive from Pune city and makes a wonderful weekend getaway, even when it's not the blooming season. Kaas is home to 850 species of flowering plants, including Y-tura, Toothbrush Orchid, Deepkadi Flowers, Indian Arrowroot, and what not!
Where is Kaas Plateau: Satara in Maharashtra
Best time to visit Kaas Plateau: Late August to September
Entry fee: INR 100 for Saturday, Sunday, and Govt holidays. INR 50 on other days.
3. Dzukou Valley in Nagaland
Misty valleys of Dzukou
White flowers blooming in Dzukou Valley
Dzukou Valley is one of the most splendid but least-known valleys of India, situated at 2452 mts above sea level. This land of flowers is only known to locals, keen trekkers and explorers, which also means, Dzukou is far, far away from commercialization making it an offbeat trekking destination in the Himalayas. Only true trekkers trek the trails of Dzukou valley, and they are the one who gets to experience the heaven on earth.
The valley of celestial charm turns into a bed of flowers like aconitums, rare Dzukou white & pink lilies, euphorbias, and many other species of flowers that pain the valley in vivid colours.
Where is Dzukou Valley: At the border of Nagaland and Manipur
The best time to visit Dzukou Valley: June to September
Entry fee: INR 30 per person.
4. Yumthang Valley in Sikkim
Purple flowers growing on the meadows of Yumthang Valley
Lake in Yumthang Valley
Red and yellow flowers growing in Yumthang Valley
Have you ever imagined yourself walking through a multicoloured natural carpet adorned with yellow, red, purple, white, and pink flowers? If not, then you need to travel to Northeast, so that you can explore the divine beauty called 'Yumthang Valley'. Yumthang is one of the most magnificent valleys in India.
The valley situated at 3596 mts above sea level turns into a spectacular flower landscape when the spring arrives. With flowers like Cinquefoils, Rhododendrons, Iris, Poppies, Louseworts, Primroses, and Cobra-lilies, the valley becomes absolutely scenic. This is the right time to head to one of the most splendid flower valleys in India, book your tickets before it's too late.
Where is Yumthang Valley: North Sikkim
The best time to visit Yumthang Valley: Late February to mid June
5. Munnar Valley in Kerala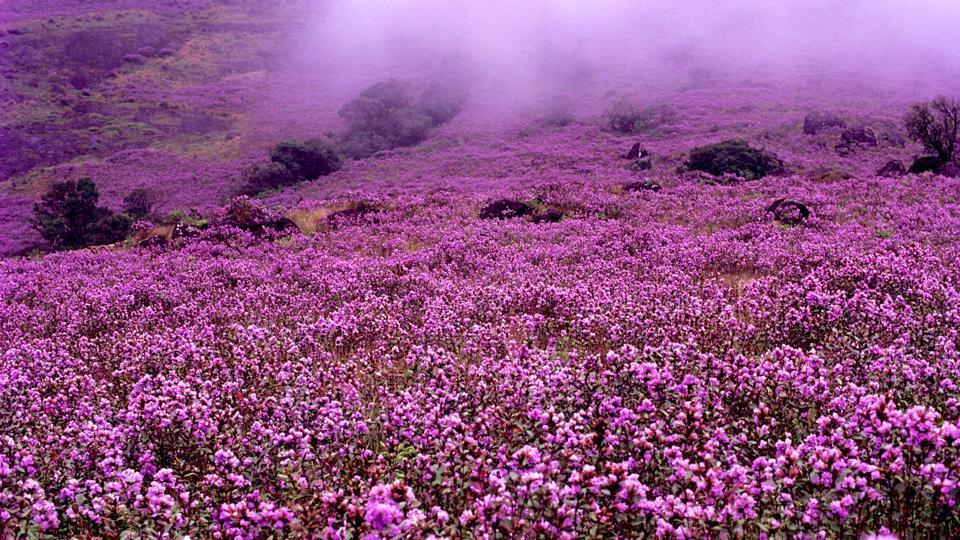 Neelakurinji growing in Munnar Valley
The rare Neelakurinji blooming in Munnar Valley
Neelakurinji growing in Munnar
Munnar is known as honeymooner's paradise, but very few know that the onset of August month covers these green meadows with incredibly mesmerizing lavender-colour flowers, known as Neelakurinji. Neelakurinji is a rare flowering plant grows in Western Ghat's Shola grasslands. This natural phenomenon occurs only once in every twelve years, and the next Neelakurinji bloom is expected to occur in 2018.
This definitely gives explorers and travellers a major travel goal for the coming year. After all, you will only get a few chances in your life to witness this magic of nature.
Where is Munnar Valley: Idukki district in Kerala
The best time to visit Munnar Valley: Peak bloom begins in end of September until the beginning of October
Breathtaking flower valleys around the world
6. Antelope Valley California Poppy Reserve in California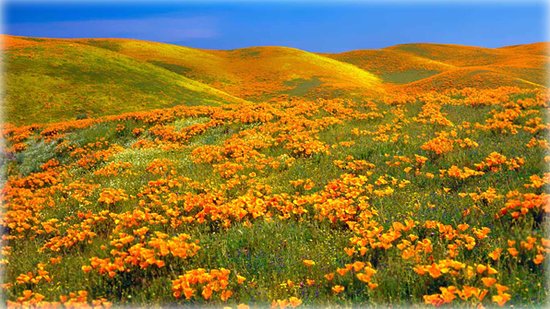 Poppies in full bloom at the Antelope Valley
Antelope Valley California Poppy Reserve
Golden Poppy and purple Tansy blooming in Antelope Valley
As soon as springtime begins, mother nature paints the Antelope valley orange. It is the time of the year when you can experience a beautiful display of Calfornia poppies unrolling in the sunlight. It's time to head to the countryside and relax while the mellow sun shines, birds sing songs, and a cool breeze blows through the valleys. It's a sight to behold and one of the most beautiful flower valleys! You might spot bobcats or coyote while exploring the valley.
Where is Antelope Valley: LA County, California
The best time to visit Antelope Valley: March to June
Open hours: Sunrise to Sunset
Parking fee: INR 660 per vehicle and INR 600 per vehicle with a senior on board (62 and over)
7. Castelluccio Valley in Italy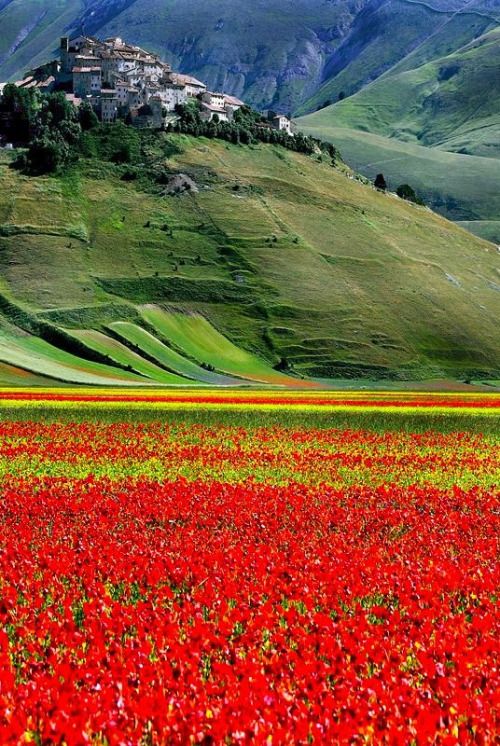 A blooming field of poppies in Castelluccio Valley
Castelluccio Valley filled with flowers
Symphony of natural colors in Castelluccio Valley
Surrounded by Monti Sibillini national park, Castelluccio valley is known for its massive flower blooming season in Italy and around the world. Covered with blue, lavender, white, red, yellow, it takes you to a different world with ultimate silence.
The decorated Castelluccio valley and its wide grasslands attract hundreds of national and international photographers each year. It is only 1,452 meters above sea level, one doesn't need to trek to reach the valley, an easy drive will get you there.
Where is Castelluccio Valley: Province of Perugia, Italy
The best time to visit Castelluccio Valley: The end of May and mid-July
8. Yellowstone National Park in the United States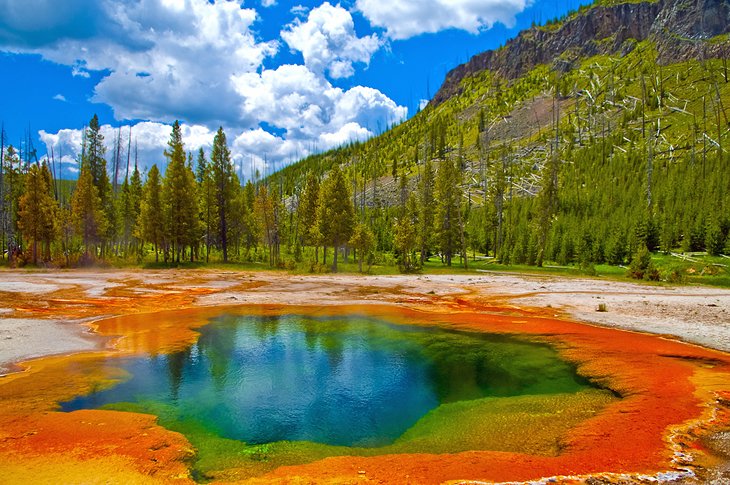 Beautiful cerulean geyser in Yellow National Park
Wildflowers in the valley
Wonderful peaks of and fields covered by flowers
2133 mts above sea level, Yellowstone National Park is home to flowers, including, Glacier Lily, Indian Paintbrush, Plains Prickly Pear, Fringed Gentian, Silky Phacelia, Shooting Star, Yellow Monkey Flower, and Bitterroot. A surprising fact about the flower valley is that, due to its diverse terrain, some species of flowers grow even on the dry valley beds in hostile soil, rocky crevices; close to other flower species that grow in green meadows and river beds.
Yellowstone National Park attracts thousands of visitors and photographers every year. You will be refreshed after seeing the charming valley decorated with vivid colours.
Where is Yellowstone National Park: Wyoming
The best time to visit: May to August
9. Crested Butte Valley in Colorado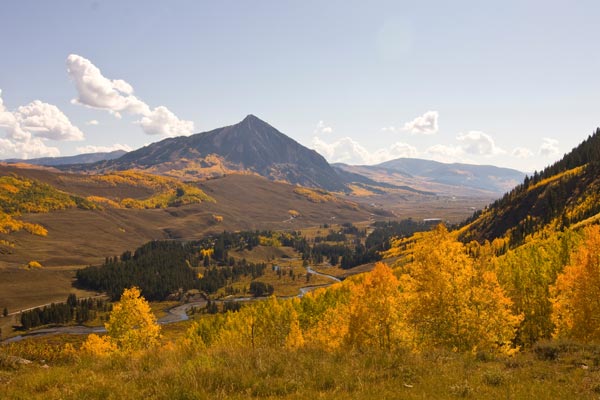 Yellow and purple wildflowers in Crested Butte Valley
Crested Butte Valley surrounded with white and yellow flowers
Crested Butte Valley in Colorado is covered with a fragrant and spectacular flower carpet during the spring season. The valley is immersed in the sea of flowers, they even grow in the backyards and gardens of the local residents. The natives believe that it's one of the most beautiful places on earth, there's no denying that it's so majestic.
The beautiful Crested Butte Valley is home to 55 species of splendid flowers, including Indian Paintbrush, Sunflowers, Lupine, and Columbine. It also makes an amazing landscape for photo walks and overnight outings in the middle of wildflowers.
Where is Crested Butte Valley: Gunnison County, the United States
The best time to visit Crested Butte Valley: The end of June to July
10. Rose Valley in Bulgaria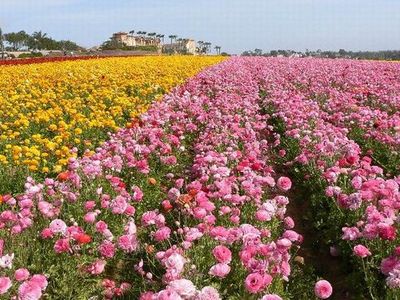 Rose field in the Thracian Valley
Bulgarian girls dressed in traditional clothing for the Rose Festival
Roses in bloom in the valley
A divine fragrance in the air and meadows veiled by pink and red roses—that's how it feels being in Rose Valley during the summer. Damask roses are cultivated in the region that lies between valleys near the Bulgarian town of Kazanlak since the 18th century.
Tourists who go to visit the valley end up buying damask rose essential oil, which is considered the best in the world. One can attend the rose festival in the valley that begins with the gathering of petals and ends with choosing the new Queens of Roses.
Where is Rose Valley: Bulgaria
The best time to visit Rose Valley: June to July
These are some of the most beautiful flower valleys around the world that you will never wish to miss. Explore as many as you can before you're too old for adventures.