The list of Indian street food dishes you must try in Mumbai is long and varied, consisting of dynamic complementary and contrasting flavors that range from hot to sweet to savory, and textures that run the gamut from soft to crispy to creamy, making the bustling city a culinary paradise for locals and travelers alike. Located along the Konkan Coast in the Indian state of Maharashtra, Mumbai  is well-known around the world for its massive population of 12.4 million within the city limits, which balloons to over 21 million once the surrounding metropolitan area is factored in. Many of those 21 million residents, including those from all economic classes and various religions and ethnicities, are known for enjoying the distinctive and cost-effective roadside food that has made the city a premier destination for foodies all over the world, including myself.
1. Vada Pav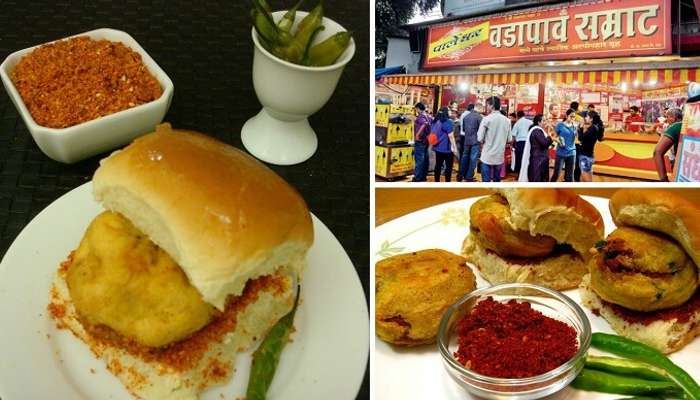 Vada Pav, or the Poor Man's Burger, is among the top Mumbai street food dishes. It is essentially a bun bread (pav) and a fritter(vada) stuffed with mashed potato. The dish is served with spicy and sweet chutneys, fried chilies, and garlic powder chutney.
Popular Variants: Schezwan, cheese, and grilled Vada Pav
Where To Try: Anand Vada Pav Stall and Parleshwar Vada Pav Samrat in Vile Parle West
Also Try: Samosa Pav, Kheema Pav, and Dabeli
2. Misal Pav
Quintessentially from Pune, the dish is a mix of curried lentils, topped with potato bhaaji, poha, chivada, chopped onions, and tomato. This hot and spicy street food of Mumbai is eaten with pav and yogurt. If you are looking for options in healthy street food in Mumbai, then Misal Pav has got your back. Start your morning with this sumptuous, healthy breakfast.
Where To Try: Mamledar Kacheri at Naupada in Thane West
Also Try: Misal Vada
3. Pav Bhaaji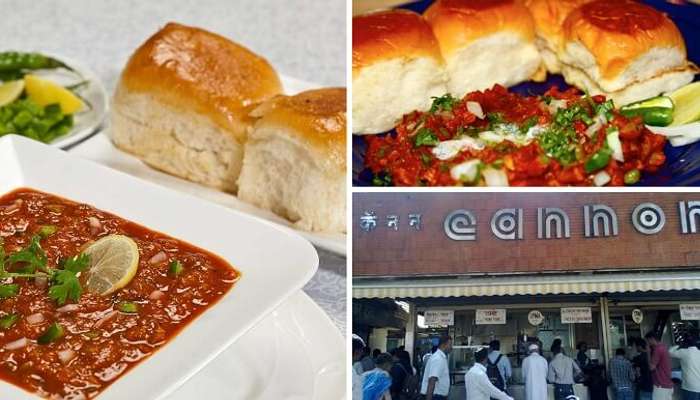 Another popular Bombay street food is the Pav Bhaaji. An assortment of mashed vegetables cooked with spices and seasonings (bhaaji) is served with bun bread (pav) heated on a pan. Butter is applied on the bun. If you are roaming hungry and looking for street food in mumbai at night, then you will find at least one Pav Bhaji stall open late in night in your area where you can kill your hunger pangs.
Where To Try: Cannon Pav Bhaji on Dadabhaji Naoroji Road near CST
Also Try: Tawa Pulao and Brun Maska (butter in bun)
4. Bhel Puri and Sev Puri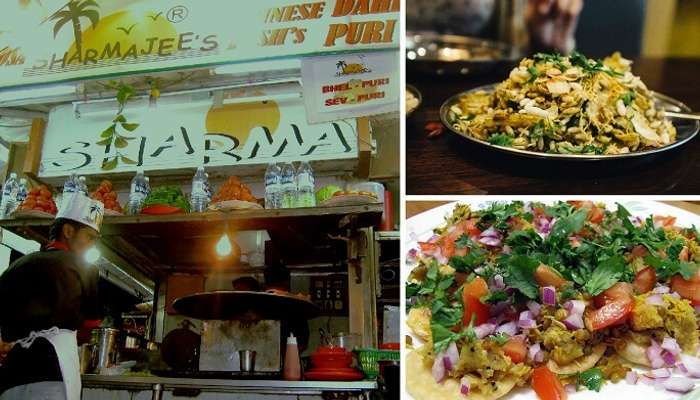 Among the vegetarian dishes of street food in Mumbai, Bhel Puri and Sev Puri are the most popular ones. Bhel Puri is a Marathi Chaat made out of puffed rice, vegetables, and a tangy tamarind sauce. Sev Puri is another chaat essentially made of Puri loaded with diced potatoes, onions, 3 chutneys (tamarind, chili, and garlic), and topped with sev (small pieces of crunchy noodles made from chickpea flour paste). It is seasoned with raw mango or a hint of lemon and chaat masala.
Where To Try: Sharmajee's and Badshah's at Girgaon Chaupati Beach at Marina Drive
Also Try: Dahi Puri, Pani Puri, and Chinese Bhel
5.White Biryani at Noor Mohmaddi, Bhendi Bazaar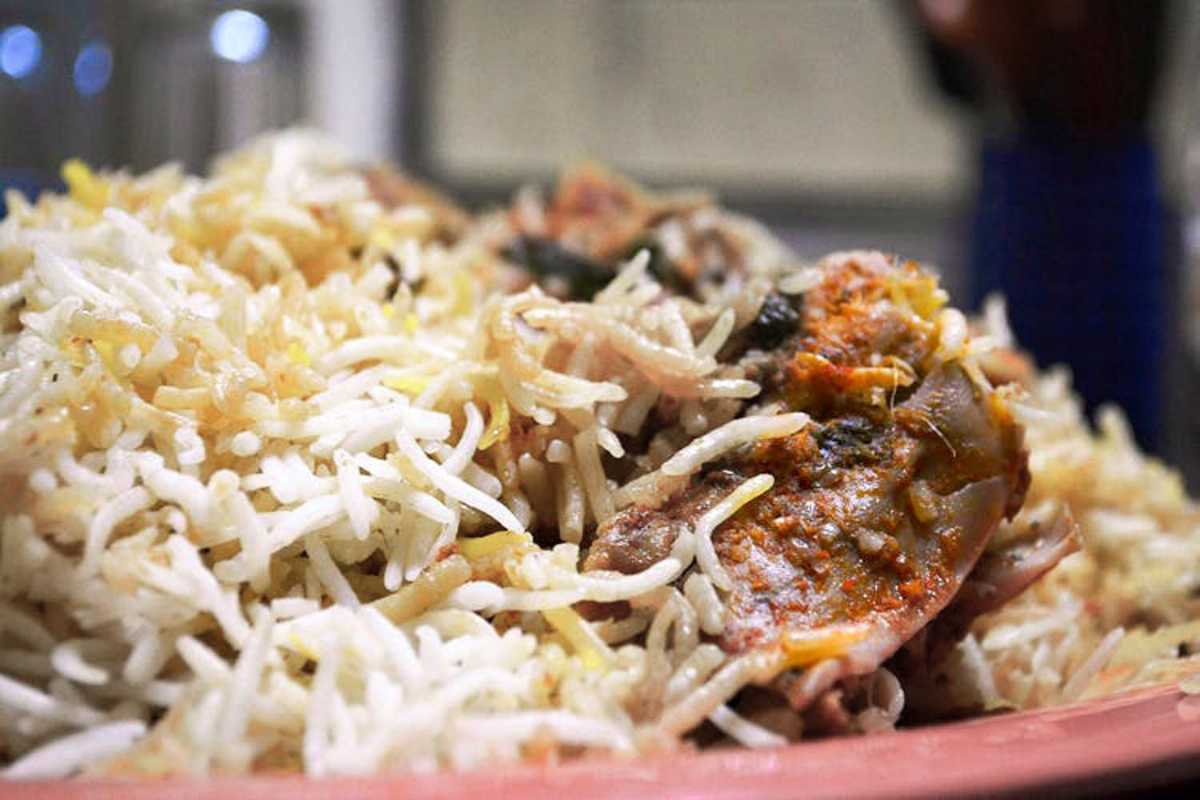 This street is home to some of the best street food places in Mumbai. The best time to visit Mohammad Ali road (where Noor Mohmaddi is, along with a lot of other great restaurants and roadside Kabab joints) is during Ramadan. This is the time when you can actually spot Bollywood stars roaming the streets and tasting the yumminess beside you. But you're going to be too busy with your face in the plate to notice them.

Where: 179, Wazir Building, Abdul Hakim Chowk, Bhendi Bazar, Near Girgaum, Mumbai
Price: INR 300 for two
What you must try:Chicken Hakimi, White biryani
6. Bun Maska and Mava Samosa of Mervan's, Grant Road – The Ultimate Mumbai Famous Food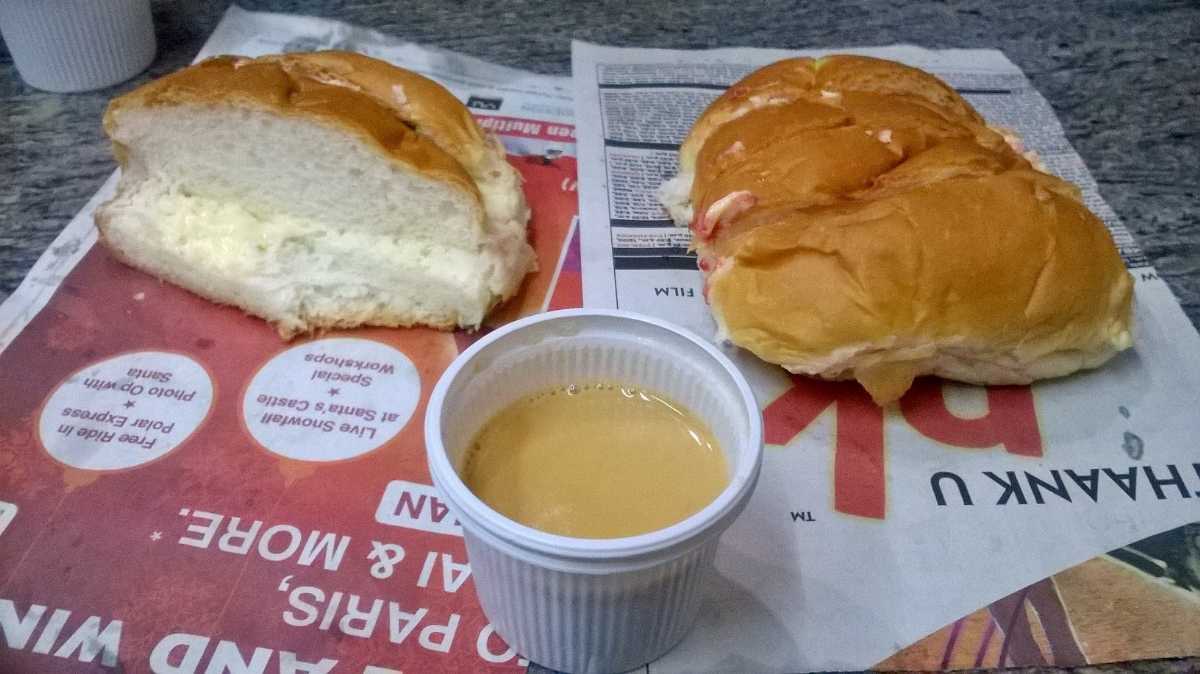 Run into Merwan's for some mouth-watering pastries, tea cakes and cookies to soothe your sweet tooth! A big name on this side of town, Merwans is frequently visited by people who come here just to collect a package of baked goods for the home and also is a place people come to after work for an Irani chai and some freshly baked cookies.
Where: Ali Bhai Remji Road, Opposite Station, Grant Road East, Mumbai
Price: INR 150 for two
What you must try: Pastries, Irani chai, Bun Maska pav

7. Tandoori Delicacies at Jai Jawan

After a long day shopping on Hill road, people stop at Jai Jawan, a crowd favourite for non-veg snacks. It has the best non-veg dishes on that side and is hardly ever forgotten. Once you eat here, you become a loyal customer!

Where: Opposite National College, Next to Chappal Market, Linking Road, Bandra West, Mumbai
Price: INR 600 for two
What you must try: Tandoori Chicken, Punjabi Prawns Masala, Punjabi Prawn Fry
8. Chicken Tikka
No list of the best Indian street food dishes you must try in Mumbai is complete without the scrumptious, roasted or grilled chicken dish known as chicken tikka, which is made by marinating small pieces of chicken in a mixture of yogurt and spices that include ginger, garlic paste, and red chili powder.
I tried chicken tikka (which is essentially a boneless version of chicken tandoori) at Eataeria in Mumbai's Bandra neighborhood. It was served in a wrap with cheese and a delicious sauce. While I didn't find the chicken spicy, it was extremely flavorful and the crispy wrap around it made for a wonderful non-veg dish I will never forget!
9. Dosa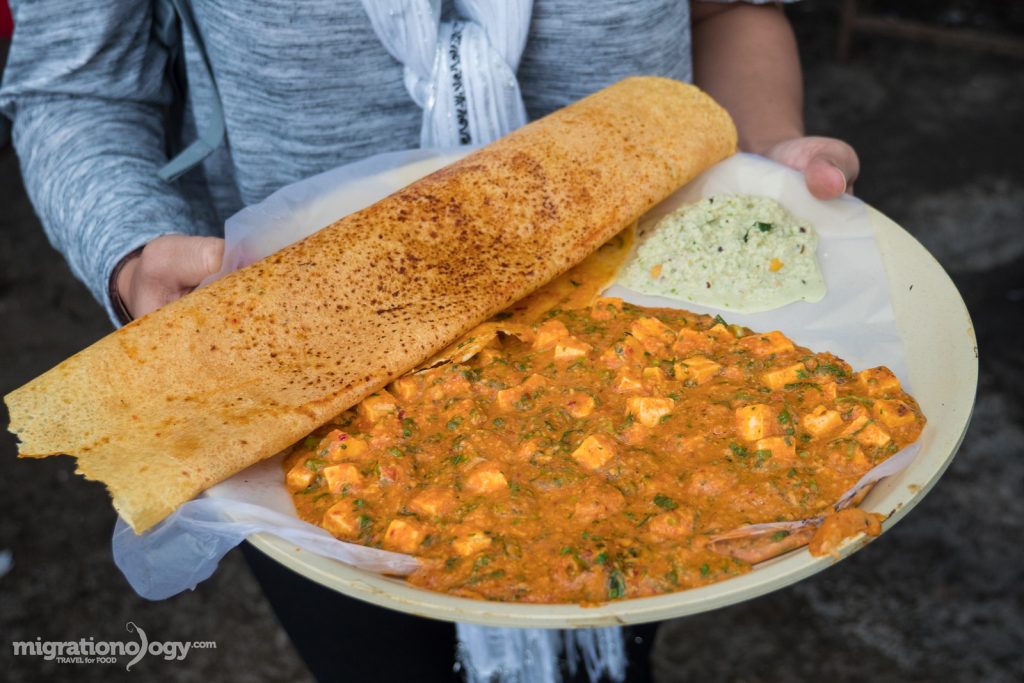 Although dosas are originally from South India, since Mumbai is such a melting pot of India, the dosa is also a very common street food in Mumbai.
A dosa is made from a batter of rice and urad bean flour which is lightly fermented, and then fried on a hot circular plate in a thin crepe like shape. Once it's golden and crispy on the bottom, any number of fillings can be added to the center. The traditional version is the masala dosa, where masala potatoes are added to the dosa, and it's served with sambar and coconut chutney on the side.
But in Mumbai you'll find some fusion and very creative types of dosas as well, where both Indian and Chinese dishes are served with the dosa, and they work so well.
Where: Anand Stall serves the dosa of your dreams, and when I went I ordered the paneer tikka dosa, which was unbelievably good.
Address: Outside Mithibai College, Gulmohar Road No. 1, Vile Parle West, Mumbai, Maharashtra 400056, India
Open hours: 8 am – 11:30 pm daily
10. Chinese Specials at Babu Chinese, Worli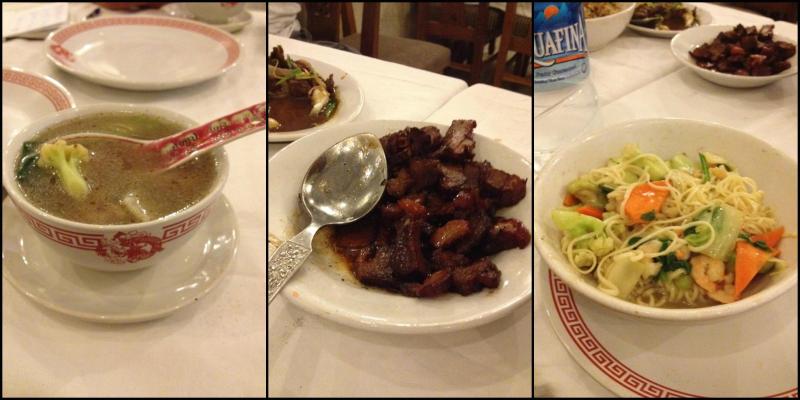 It gets very difficult to find good Indian-Chinese food among all the roadside stalls and shops that dot the place, so we thought it would be great if we gave you trusted names for the best in taste and here it is!

Where: 872, Subhedar Nagar, A.G Khan Raod, Worli, Mumbai
Price: INR 750 for two
What you must try: Everything on the menu!
11. Non Veg Snacks at Aaron's, Orlem Church, Malad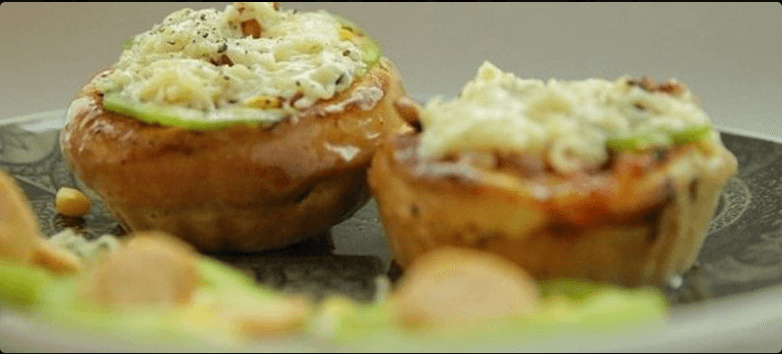 Aaron's Bake and brew go easy on your pocket and violent on your taste buds and you will be far ahead from satisfied after an afternoon spent here snacking on its yummy pastries and other simple and light delicacies.

Where: 5, Lourdes Heritage, MarveRoad, Orlem, Marve, Mumbai
Price: INR 250 for two
What you must try: Chicken Mayo Sandwich, Chicken Makhanwala rolls
Conclusion
Mumbai is one of the most important cities in India and it's a city that loves to eat.
Take a walk through Mumbai and you're bound to discover a near limitless amount of options when it comes to delicious foods to try.