Rani ki Vav aka the Queen's Stepwell situated on the banks of Saraswati River in Gujarat is one of the largest stepwells of its kind in the country. This 900-year old structure is located about 125 km from Ahmedabad, in Patan, which was a fortified city in medieval times. Even though stepwells were constructed in India since 3rd BC as a means of storing water, Rani ki Vav is much more than that. It has gained huge popularity due to its elaborate seven-storied structure and intricately carved sculptures of gods, goddesses, and deities.
Are you planning a trip to Gujarat this holiday season? Then keep aside a day to explore this UNESCO World Heritage Site which is counted among the must-visit weekend getaways from Ahmedabad. We have curated every bit of information you should know about Rani ki Vav, such as its history, architecture, timings, and other interesting and lesser-known facts.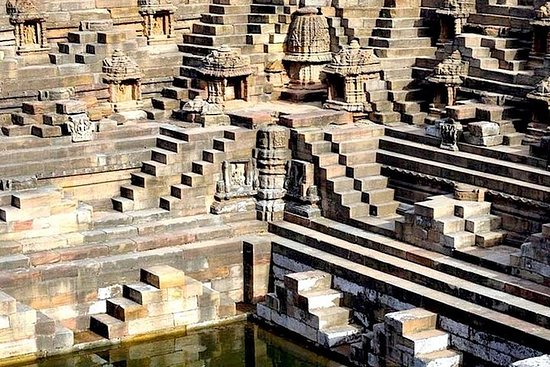 Rani ki Vav Information
| | |
| --- | --- |
| Location | Patan |
| Distance from Major Cities | Gandhinagar (110 km); Ahmedabad (125 km); Vadodara (235 km); Surat (390 km) |
| Timings | 8:00 am to 6:00 pm; every day |
| Entry Fee | ₹ 15 for Indians; ₹ 200 for foreigners |
| Status | UNESCO World Heritage Site |
| Nearest Railway Station | Mehsana Junction |
| Nearest Airport | Ahmedabad |
| Commissioned by | Rani Udayamati |
| Year of Establishment | 1063 |
| Architectural Style | Maru-Gurjara style |
| Dimensions | 64 meters (length) x 20 meters (width) x 27 meters (depth) |
| Best Time to Visit | Between October to March |
Rani ki Vav: History
Rani ki Vav traces its origins back to the 11th century when the Chalukya Dynasty was in power. The popular assumption is that the well was commissioned in 1063 by Rani Udayamati for her husband Raja Bhimdev I. A collection of semi-historical Sanskrit narratives named Prabandha Chintamani, compiled in the 14th century, has references to the queen building this memorial for her beloved husband.
As years passed, the River Saraswati changed its course and this stepwell was extensively damaged and silted by floods. Due to repetitive floods and river deposits, this massive structure received little attention and was almost buried under the sand. In the late 1980s, the Archaeological Survey of India started excavations on the site, desilting and restoring the structure to its present form.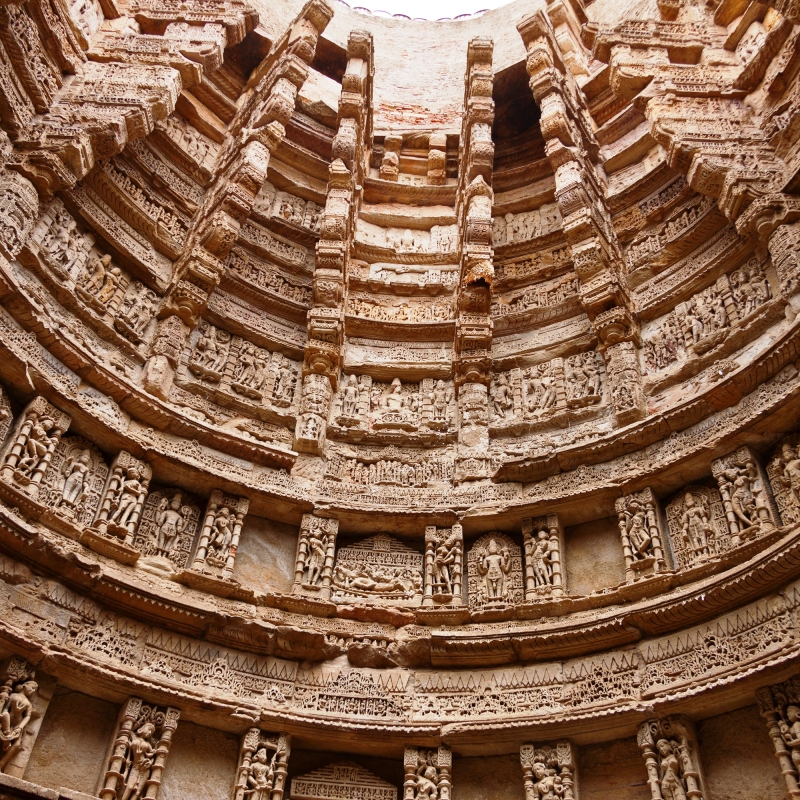 Rani ki Vav Architecture
Constructed in the Maru-Gurjara architectural style, this east-facing memorial is spread over 12 acres of land. Rani ki Vav is 64 meters long, 20 meters wide and 27 meters deep, and is designed like an inverted temple. That is, the structure begins from the ground level with steps leading to the bottom of the deep well below. In addition to steps, there are supplementary staircases that can be used to reach the lower stories. The draw well is situated in the extreme west of the structure. Needless to say, Rani ki Vav shows mastery of complex techniques and a great display of details and proportion.
The well has seven stories, each featuring sculptures of spellbinding artistic quality. You can see a combination of religious, mythological, and secular imageries in the 500 plus main sculptures and several minor ones. There are around 226 pillars in this stepwell that remain intact even after the repetitive floods. The corridors, pavilions, and pillars are intricately carved with the figures of Hindu deities, gods and apsaras or celestial dancers. The carving of Sheshashayi Vishnu, where he is seen as reclining on a serpent with thousand hoods, is one of the key attractions to check out.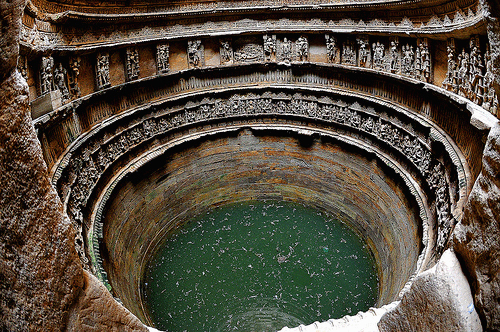 Rani ki Vav: Today
Today, Rani ki Vav is one of the top tourist attractions and historical places in Gujarat. Initially, all areas of the stepwell were open to the public. However, after the earthquake in 2001, some parts were found to be damaged and sensitive to public visits by the Archeological Survey of India.
In 2014, this magnificent stepwell was added to the list of UNESCO's World Heritage Sites for illustrating heights of art and techniques. The structure is now a protected national monument under the Archeological Survey of India. The Rani ki Vav festival (also called Water Festival) held here in December-January is a major attraction for tourists.
Lesser Known Facts about Rani ki Vav
In the Indian Sanitation Conference (INDOSAN) of 2016, Rani ki Vav was awarded the title "Cleanest Iconic Place".
The new ₹100 note features the structure on its rear side.
Under the last step of the well, there is a gate that opens to a 30-meter long tunnel which leads to a town near Patan called Sidhpur. It is said that this tunnel was used as a secret passage to escape during wars or invasions.
There used to a lot of medicinal plants in and around the well. It is believed that the water in the well has medicinal properties and can cure diseases and ailments.
Attractions near Rani ki Vav
Patan City Museum (450 m)
Patan Patola Heritage (500 m)
Karandiyaveer Temple (750 m)
Sahastralinga Talav (850 m)
Panchmukhi Hanuman (3.4 km)
Khan Sarovar (3.8 km)
This marvelous memorial truly projects the quality of workmanship that survived the test of time. So, when you visit Gujarat, take a short trip to Rani ki Vav and pay tribute to two things – the undying love Rani Udayamati had for her husband and the unmatched techniques used in the construction of the well. And don't leave Patan without buying the iconic patola saree the town is famous for.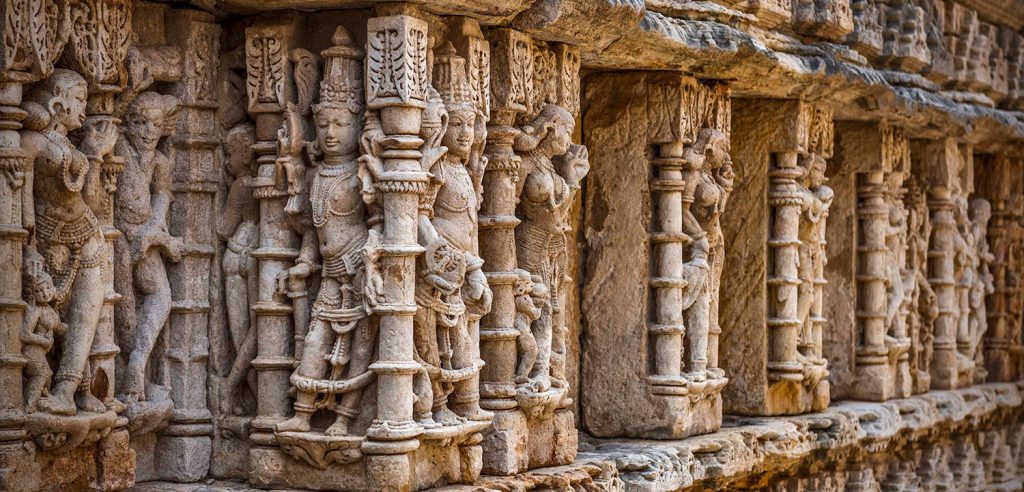 Rani-ki-Vav (the Queen's Stepwell) at Patan, Gujarat
Rani-ki-Vav, on the banks of the Saraswati River, was initially built as a memorial to a king in the 11th century AD. Stepwells are a distinctive form of subterranean water resource and storage systems on the Indian subcontinent, and have been constructed since the 3rd millennium BC. They evolved over time from what was basically a pit in sandy soil towards elaborate multi-storey works of art and architecture. Rani-ki-Vav was built at the height of craftsmens' ability in stepwell construction and the Maru-Gurjara architectural style, reflecting mastery of this complex technique and great beauty of detail and proportions. Designed as an inverted temple highlighting the sanctity of water, it is divided into seven levels of stairs with sculptural panels of high artistic quality; more than 500 principle sculptures and over a thousand minor ones combine religious, mythological and secular imagery, often referencing literary works. The fourth level is the deepest and leads into a rectangular tank 9.5 m by 9.4 m, at a depth of 23 m. The well is located at the westernmost end of the property and consists of a shaft 10 m in diameter and 30 m deep.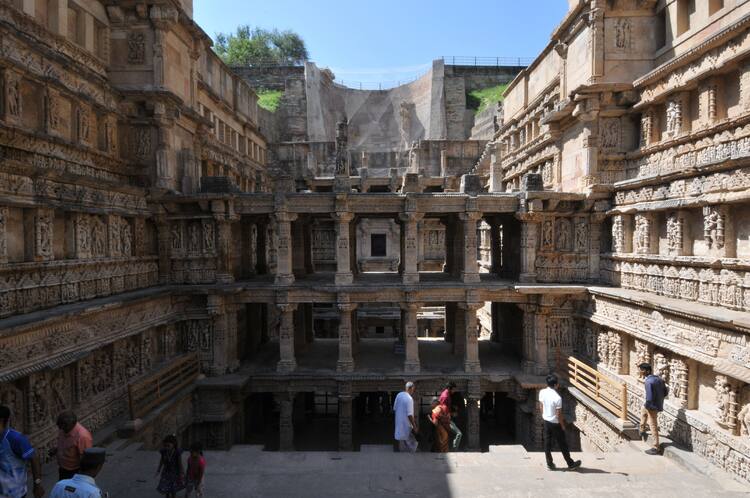 Brief synthesis
Rani-ki-Vav is an exceptional example of a distinctive form of subterranean water architecture of the Indian subcontinent, the stepwell, which is located on the banks of the Saraswati River in Patan. Initially built as a memorial in the 11th century CE, the stepwell was constructed as a religious as well as functional structure and designed as an inverted temple highlighting the sanctity of water. Rani-ki-Vav is a single-component, water management system divided into seven levels of stairs and sculptural panels of high artistic and aesthetic quality. It is oriented in an east-west direction and combines all of the principle components of a stepwell, including a stepped corridor beginning at ground level, a series of four pavilions with an increasing amount of storeys towards the west, the tank, and the well in tunnel shaft form. More than five hundred principle sculptures and over a thousand minor ones combine religious, mythological and secular imagery, often referencing literary works.
Rani-ki-Vav impresses not only with its architectural structure and technological achievements in water sourcing and structural stability, but also in particular with its sculptural decoration, of true artistic mastery. The figurative motifs and sculptures, and the proportion of filled and empty spaces, provide the stepwell's interior with its unique aesthetic character. The setting enhances these attributes in the way in which the well descends suddenly from a plain plateau, which strengthens the perception of this space.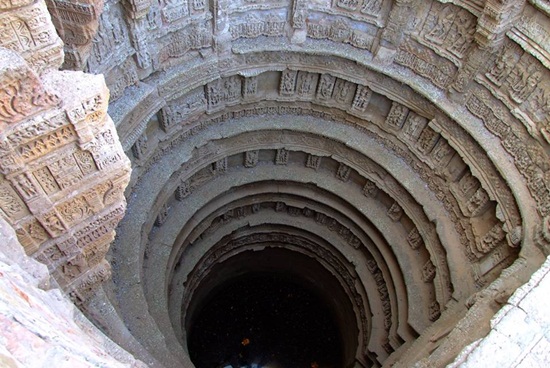 Criterion (i): Rani-ki-Vav (The Queen's Stepwell) at Patan, Gujarat, illustrates an example of the artistic and technological height of stepwell tradition. It has been decorated with religious, mythological and at times secular sculptures and reliefs, illustrating a true mastery of craftsmanship and figurative expression. The stepwell represents an architectural monument of human creative genius in its variety of motifs and its elegance of proportions, which frame an intriguing space, both functional and aesthetic.
Criterion (iv): Rani-ki-Vav is an outstanding example of a subterranean stepwell construction and represents a prime example of an architectural type of water resource and storage system which is widely distributed across the Indian subcontinent. It illustrates the technological, architectural and artistic mastery achieved at a stage of human development when water was predominantly resourced from ground water streams and reservoirs through access of communal wells. In the case of Rani-ki-Vav, the functional aspects of this architectural typology were combined with a temple-like structure celebrating the sanctity of water as a venerated natural element and the depiction of highest-quality Brahmanic deities.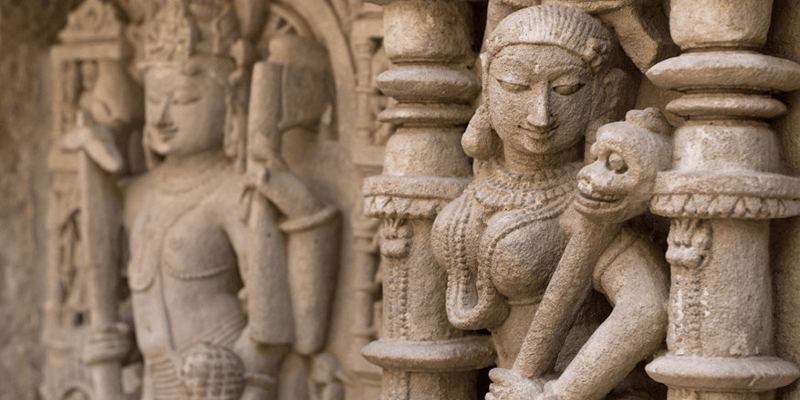 Integrity
Rani-ki-Vav is preserved with all its key architectural components and, despite missing pavilion storeys, its original form and design can still be easily recognized. A majority of sculptures and decorative panels remain in-situ and some of these in an exceptional state of conservation. Rani-ki-Vav is a very complete example of the stepwell tradition, even though after geotectonic changes in the 13th century it does no longer function as a water well as a result of the change to the Saraswati River bed. It was however the silting of the flood caused during this historic event, which allowed for the exceptional preservation of Rani-ki-Vav for over seven centuries.
All components including the immediate surrounding soils which adjoin the vertical architecture of the stepwell are included in the property. In terms of intactness, the property does not seem to have experienced major losses since its flooding and silting in the 13th century. However, Patan like many Indian urban centres is experiencing rapid urban growth and the western expansion of the city towards Rani-ki-Vav has to be carefully controlled to protect the integrity of the property in the future.
How to get there
By Road :- Intercity buses from Ahmedabad to Patan take 3.5 hours, and 1 hour from Mehsana. Shared jeeps are slightly quicker, but less comfortable.
By Train :- The train can take you as far as Mehsana (1 hour). From there you will need to catch a bus to Patan.
By Air :- The nearest airport from Patan is Ahmedabad, situated at a distance of 125 km. The airport here, in turn is connected to International and Indian cities. Patan has a railway station for easy access.