About Pangong Lake
In Ladakh, you never know what surprise nature has in store for you. Pangong Lake, situated at a height of almost 4,350m, is the world's highest saltwater lake. Its water, which seems to be dyed in blue, stand in stark contrast to the arid mountains surrounding it. Extending to almost 160km, one-third of the Pangong Lake lies in India and the other two-thirds in China.
Pangong Lake, one of the most famous lakes in Leh Ladakh, derives its name from the Tibetan word, "Pangong Tso", which means "high grassland lake". You could spend hours in contemplation here, and still not have enough of its beauty. Pangong Lake is also known to change colors, appearing blue, green and red at different times. If you have decided to go on a trip to Ladakh anytime soon, don't forget to visit the Pangong Lake. The beauty which awaits you there cannot be described in words. It has to be seen, felt and absorbed within yourself.
The one factor that makes this Lake so popular is the fact that it keeps changing colors. Situated in the Himalayan range it is approximately 140 km from Leh in Jammu and Kashmir. The name of the lake Pangong was got from a Tibetan word Banggong Co that means a narrow and enchanted lake. And now you know that the lake has got its name rightfully. You will know this when you visit the beautiful lake of Pangong. You are sure to be enchanted by the charm. And because the lake is a long stretch, one third area of the lake lies within our country and the other two third portion lies with Tibet and is controlled by China.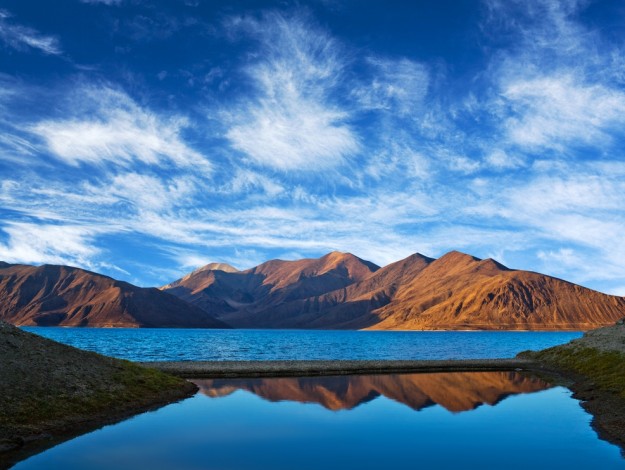 All you need to do is take a five hour drive from Leh to reach Pangong Lake. The best part about this journey is the route that leads to the lake. You have to pass through Ladakh which is another great tourist attraction of the country and drive over the world's third highest motorable mountain pass called the Chang La. The first glance of this alluring lake and its blue waters is enough to leave a lasting impression on your mind. What tourists and explorers love the most here is the narrow stretch of land that goes straight into the lake. This spot has also been a favorite among many photographers. If you are planning to visit Pangong Lake, make sure you do not visit during winters because the whole lake freezes during this season of the year. Also the region has really harsh winters, so avoid places like these during winters. The fascinating fact about Pangong Lake is that it has saline water and even then the water freezes and also because of this the lake cannot have any kind of vegetation or even aquatic life. But again, you do not have to be disappointed; you will be treated to the views of many migratory birds like black necked cranes and also seagulls. This place is paradise for bird lovers especially with sightings of other birds like rodents that are said to grow up to the size of a dog. For activities, you can camp on the shores of this lake and this one is going to be sheer delight for adventure enthusiasts.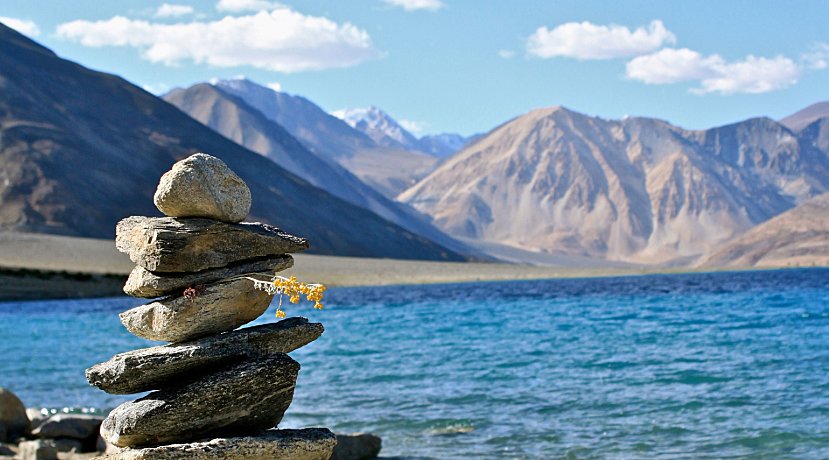 About Pangong Tso Lake of Ladakh
Pangong Tso Lake is one of those places which you can imagine would be very beautiful, but it's not until you visit it that you come to terms with its beauty. Among the other famous lakes in Ladakh, this one is especially popular both because of its breathtaking beauty and being a delicate border point along the Line of Actual Control. It achieved immense popularity after being featured in a Bollywood movie called "3 Idiots."
About Pangong Lake
Pangong Lake, Ladakh- Everything You Should Know
Heaven, Peace, Silence, and Tranquility at one place? Come and spend a few hours at Pangong Lake! A pristine place in Ladakh marked by subtle to high peaks around, crystal blue waters and the vast expansion catches the eye so much, so long as if a magic is happening right in front of the eyes.
Pangong Lake, also known as Pangong Tso, lies calmly at a breathtaking elevation of 14,270 feet. Interestingly, the lake is 12 km long and marks itself between the laps of India and China. Rather, 60% of the portion is stretching in the neighboring nation and this excites every traveler to be here.
The surreal clean blue waters are actually brackish or salty in nature and this feature doesn't let any aquatic life survive in the same. Moreover, the temperature range between -30 to -10 degrees make even this salty lake freeze with thick ice sheets, which is quite opposite in case of salt ridden water bodies.
This picturesque landscape location enhances its beauty with the arrival of migrating birds every year and attracts many travelers in search of adventure, photographs, bird-watching and chilling experience. Pangong has another unique and catchy feature; when it acts like a chameleon and changes its color from blue to green to even grey at times. The brackish water of Pangong attracts the migratory birds every year during winters in Ladakh.
There is not a single reason to say No to this beauty once in a lifetime. And if you wish to repeat it again, it's a blessing!

Planning a trip to Ladakh ? Check out best budget Ladakh tour packages now.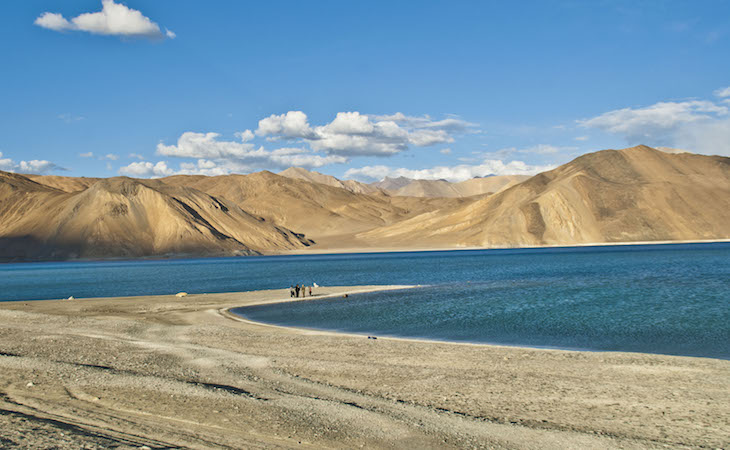 Essential info:
Best time to visit: It is amazing to experience the beauty of Pangong in months of May-September. In the rest of the months, winters turn harsh and get a thick coat of frozen sheet. Though the lovers of natural beauty visit the place even in winters to walk over the lake and making their fantasy live.
Altitude: It is the highest among the high altitude lakes in India. The altitude of the Pangong lake is around 14,270 feet above the sea level. Even after this height, fierce travelers reach here for some perfect time and solace.
Distance Between Leh and Pangong Lake: A marked distance of 225 km or a drive of 6 hours will land one up at Pangong lake.
Permits: As Pangong lake is settled at a border zone of India and China, Indians need to take Inner Line Permit which can be issued online as well as offline from Tourist Information Center at Leh Market. Foreigners need to take Protected Area Permit which is also available online.

Want to now the best time to visit Ladakh for most adventurous and amazing hassle free trip ? Check out our guide now.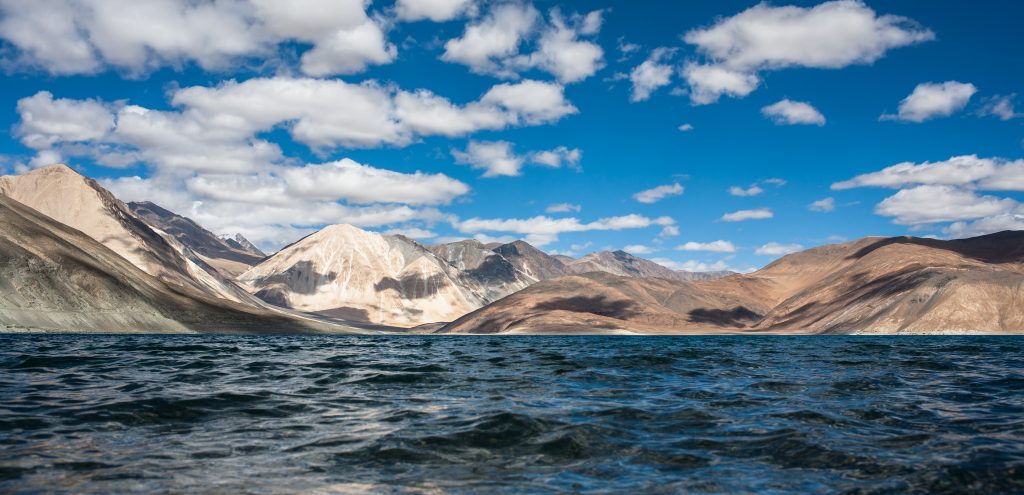 Accommodation at Pangong Lake
Pangong Lake is a remote place and accommodation options are good in a number. Camps at Pangong Lake are undoubtedly the most popular accommodation choice. The guest house at Pangong Lake is also a great choice to stay for both comfortable and not costly as well. There is no guest house at Spangmik, if you are looking for a guest house you have to stay at Tangtse which is about 35 Km from Pangong. Homestay at Pangong Lake is also popular among tourists, these are small neat houses with clean washrooms and with quite friendly people. In case you like booking in advance, you may do so but I would recommend against it.

Ladakh Summer Pangong Camp is one of the best place to stay nearby Pangong Lake. These camps comprises of luxurious and capacious deluxe tents with an effaced bath will make your stay comfortable at Pangong Lake. Experience camping set facing nearby the splendid Pangong Lake with striking panoramic views of nature's gifted backdrop. The camp has all the facilities for a relaxed stay. It includes 24-hour front desk and room service with scrumptious food which can be pampered by the guests during the stay. The camp offers you a comfy stay and allowing you to enjoy a unique experience with nature. It is truly a paradise!
Some facts about the Pangong Lake
Pangong Lake, or Pangong Tso, as it is commonly known, is a high altitude saltwater lake situated at almost 4,350 meters. The lake is almost 5 kilometers wide and 134 kilometers long, with one-third of it lying in India & the other two-thirds in China. This famous lake in Ladakh is also quite deep, as it reaches a maximum depth of almost 328 feet.
Top Things to See at Pangong Tso Lake
The foremost thing to see at Pangong Tso Lake is its beauty, you just can't get enough of it. The mountains, with their gradual slopes which meet the deep blue meditatives waters of the lake, is a sight that remains lodged in your memory for a long time. Brahminy ducks can also be seen standing on the banks of the lake, looking for a catch or two. The lake is extremely popular among photographers, selfie enthusiasts and those on a bike trip to Ladakh.
Fauna in the Pangong Tso Lake
The Pangong Tso Lake is a breeding ground for different types of birds, including migratory ones. During the summer, the bar-headed goose and Brahminy Ducks are commonly spotted. Fishes such as False Osman and Kunar Snow Trout reside in the lake.
How to Reach :
By Air
The nearest airport is at Kusho Bakula Rinpoche Airport, Leh-Ladakh.
By Train
The nearest railway station is Jammu Tawi at Jammu.
By Road
Srinagar-Leh National Highway No. 1D from Srinagar. Manali-Leh National Highway from Manali. Tourists can avail of and taxi from both these places and reach the lake in a short while.