Nashik, approximately four hours northeast of Mumbai in Maharashtra, is a city with a dual identity. On one hand, it's an ancient and sacred pilgrimage destination with a fascinating Old City. On the other, it's home to the biggest winery region in India. 
Nashik is closely associated with the great Hindu epic The Ramayana, which tells the story of Lord Ram. According to mythology, Ram (along with his wife Sita and brother Lakshman) made Nashik his home during his 14 years of exile from Ayodhya. They lived in the area now known as Panchavati in the Old City. The city gets its name from an incident whereby Lakshman cut off the nose of Surpanakha, the sister of demon Ravan, after she tried to seduce Ram.
These top places to visit in Nashik reflect the city's diversity. An inexpensive full-day Nashik Darshan bus tour departs from the Central Bus Stand at 7.30 am and visits many of the city's attractions including Trimbak. It's best to book the tour at the bus stand the day before. Do note that it comes with a Hindi-speaking guide only. However, it's a great local experience!01of 09
1. Ramkund
In the heart of Nashik's Old City, Ramkund ghat is the most important place in the Panchavati area. It attracts both pilgrims and tourists to its holy waters. Lord Ram is believed to have bathed and performed the death rituals of his father there. Hence, many people come to immerse the ashes of their departed loved ones, to help their souls obtain liberation. The tank was built in 1696 and although it's unfortunately quite dirty and not well maintained, it's an atmospheric and absorbing place to spend some time. The adjoining vibrant vegetable market is worth exploring too.
2. Temples
VIEW MAPADDRESSNirman upavan C-3, opposite Kalaram Temple East door, Panchavati, Nashik, Maharashtra 422003, India
There are as many as 100 temples in Nashik. Many of them can be found near the holy Godavari River, which flows through the city. The city's most sacred shrine, the beautiful black stone Kala Ram temple, is uphill to the east of Ramkund. It supposedly stands right where Lakshman performed the slicing of Surpanakha's nose. Nearby is Sita Gumpha, a claustrophobic cave where Sita is said to have hid from Ravan. There are some doubts as to its authenticity though. On the way there, stop by Naroshankar temple, which is close to Ramkund. Kapileswara is another famous temple in the area. It's a Shiva temple but the nandi (bull) is unusually missing from it.
In the opposite direction, Sundar Narayan temple is situated next to Victoria Bridge and offers a fabulous view of the Godavari River. Dedicated to Lord Vishnu, it's a spacious complex with splendid architecture.
Places to visit in Nashik: Rest and Relaxation
3. Sula Vineyard
Succulent Grapes on the Vine
Renowned for the quality of its grape vines, this vast estate is open to public for a wine tasting and a tour of the vineyard. Home to sixty wineries, this winery even lets you enjoy a grape stomping activity between January and March. Other attractions include a resort, two restaurants, a gift shop and a bottle shop, making one of the best places to see in Nashik.
4. Igatpuri Hill Station
Myanmar Gate at Igatpuri
This wonderfully-green valley full of waterfalls, forests, birds and a wildlife sanctuary is a great place to visit for rest and recuperation from the stresses of a daily grind which every city imposes on its denizens. For those who want to find real peace, Igatpuri also offers the Vipassana Meditation Academy which imposes silence on its participants and helps them find themselves.
Places to visit in Nashik: Religious Sites
5. Kalaram Temple
Devotees at the Kalaram Temple
This old Hindu shrine dedicated to Kala (swarthy or black complexioned) Rama, a Hindu God and an avatar of Lord Vishnu, is among the places to visit in Nashik. Built around 1788 by a devotee whose dream directed him to the God's idol in the river Godavari, this may be considered to be the most important Hindu temple in the city.
6 Muktidham
Mukti Dham Complex at Nashik
This marble temple complex which honours various Hindu gods is a major tourist attraction and a famous place to visit in Nashik. The 12 Jyotirlinga replicas here were sanctified by being sent to their respective originals for sanctification. The paintings in Lord Krishna's temple depicting scenes from Mahabharata and the life of Krishna by an eminent painter, Raghuvir Mulgaonkar, are an additional attraction.
7. Sri Someshwar Temple
Sri Someshwar Temple
This beautiful temple is among the famous places to visit in Nashik, as the surroundings are natural and nature lovers absolutely adore visiting this place. The temple offers a panoramic view of the Godavari River, in an elegant curved path. Enjoy the boating facility and go on a boat ride here.
8. Dharmachakra Jain Temple
Excellent Architecture of the Jain Temple at Nashik
Visit here to see the 12-ton statue of the 24 Tirthankaras at the sprawling temple complex built of white marble and pink sand. Facilities like food and stay are exceptional, and non-Jains also find themselves enjoying a visit here and doing puja as the pujaris are friendly and supportive.
9. Sundarnarayan Temple
Sundar Narayan Temple at Nashik
Built by Gangadhar Yashwant Chandrachud in 1756, this temple of Sundar Narayan (or beautiful Narayan or Lord Vishnu) showcases a Mughal style of architecture in its arched recesses. We find Lakshmi to his right and Saraswati to his left, in this temple which is built in such a way that the rays of the rising sun fall exactly upon the idols in the sanctum sanctorum on every March 21st.
10. Naroshankar Temple
The Famous Naroshankar Temple at Panchavati
This beautiful temple of Rameshwar was built by Naroshankar Rajebahadur in 1747, using the Maya style of architecture. The main temple is built on a platform and the sculpture and designs are striking with decorative lacework and depictions of birds, animals, trees and nature in general.
11. Sita Gufaa
A Scene from the Ramayana at Sita Gufaa
Believed to have been the place from where Ravana kidnapped Sita in the Ramayana, this is another place of pilgrimage located in a place called Panchvati where Ram, Sita and Lakshman were supposed to have lived in Vanavasa (a penance requiring stay in the forest). Do visit the Tapovan where Lakshmana is said to have cut off Shoorpanakha's nose and the eleven cavernous caves as well as the five banyan trees.
12. Saptashrungi
A View of the Saptashrungi Devi Temple
The temple of Saptashrungi Nivasini (Goddess Living on Seven Hills) is ancient and said to have been visited by Rama, Sita and Lakshman when they lived at Panchvati. These majestic hills are incredibly fertile and beautiful to look at. The forests on the hills are full of medicinal herbs and enjoy a distinct connection to the Ramayana, as being the hills where Hanuman obtained the Sanjeevani herb for Lakshmana, when he was knocked unconscious in battle.
13. Trimbakeshwar Temple
Shiva Temple at Trimbakeshwar
This Shiva temple was built between three hills, Brahmagiri, Nilagiri and Kalagiri and houses three lingams to represent the three major Gods of the Hindu Pantheon: Shiv, Vishnu and Brahma. This temple is one of the 12 places where devotees can find a Jyotirlinga, the pillar of light without beginning or end that represents supreme reality.
Places to visit in Nashik: Nature and Historical Sites
14. Pandavleni Caves
Caves at Nashik from 3rd BC
Located 8 km south of Nashik, the Pandavleni caves are a group of 24 caves which date back to 1st century BC to 2nd century AD. Except for Cave 18 which is a Chaitya, all the caves are viharas and the place is considered a holy Buddhist site. These beautiful and ancient rock-cut temples offer us a glimpse into the past and showcase the skills of ancient humans.
15. Ramsej Fort
Ramshej Fort at Nashik
Ramsej Fort is important in the way it helped Maharashtra's invincible stand against invasion by the Mughal armies for six and half years, before it fell to treachery when the leader of the forces himself succumbed to bribery. Replete with history and representative of the pride of the Marathas, this Fort is a major tourist attraction and one of the places to visit in Nashik.
16. Anjaneri Hills
Giant Foot-Shaped Lake on Top of Anjaneri
Once again of religious significance, Anjaneri is an exquisite attraction and a place which must be visited at Nashik. Considered to be the birth place of Hanuman, the hill is named after the mother of Hanuman, named Anjana Devi. You will find 108 Jain caves here dating back to 12th century. The image of Hanuman here has 5 heads, unlike in any other temple in India.
17. Salher
Highest Fort in the Sahyadris, Salher Fort
This peak is the second highest in Maharashtra (the first being Kalsubai), at 1567 metres and us home to one of the celebrated forts of the Maratha rulers. Famous for its significance during the reign of Shivaji, Salher has a twin fort, named Salota close by. The Battle of Salher, in which over one lakh soldiers participated, was fought in 1672 and won by Shivaji.
18. Dugarwadi Waterfall
Stunning View of the Dugarwadi Waterfalls among the Greenery
This impressive waterfall is about pristine surroundings and lush greenery. The hills here are topped by clouds and fog to mesmerise a visitor to this beautiful sightseeing destination in Nashik. Visiting the waterfall requires a 1 to 2 km walk, and caution if visiting during rains as the water level could increase very suddenly.
19. Harihar Fort
View from the Top at Harihar
This fort belonging to the Yadava dynasty lies in ruins today. The climb to the top over a 60 meter path of rock-cut steps is an amazing experience and you could find accommodation on the fort itself or in the villages surrounding the fort. Don't miss the rock-cut water cisterns at the centre of the fort.
20. Nandur Madhmeshwar Bird Sanctuary
Birds in the Water at Nandur Madhmeshwar Bird Sanctuary
Also known as the Bharatpur of Maharashtra, this bird sanctuary is a great destination for anyone interested in watching birds at close range. A variety of birds can be found here, including migratory birds. An environmentally rich area with diverse flora and fauna, it also offers you a dam and a museum, making it one of the great places to visit in Nashik
21. Tringalwadi Lake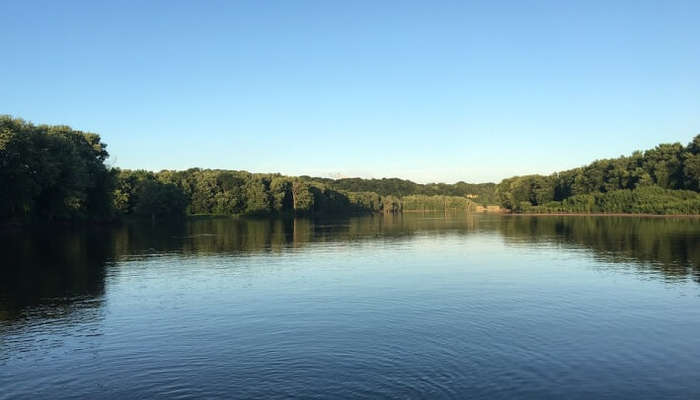 Tringalwadi Lake is counted among the top destinations for honeymooners. It is rich in natural beauty and is a perfect place for relaxing your senses. You will also come across various species of birds. This lake also provides an awesome view of the Tringalwadi Fort. If you visit this lake, the beauty and the grandeur of the fort will compel you to capture the beauty in pictures. If you are fond of nature, then this can be the ideal place for you. If you are tired of the hectic life, then it is the best picnic spot near Nashik that you can explore.
Distance from Nashik: This place is about 50 km from Nashik.
Travel time: It takes about 1 hour 15 km from Nashik to Tringalwadi Lake.
Best time to visit: It is best if you visit this place during the monsoons.
22. Sai Baba Temple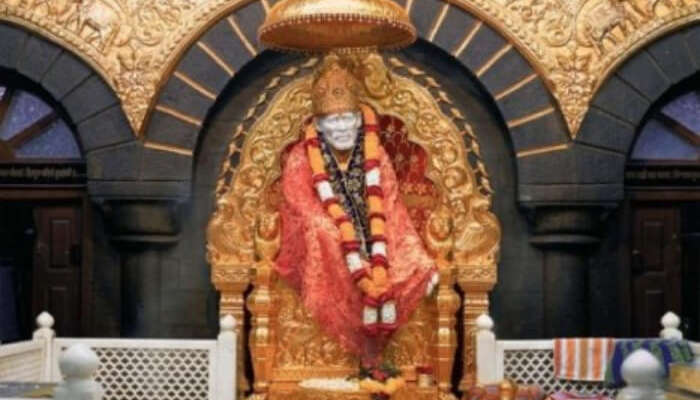 Sai Baba Temple in Shirdi needs no definition as it is one of the ever-increasing popular tourist destinations in Western India. Due to the popularity of Sai Baba, every year lakhs of people flock here to attain salvation. Apart from darshan, there are various types of activities that take place within the temple premises. You can spend the whole day sitting in the temple. If you are in Nashik, then this is the holiest place that must be visited. A feeling of positivity will engulf you when you pay a visit here so make sure that you explore this place near Nashik.
Distance from Nashik: It is nearly 83 km from Nashik.
Travel time: It takes about 1 hour and 42 minutes to travel from Nashik to Shirdi.
Best time to visit: The best time to visit this temple is during the winter season or from June to September.
Places To Stay: Hotel G-Square, Sai Neem Tree Hotel, Hotel Yogiraj, Sai Sparsh, Hotel Sai Sunandan
22. Anjneri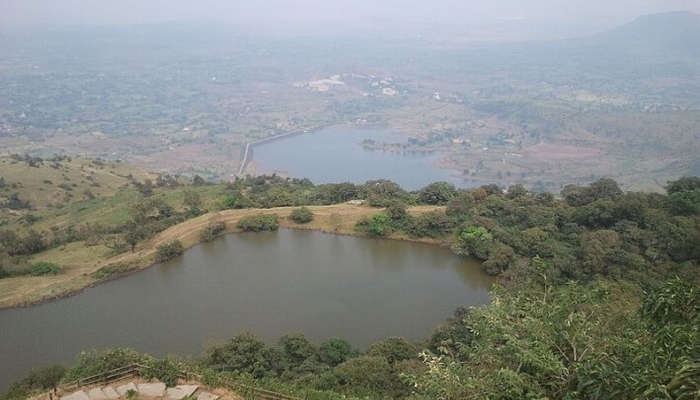 Anjneri is a perfect place for adventure lovers. It is believed that this place is a perfect blend of adventure and divinity. There is a saying that Lord Hanuman took birth at this place. If you like, you can get indulged into trekking or mountaineering activities. Apart from this, you can visit the Ramakund River. Together, it creates a beautiful ambiance. It is one of the most reputed tourist places near Nashik. You can always explore the dense forest of Anjneri that is world-famous.
Distance from Nashik: It is about 30 km from Nashik.
Travel time: By road, it takes about 34 minutes to reach Anjneri from Nashik.
Best time to visit: You can visit this place during the rainy season.
23. Vihigaon Waterfall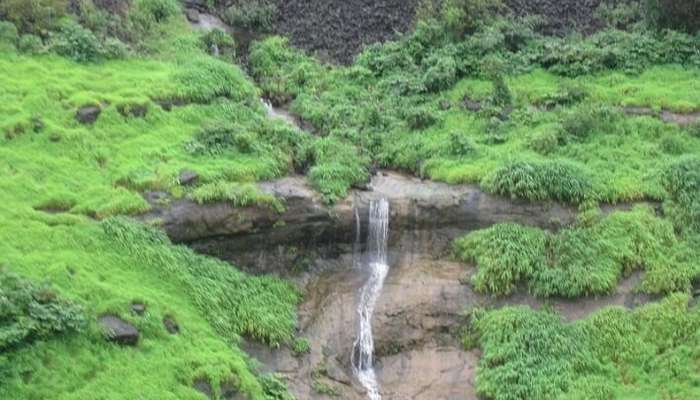 If you are traveling with your kids, then you can easily plan a small trip to this waterfall during the vacations. They will enjoy it once they come in contact with this fresh waterfall. The slope is about 1000 feet, but is very safe and you can view the waterfall clearly. You will also feel relaxed once you reach this place. This place is the best place to resort to near Nashik as you get to relax in the lap of nature.
Distance from Nashik: It is located about 58 km from Nashik.
Travel time: It takes about 1 hour 52 minutes to reach the Vihigaon waterfall from Nashik by road.
Best time to visit: You can visit this place during the monsoon months or after as the flow is high during this time.
Places To Stay: Dormitary Stay in a Adventure Resort, Cottage Rooms in a Adventure Resort, Manas Resort, Fog City, Mist Villa
24. Umbrella Falls Bhandardara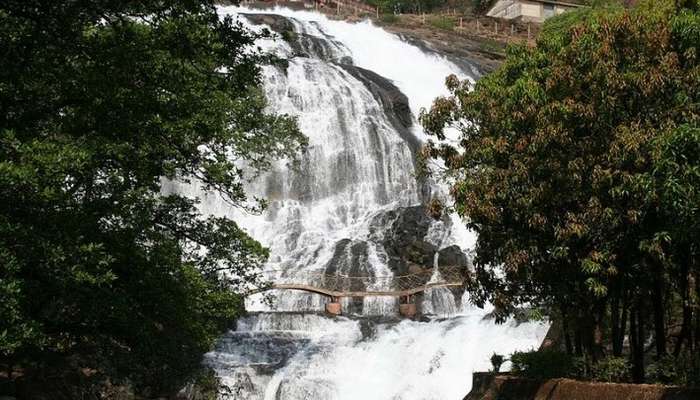 It is also counted among the most beautiful places to visit near Nashik as it is loved by the majority of tourists. The water falls from the mountain and it appears like milk. If you want to get a closer look of this waterfall, then you can use the footbridge that connects the Pravara River. It can be the best place where you can spend quality time with your family.
Distance from Nashik: It is about 69 km from Nashik.
Travel time: It will take about 2 hours to reach Umbrella Falls Bhandardara from Nashik.
Best time to visit: It is said that this place can be visited at any time of the year. But most of the people prefer to visit it during the monsoon months.
Places To Stay: Gondke Niwas, Saptashrungi Tourist Stays, Hotel Amruteshwar, Star Camping Lakesideview, Samadhan Resort
Do enjoy yourself at Nashik which is full of natural beauty and amazing sightseeing places as well historic places of importance and religiously significant temples. The association of Nashik with Ramayana is an important aspect of its attraction for the religiously inclined. Whoever thought they could go grape stomping and wine tasting without heading to the vineyards of Europe and paying for the experience in Euros? Do write in and tell us of your experiences at Nashik. We hope you will have a wonderful time.