Ladakh is most famous for breathtaking landscapes, the crystal clear skies, the highest mountain passes, thrilling adventure activities, Buddhist Monasteries and festivals. Being situated on the snow-clad fringes of the Himalayan Mountains, Leh offers its tourists the chance to experience the magical charm of Himalayas and to explore its rough and rugged terrains. The of Ladakh, renowned as the cold desert, holds immense pristine beauty for its beholder.
So, This year gear up for a thrilling motorcycle tour in Leh Ladakh. India Enfield Tours India has arranged a tour for you to Leh-Ladakh where the entire ladakh bike trip is planned on bikes.
Adventure gets redefined every time there is a conscious nagging of accepting challenge. Motor biking in testing weather condition and exhausting road is one of those ways, tickling sensation of adventure is responded to, and what route could be better than Shimla-Spiti-Leh; witnessing the changing panoramas from Himachal to Ladakh.
Villages and towns of Himachal Pradesh to the region of Ladakh look different when it is leisure with thrill. The valleys appear more admirable, the locals more friendly, the colours of life brighter and quite vistas more appealing.
Starting the motor biking from Delhi to Shimla early morning may seem like any other journey but not for long as the view along the road finally start revealing themselves in full with the day light. With regular interval of rest in camps and rest houses, the stoppages of the journey mainly include villages of Kinnaur districts, few human settlements in Spiti Valley, followed by other sketches that nature, people and their religion have made in Sangla, Tabo, Losar, Sarchu, and finally Leh. These are never to be seen again once out of this place.
Leh Ladakh Bike Tour | ladakh bike trip | bike ride to ladakh | ladakh bike trip | delhi to leh ladakh | motorcycle trip to ladakh
Destinations: Manali, Rohtang Pass, Rohtang tunnel, Sissu, Tandi, Keylong, Jispa, Darcha, Patseo, Zingzing Bar, Baralacha La, Chata loops, Nakee La, Lachulung La, Pang, More Plaines, Tanglang La, Upshi, Karu, Leh, Khardungla Pass, Nubra Valley, Diskit, Hunder, Pangong lake, Chhangla Pass, Shakti, Leh, Sarchu, Manali
About Leh Ladakh Bike Trip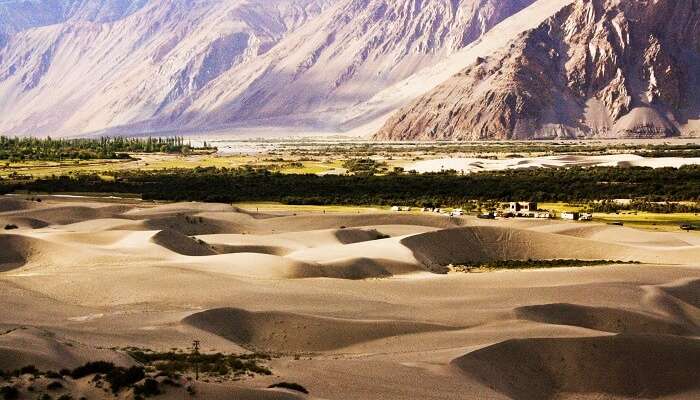 The old saying "there's beauty everywhere, all you have to do is just look around" is true to the core when it comes to the mesmerizing Leh Ladakh travel. Offering scenic vistas of one of the a trip to Leh Ladakh India is all about the feel of snow-clad mountains, rugged landscape, soaring peaks, dangerous routes, and roaring bike engines. In short, going on a Ladakh bike tour is all about the good vibes and the undying spirit of a rider.
Best Time To Visit Leh Ladakh On A Bike Trip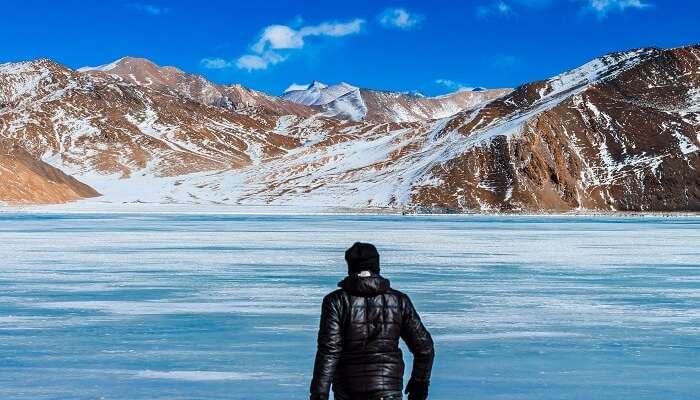 The best time to go on a bike trip to Leh Ladakh is from the months of June to September. These months enable the bikers to enjoy the tourist circuits of Ladakh, as much as they enjoy their Lahaul & Spiti trip. However, most of the riders love to kick-start their new year with this crazy bike trip as Ladakh offers magical vistas which can be cherished round the year except for monsoon season.
Ideal Duration For A Bike Trip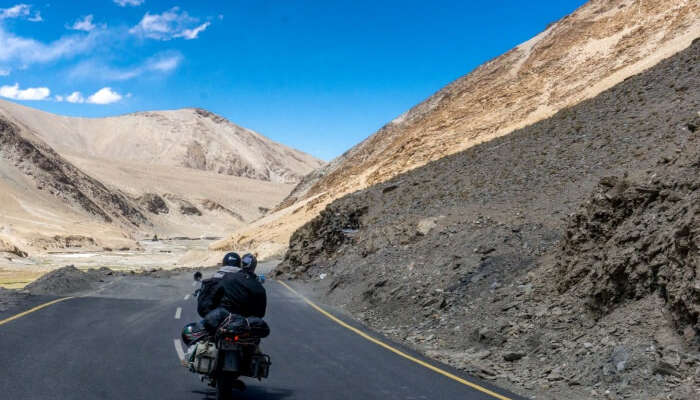 Depending on a lot of factors like the route you've taken, your entire schedule, and mainly the weather conditions, an ideal duration for a Leh Ladakh bike tour would span over a period of 15 days or more. Also, this duration is apt when one opts for Manali to Leh bike trip from Delhi.
Leh Ladakh Trip Cost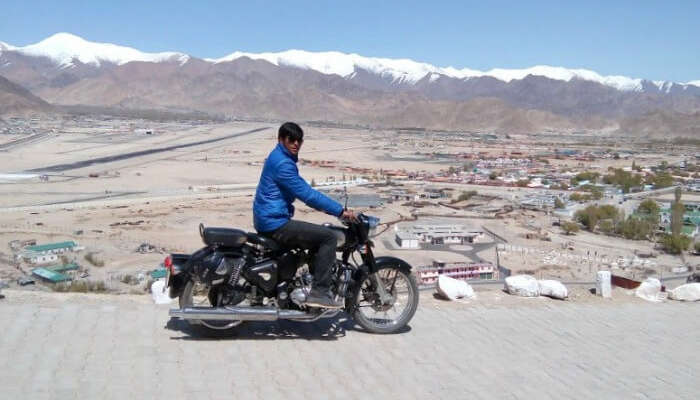 First things first, you should figure out your budget. A lot depends on the vehicle you are selecting for your journey and the Leh Ladakh road trip cost would also vary on the accommodation and kind of food you choose to eat. Still, an average budget can be arrived upon considering basic factors such as accommodation, meals, and fuel. Hence, under normal circumstances, you will end up spending approximately INR 35,000 for a trip to Leh Ladakh on bike for 15-days. Your cost will also vary according to your Leh Ladakh bike trip route. This also includes the cost of permits and miscellaneous expenses for the Leh Ladakh bike trip.
Best Bikes For Leh Ladakh Road Trip
Talking about the first things first, every biker must give his or her total attention to their first love, which is their bike. One must be very careful and picky when it comes to choosing their Leh Ladakh road trip bike. So whenever you're choosing a bike for any road trip, make sure you go for suitability more than popularity. Consider it one of the most vital aspects of your Leh Ladakh bike trip plan!
Opting for the kind of bikes that one can easily handle and are easy to maintain, has always proven to be safe, and helpful for the riders for journeys like Leh Ladakh bike trip. Hence, the five best bikes for Leh Ladakh bike trip are:
Royal Enfield – Considered to be the best bike for Leh Ladakh trip, it is a powerful bike with an engine of either 350 CC or 500 CC that is enough to be a lifesaver on a Leh Ladakh bullet trip.
Royal Enfield Himalayan – With a strong engine of 400 CC, Royal Enfield Himalayan will make your ride smooth and hassle-free on any rugged trail and offbeat roads.
Bajaj Pulsar – By far, no bike has been a hit in the Indian market when compared to Bajaj Pulsar. Being the most favored bike after the Bullets, Pulsar offers variants of 150CC, 200CC, and 220CC, either of which can be your trustworthy partner on any of the adventures.
KTM Duke – Being a featherweight bike can be advantageous on roads like that of Ladakh. With the series of new engine variants of Duke 390, and Duke 250, KTM can be a good choice for a bike trip to Ladakh too.
CBR 250 – This bike from Honda is indeed a stunner except for its Contigo tyres which can be a little tough to handle on Ladakh's terrain in case of a change in weather. On the bright side, if the tyres can be replaced, one can put the bike's torque and fi technology to great use, and a greater purpose.
Other top bikes for Leh Ladakh trip that the association of bike rentals has taken into consideration are Yamaha Fazer, Bajaj Vikrant, Yamaha FZ, and Hero Impulse. Though these bikes are not so heavy on the engine, they can surely pick up some speed (without breaking any rules) on the go.
Leh Ladakh Bike Rentals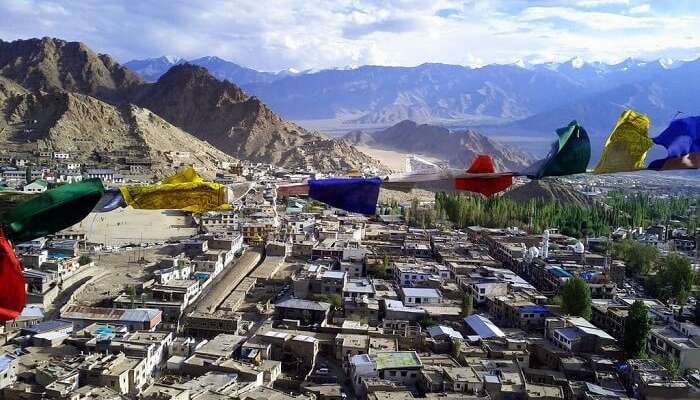 No bike. No worries. The bike rentals at Delhi and Manali are ever willing to offer you a ride on rent provided you submit all the required documents. In Delhi, Karol Bagh is the hub from where you can rent a bike for INR 900 per day. All you have to submit is a valid photo id proof, your driving license, INR 10,000 as the security deposit, and a consent letter from your parents in case you're still under 25, and you are all set for Leh Ladakh bike trip from Delhi.
In Manali, the per day rent charges range from INR 1000 to INR 1800 whereas the security deposit is between INR 12,000 to INR 18,000 along with the original copy of valid ID proofs.
Other than this, you can also hire a mechanic to take on the basis of daily wage for the entire duration of Leh Ladakh bike trip. Also, don't forget by mistake also to run the bike through a test ride and test its abilities beyond limits to be on a safer side during the bike trip.
Best Leh Ladakh Bike Tour Route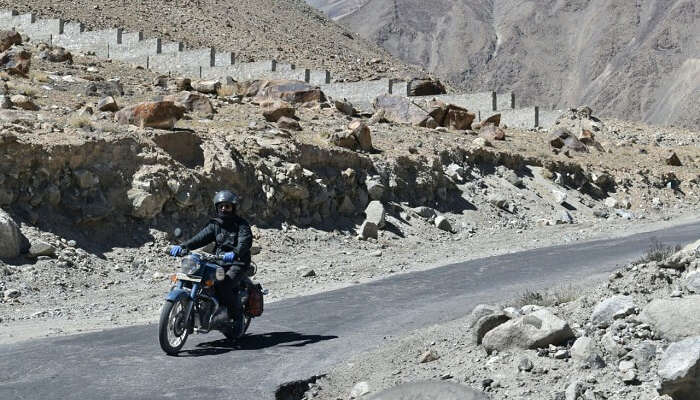 Considering Delhi as a base for Leh Ladakh bike trip route, Srinagar to Leh and Manali to Leh are the two main routes that offer the best road conditions and picturesq ue views. Srinagar to Leh route doesn't overlap and forms a complete circle from end to end. Leh Ladakh bike trip route from Manali encircles the rugged mountainous landscapes, offers better views, increases the level of difficulty, and the level of danger.