Jim Corbett National Park, which is a part of the larger Corbett Tiger Reserve, a Project Tiger Reserve lies in the Nainital district of Uttarakhand. The magical landscape of Corbett is well known and fabled for its tiger richness. Established in the year 1936 as Hailey National Park, Corbett has the glory of being India's oldest and most prestigious National Park. It is also being honored as the place where Project Tiger was first launched in 1973. This unique tiger territory is best known as the father who gave birth of the Project Tiger in India to protect the most endangered species and the Royal of India called Tigers.
Spans over an extent of 520 square kilometers, its whole area comprises of hills, marshy depressions, riverine belts, grasslands and large lake. It is among the few tiger reserves in India that allows overnight stays in the lap of the National Park. Nature watch and wildlife viewing in the park is done in an open four wheeler Jeep and on elephant back. Sheltering a healthy population of tigers and rare species like Otters and the endemic fish eating crocodile, the national park is one of the most sought after destinations for the wildlife buffs. Dhikala, situated at the border of the extensive Patil Dun valley, is the most popular destination.
Information For Visitors
Located in the district of Nainital, Corbett National Park is a perfect place for nature enthusiasts and wildlife lovers. It is a wonderful place in India considered as a hub of excitement and thrill. The whole extent of the park is divided into four different zones called Bijrani, Dhikala, Jhirna and Durgadevi zones. Spread over an area of 520 square kilometers, the park is a complete package for wildlife buffs. However, tourism is only allowed in the earmarked areas of the Corbett Tiger Reserve in order to maximize the chances of viewing its splendid landscape and the diverse wildlife living in the park.
The recent trend of the tourist visit that has been marked by the park authority shows dynamic increase in the number of visitors coming every year. More than 70,000 visitors come to the park in peak season from the different part of the country and abroad.
Wildlife enthusiasts and nature lovers prefer this oldest national park over the other popular national parks in India such as Ranthambore National Park, Kanha National Park, Kaziranga National Park and many others located in the different regions in India. The popularity of Corbett national park is due to the presence of the Royal Bengal Tiger in abundance and the captivating landscape for the delight of nature lovers.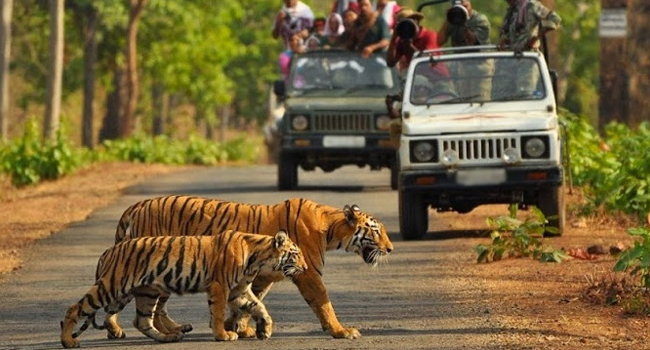 General Information :
Corbett National Park Area – 520 Square kilometers.
Corbett Tiger Reserve Area -1318 Square kilometers
Altitude – 385-1100 m above mean sea level.
Annual rainfall – 1400-2800 mm.
Temperature range – 4 degrees Celsius winter to 42 degrees Celsius during summer.
Best Season – November to June.
When To Visit Corbett National Park :
The months of November through June are the perfect time to visit Corbett National Park as the park remains open to tourists during these periods only. The park is kept closed as the monsoon season approaches. The main reason for closure of the park during rest of the year is that the roads inside the park get washed away due to rain. The repair work starts after the monsoon and ends only by November till the roads are back in motorable condition.
How To Get There?
The Jim Corbett National Park is situated at an approximate distance of 260 Kms from the National Capital Delhi. The small town near Corbett is Ramnagar which forms the headquarters of CTR. The city is well connected by road or rail with major cities of India like Moradabad, Nainital, Bareilly and Delhi.
By Road : The small city Ramnagar has a very good road network that connects the different cities of India. Uttarakhand state government buses ply at a short interval of time from Delhi, Moradabad, Haldwani that reaches directly Ramnagar. Corbett is only 15 Kms from Ramnagar town. The surface drive from Delhi to Corbett takes approximate five and half hours. The designated approach routes are : Delhi-Gajrola-Moradabad-Kashipur-Ramnagar : (240 km) .
Bareilly-Kichha-Haldwani-Ramnagar : Ramnagar is the only nearest railway station to Jim Corbett National Park. A direct train to Ramnagar runs from Delhi. Alternatively, one can reach up to Haldwani/Kashipur/Kathgodam and come to Ramnagar by road. Taxis are easily available from these stations. By Rail : (160 km) .
Jim Corbett national park is known for land of Tigers, wild elephants, lot of birds and many more species. Everyone who visits can book online jeep safari to explore its fauna and flora. Jim Corbett has two types of jungle safari (jeep safari in Corbett and canter safari in Corbett). The jeep safari at Jim Corbett is considered to be the most popular mode of safari as it gives access to all the routes compared to canter which explores only the main routes. Canter safaris are shared bus safari which has 16-person seating capacity and is only for Dhikala zone. Tourism zone of Corbett National Park are divided in five zones. These zones are Dhikala, Bijrani, Jhirna, Dhela and Durga Devi. The safari tour (jeep or canter) is organized in two shifts, i.e. Morning and Evening. Government issue limited number of permits for every safari zone. Each zone has its own inherited charisma with distinct flora and fauna. For all safaris only Government Registered Vehicle and Jeeps are allowed.
A brief introduction about all the five Jeep Safari zones for which safari is organized in the Corbett National Park

| | |
| --- | --- |
| Name of Safari Zone | Bijrani Zone |
| Entry Gate: | Amdanda Gate |
| Distance from Ramnagar | 2 km |
| Open Period for Safari Tour: | 15th October to 30th June |
| Safari Offered | Day Jeep Safari |
| Maximum Number of Allowed Jeeps for Safari: | 30 Jeeps in One Shift |
The Bijrani zone is the zone which gives an eye-catching sight of the royal Bengal tiger. This zone is the most demanded zone after Dhikala. An extensive range of wildlife species is found in this zone. the massive Grasslands, thick Sal forest and numerous water streams, the area of the Bijrani zone is as magnificent as the Dhikala. Bijrani zone has immense tiger population. Over the year's nature lovers and wild life photographers have captured award winning photographs of tigers from this zone. Wildlife lovers can book online safari permits to explore this zone. The safari takes place in two shifts and only 30 jeeps are allowed in a single shift. One jeep safari can accommodate maximum of 6 adults and 2 children. Valid permit and guide are mandatory to get the entry in Dhikala zone.
Flora of Corbett National Park
Jim Corbett National Park is also enriched with flora. Sal forests cover more than 75% of the total area of the park. It has 600 species of plants including grass, ferns, climbers, herbs, shrubs, trees and bamboos.
Sal, Khair, Sissoo and the only conifer called Chir Pine are found in Corbett. Male Bamboo (Dendrocalamus strictus) can be seen in abundance. Flowering plants like Kachnar (Bauhinia Variegata), Semal (Bombax ceiba), Dhak, Madaar or Indian Coral (Erythrinia indica) and Amaltas (Cassia fistula) along with artificially planted trees likeTeak (Tectona grandis), Silver Oak (Gravillea robusta), Eucalyptus, Jacaranda (Jacaranda mimosaefolia) and Bottlebrush (Callistemon viminalis), and can be seen in and around the forest area of Corbett Tiger Reserve. Shrubs like Ber (Zizyphus), Maror Phali (Helicteres isora) and Jhau are also found in Corbett.
Fauna of Corbett National Park
The Fauna of Corbett National Park includes a huge list of animals besides Royal Bengal Tigers and Asiatic elephant, which are Asiatic Black Bear, Sloth Bear, Walking Deer, Hog Deer, Sambar, Yellow-throated Marten, Otters and Ghariyal along with aqua fauna such as Golden Oriole, Pallas Fish Eagle, Indian Pitta, Tawny Fish Owl, Scarlet Minivet and species of birds like the Great Pied or hornbill, Orange Breasted Green Pigeon, Hodgson's Bushchat, White-Backed Vulture, and reptile like Ghariyal or Aligator, Mugger or Crocodiles and the King Cobra.
Wildlife Safari In Corbett National Park
Corbett National Park offers unmatched options like jeep safari, elephant safari and canter safari for the tourists to begin their adventure wildlife trip into the forest.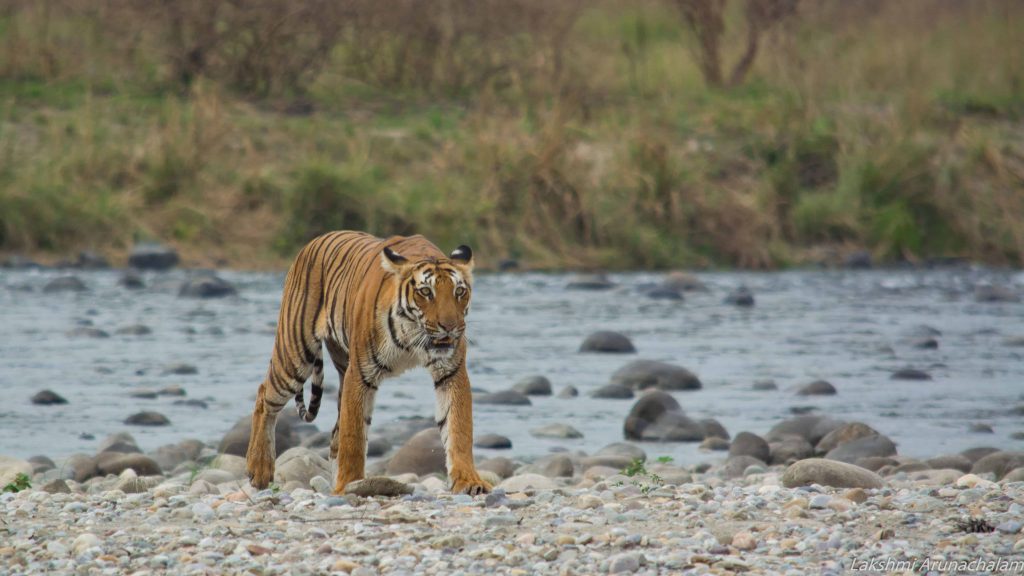 1. Elephant Safari :
Having a trip on an elephant's back is fashionable and of great fun. The elephant safari starts at Durgadevi gate (north-eastern border) of the reserve and completes at Halduparao (north-western boundary). The charge of elephant safari for Indian is INR 500 / Person and for Foreigner it is INR 1500 / Person. One elephant is allowed to carry only 4 Persons at a time. It covers the Bijrani area. You can take an elephant ride from 6:30 AM – 10:00 AM in the Morning and from 1:30 PM – 5:30 PM in the Evening.
2. Jeep Safari :
Discover the wilderness and varied species of flora & fauna of Corbett National Park through jeep safari. It is the fast and comfortable mode to explore this area. The charge of jeep safari for Indian is INR 3600 / Jeep and for Foreigner, it is INR 7000 / Jeep. Only 6 persons are allowed in a single Jeep. It covers zones like Bijrani, Sitabani and Jhirna. For Durgadevi the charge differs it is INR 4000 / Jeep. Jeep safari can be enjoyed from 6:30 AM – 10:00 AM in the morning and 1:30 PM – 5:30 PM in the evening.
3. Canter Safari :
If you want to explore Dhikala forest or staying in a resort, center safari is the only option. There are two canter safari services in a day- one is from 0600 Hrs (sunrise time) and the other at 1200 Hrs (afternoon). The 05 Hrs extensive ride through canter safari will give immense pleasure.
The charge of canter safari for Indian is INR 1500 / Person and for Foreigner it is INR 3000 / Person. The canter has 16 seats and covers Dhikala. Canter safari can be enjoyed from 6:00 AM – 11:30 AM in the morning and from 12:00 PM – 5:30 PM in the Evening.
Safari Timings
Park Entry :
06:30 hours to 17:30 hours
Safaris :
06:30 hours to 09:30 hours and 13:30 hours to 17:30 hours
Climate of Corbett National Park
Best Time to Visit Corbett National Park
The weather remains moderate here with a varying temperature of 5°C to 30°C during the winter and rise up to 40°C during summer. Winter mornings are foggy. Monsoons receive heavy rainfall in Corbett.
Climate : The weather remains moderate here with a varying temperature of 5°C to 30°C during the winter and rise up to 40°C during summer. Winter mornings are foggy. Monsoons receive heavy rainfall in Corbett.
Best Time to Visit Jim Corbett : The best time to visit Corbett National Park is from Mid-November to Mid-June.