"The Scotland of India"
Coorg Tourism
Located amidst imposing mountains in Karnataka with a perpetually misty landscape, Coorg is a popular coffee producing hill station. It is popular for its beautiful green hills and the streams cutting right through them. It also stands as a popular destination because of its culture and people. The Kodavas, a local clan specializing in martial arts, are especially notable for their keen hospitality.
Coorg, officially known as Kodagu, is the most affluent hill station in Karnataka. It is well known for its breathtakingly exotic scenery and lush greenery. Forest covered hills, spice and coffee plantations only add to the landscape. Madikeri is the region's centre point with all transportation for getting around starting from here. On a visit to Coorg, cover the beautiful towns like Virajpet, Kushalnagar, Gonikoppal, Pollibetta, and Somwarpet, and experience the beautiful concept of "homestays" to make your experience more memorable!
Coorg, officially called Kodagu, is the most sought after and popular hill station of Karnataka. Lying serenely amidst high mountains, Coorg's landscape stays misty throughout the year. The aboriginals of the place are Kodavas. Apart from Kannada, the other two main languages of this hill station are Kodagu and Kodava.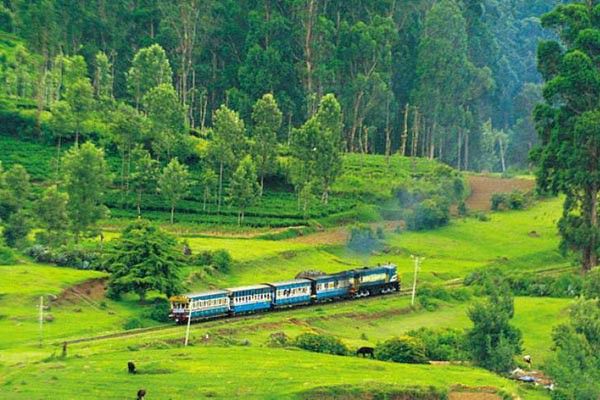 The best time to visit Kodagu is between October to May and the peak season for this hill station is within February to May. Kodagu is the largest producer of Coffee in India. Also, it is one of the places with highest rainfall across the nation. Undulating hills covered in lush green forests and a landscape dotted with coffee plantations, tea gardens and orange groves, this hill station has breathtakingly stunning scenic beauty.
The popular tourist attractions in Kodagu include Bhagamandala, Talakaveri, Nisargadhama, Dubare, Abbey Falls, Iruppu Falls and Nagarahole National Park. Pushpagiri and Brahmagiri in Coorg are ideal for trekking. 
At a distance of 265 km from Bangalore, 117 km from Mysore, 132 km from Mangalore, 322 km from Coimbatore & 362 km from Kochi, Coorg or Kodagu is a district in Karnataka and Madikeri is the district headquarters. At an altitude of 1525 meters on Western Ghats, it is also known as the Scotland of India. Coorg is the most famous places to visit in India and among the most popular attraction not to miss in a honeymoon tour packages. It is also one of the top destinations of Karnataka tourism.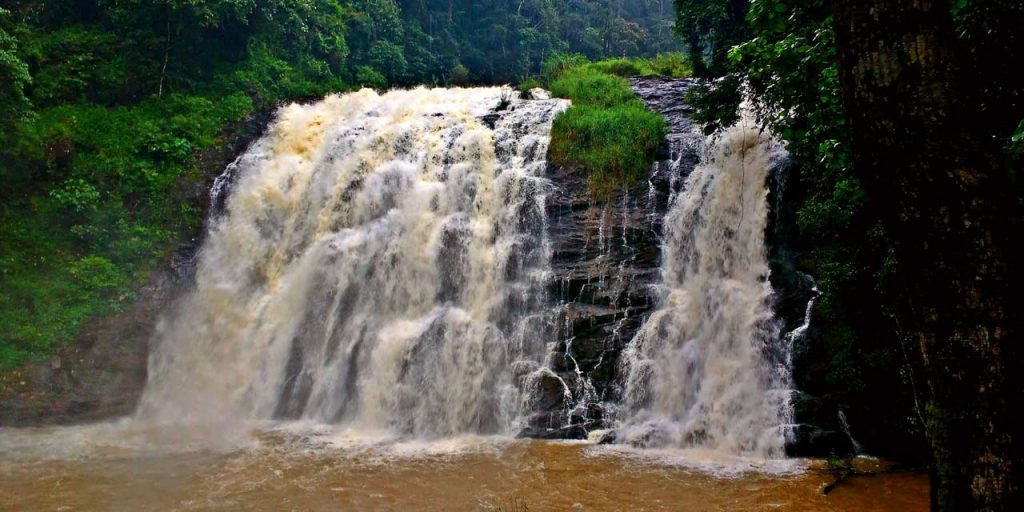 Talacauvery, Abbey Falls and Dubare are some of the best places to include in Coorg Packages. According to Puranas, Kodava is the redefined name of Krodhadesa meaning Land of Anger, said to have been inhabited by the Kodava tribe. Some historians believe that it is named after the River Cauvery. Coorg was under the Gangas rule during 9th and 10th centuries and Cholas in the 11th century followed by Hoysalas. Later Coorg was relatively independent under Haleri Rajas until British occupied the region in 1834. Coorg was a separate state before its merger with Karnataka in the year 1956.
Coorg is the largest producer of Coffee in India. Also, it is one of the places with highest rainfall in India. The Kodagu district comprises different communities like Kodava, Tulu, Gowda and Moplah out of which the largest is the Kodava community, both economically and politically. The economy depends on agriculture, coffee plantations, forestry and tourism.
Misty hills, lush forest, tea and coffee plantation, orange groves, undulating streets and breathtaking views have made Coorg an unforgettable holiday destination. Madikeri is the heartland of Coorg region and was the seat of ruling dynasty. Places like Raja's seat, Abbey Falls, Iruppu Falls, Omkareshwara Temple, Bylakuppe, Talacauvery and Dubare are the major attractions. The famous Cauvery River is originated in the hills of Coorg at Talacauvery.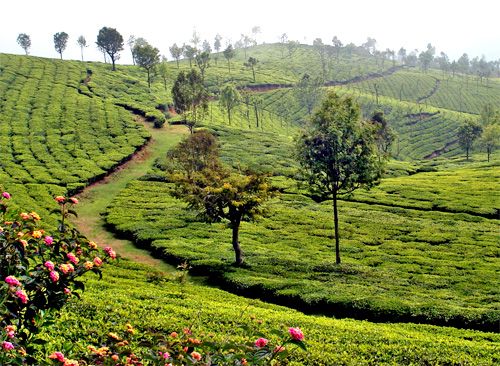 Kodagúk Swagatha ! Welcome to Coorg, The Scotland of India !
Coorg or Kodagu is a tiny district nestling in the lap of the mighty Western Ghats in the State of Karnataka, India. A district with unique culture of its own, this verdant landscape has been eulogised by many an acclaimed personality in vivid terms.
The first Prime Minister of India Pandit Jawaharlal Nehru during his visit to Coorg in the 1950's praised Coorg for offering to the nation the greatest generals such as late Field Marshal K.M. Cariappa and General K.S. Thimayya and as a land known for its beautiful and comely women. Coorg is the Coffee Bowl of the country as it accounts for nearly 40 per cent of the country's total coffee production. This land is also called by many as the "Scotland of India" for its sheer natural beauty.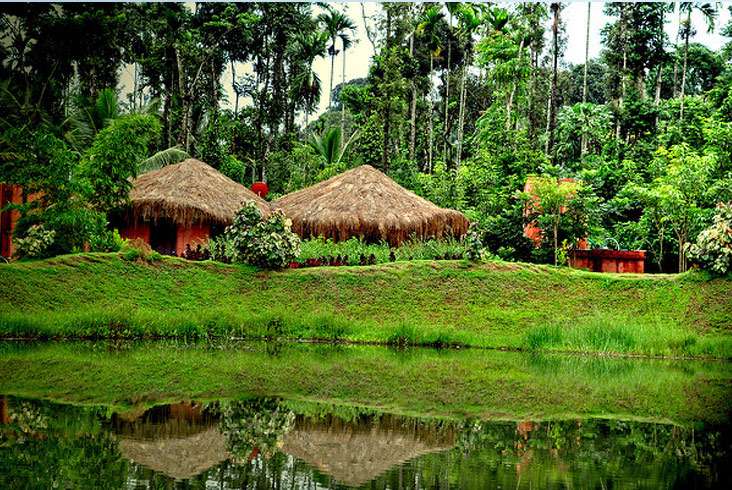 Coorg has maintained its pristine nature intact amidst cries of environmental degradation. Kodava is the chiefly spoken language in Coorg. The district has maintained its secular culture by accommodating and assimilating all other cultures, resembling a 'Mini India'. River Cauvery, the lifeline of the State and neighbouring States, takes birth at the foothills of the awe-inspiring Brahmagiri Hills at Talacauvery.
Kodagu was under the rule of the Lingayat rulers in the early 17th century till the British established control in the year 1834. According to inscriptions available, Coorg was administered by several southern dynasties such as Gangas, Pandyas, Cholas, Kadambas, Chengalvas, Kongalvas and Hoysals. The Vijayanagar Kings too are said to have extended their stranglehold after which it fell into the hands of local chieftains called Nayakas and later the Lingayat Rajas. "Puttari" or "Hutri" is one of the three main festivals of the people, apart from "Cauvery Sankramana" and "KailPold".
British are credited with popularising coffee cultivation in Coorg through its merger with the then Mysore State, now Karnataka. For the connoisseurs of nature and adventure, the name Coorg props up as a paradise and gives themgoosebumps. Numerous waterfalls come rollicking down the mountain cliffs at many locations in the district during monsoon propping up as nature's beauty spots. Long and circuitous roads, undulating paddy fields, thick canopy of coffee plantations, ever gurgling brooks and rivulets, lashing rains in monsoon, provide relief to the visitors from their busy and monotonous routines. Skyway International Travels Team is happy to bring out these selective tourist spots and welcome you to this Paradise!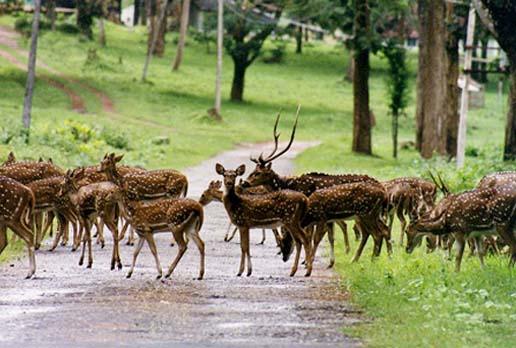 About Coorg and Facts of Coorg
Coorg, also known as Kodagu in Kannada language is a popular hill stations in India. The Coorg district is bordered by Dakshina Kannada district to the Northwest, Hassan district to the North, Mysore district to the East, Kannur district of Kerala to the Southwest, and the Wayanad district of Kerala to the south. Madikeri is the headquarters of Coorg district.

Coorg, a popular Hill Station of India
Coorg is a hilly district, the lowest elevation of Coorg is 900 metres (3,000 ft) above sea-level. The highest peak, Tadiandamol, is 1,750 metres (5,740 ft) above sea level, with Pushpagiri, the second highest, at 1,715 metres (5,627 ft). The main river in Coorg is the Kaveri (Cauvery), which originates at TalaCauvery, located on the eastern side of the Western Ghats, and with its tributaries, drains the greater part of Coorg district.

Tourism in Coorg
Talacauvery, Bhagamandala, Abbey Falls, Irupu Falls, Cauvery Nisargadhama, Dubare Elephant Camp, Nagarahole, Mandalpatti, Omkareshwara Temple, Raja Seat, Bylakuppa Tibetan Settlement (Golden Temple) and Malalli Falls are few important tourist destinations of Coorg district.

Flora and Fauna in Coorg
Coorg is abundant with wildlife and has three wildlife sanctuaries and one national park: the Brahmagiri, TalaCauveri, and Pushpagiri Wildlife Sanctuaries, and the Nagarhole National Park, also known as the Rajiv Gandhi National Park.

The flora of the jungle includes Michelia champaca, Mesua (Ironwood), Diospyros (ebony and other species), Toona ciliata (Indian mahogany), Chukrasia tabularis, Calophyllum angustifolium (Poon spar), Canarium strictum (Black Dammar), Artocarpus, Dipterocarpus, Garcinia, Euonymus, Cinnamomum, Myristica, Vaccinium, Myrtaceae, Melastomataceae, Rubus (three species) and a rose. In the undergrowth are found cardamom, Areca, plantains, canes, wild black pepper, Cyatheales and other ferns, and arums.

In the forest of the less thickly-wooded bamboo country in the west of Coorg the most common trees are the Dalbergia latifolia (Black wood), Pterocarpus marsupium (Kino tree), Terminalia tomentosa (Matthi), Lagerstroemia parviflora (Benteak), Anogeissus latifolia (Dindul), Bassia latifolia, Butea monosperma, Nauclea parvifiora, and several species of acacia. Teak and sandalwood also grow in the eastern part of the district.

The fauna include: the Asian elephant, tiger, leopard, Dhole, Gaur, Boar, and several species of deer.

Coorg also offers a wide variety of birds; roughly around 300 birds have been sighted and reported over the years.

Coorg – The land of Coffee
The most common plantation crop of Coorg district is coffee, especially Robusta variety. Kodagu is the second coffee production region in India, after the Baba Budangiri hills in Chikkamagaluru district. One can go to see the coffee plantation and can understand how sophisticated coffee plantation is and how much perfection and precision it requires it is mandatory to grow coffee in shade so it is grown with the eucalyptus trees and the vanilla.continues weeding is required for the growth of good quality coffee. Coorg is also known for its forest honey.


Coorg Facts
State:KarnatakaLocation:Western Ghats of Sout-West KarnatakaDistrict Headquarters:MadikeriArea:4,102 Sq Km (1,584 sq mi)Tourism Importance:Popular Hill Station of IndiaHighest Elevation:1,750 metres (5,740 ft) – TadiandamolLowest Elevation:900 metres (3,000 ft) above sea-levelMain Cities/Towns:Madikeri, Virajpet, Somwarpet, Kushalanagar, GonikoppalLanguages:Kodava Tak, Kannada, Malayalam, Tulu and EnglishCurrency:Indian Rupee (INR)Summer:March to MayMonsoon:June to October (Heavy rain between July and August)Winter:December to FebruaryAverage Rainfall:4,000 millimetres (160 in)Clothes in Summer:CottonClothes in Winter:WollenTourism Season:Throughout the YearTourism Season (Peak):November to MayShopping Items:Coffee, Honey, Spices and Home made ChocolatesNearest Railway Station:Mangalore, Mysore & Hassan (Karnataka)Nearest Airport:Mangalore (140 Km) and Mysore (130 Km)