Badi Lake Udaipur is in Rajasthan, the wondrous state of India that draws tourists like a magnet is well known for its forts, palaces, lakes, and of course the wide expanse of the Thar desert. It is one of our favourite states in India and has drawn us many times into its fold and rewarded us with precious moments to be treasured forever. So we found ourselves yet again on a road trip across the state of Rajasthan to explore some more places. The trip started in the capital city of Jaipur and culminated in the beautiful city of Udaipur which is adorned with the sobriquet, "City of Lakes".
The city of Udaipur has much to offer the casual tourist as well as the discerning traveler with its many palaces and lakes. The landmarks of Udaipur was swarming with people as it was the holiday season, we yearned to go somewhere, far from the madding crowd, and that is when we thought about the Badi lake Udaipur. So off we went leaving the crowds and the city of Udaipur behind, across a bumpy and dusty road that promised to lead us to the serene paradise that was Badi lake Udaipur. The Badi Lake Udaipur is a relatively lesser-known but beautiful lake located about 12 kilometres from Udaipur City, a welcome break from the crowded city.
Sunset At Bari Talab | Lake Badi | Badi Lake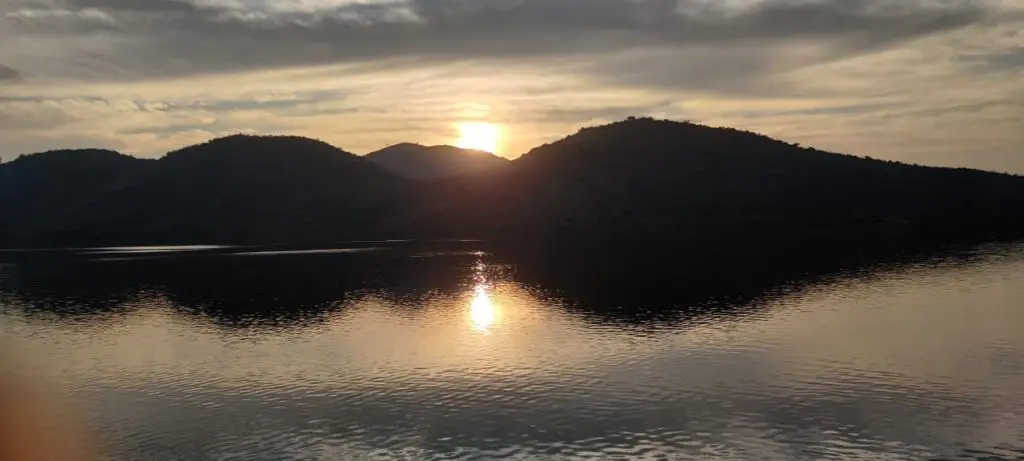 Time seemed to stand still as we alternated our gaze between the glistening waters of the lake and the sun going down in colourful style behind a hill. In those few moments, we fell in love with this beautiful lake and the tranquil aura that enveloped it in those moments of magic. There were no crowds, and no noise, just the kind of place to be at sunset, far from the madding crowd.
If you are looking for some moments of serenity away from the commercial trappings of tourism, then the Badi Lake is where you need to head to when in Udaipur.
History Of Bari Lake | Badi Lake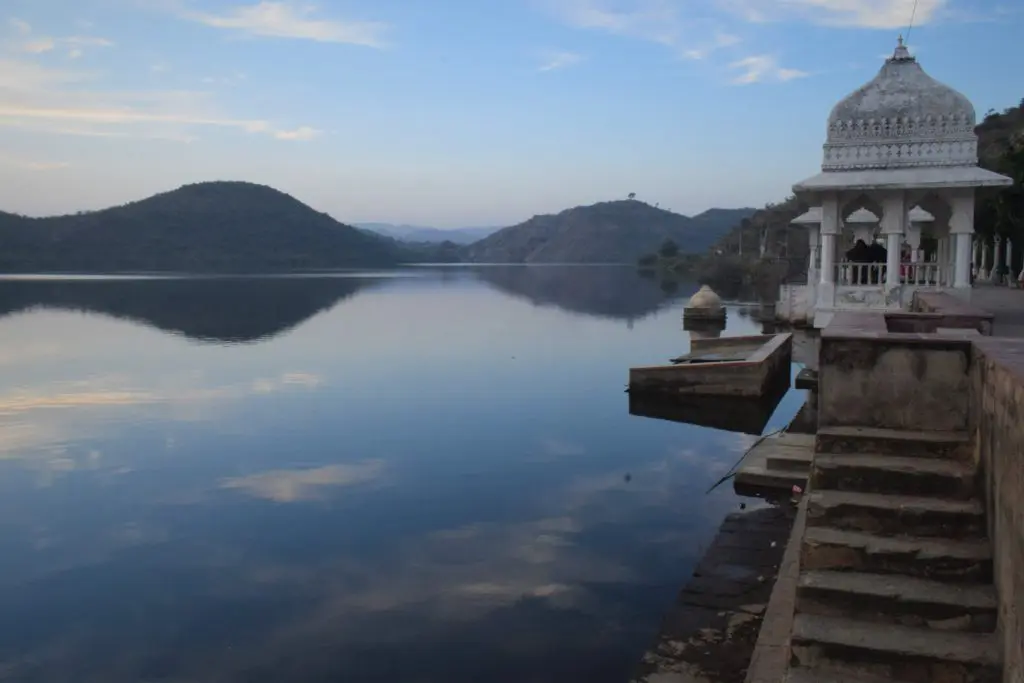 A plaque near the embankment of lake Badi gives a brief history of the lake. It informs that the lake was originally named Jayana Sagar after Maharana Jai Singh's mother, Jana Devi. The lake later came to be known as Bari Ka Talab after a nearby village named Bari. According to the plaque, the lake was built between the years 1662 and 1664 and was finished on November, 15th, 1664 AD. The lake was built during the reign of Maharana Jai Singh at a cost of 6 Lakh Rupees.