Agra Fort is a historical fort in the city of Agra in India. It was the main residence of the emperors of the Mughal Dynasty till 1638, when the capital was shifted from Agra to Delhi. The Agra fort is a UNESCO World Heritage site.It is about 2.5 km northwest of its more famous sister monument, the Taj Mahal. The fort can be more accurately described as a walled city. Agra Fort, also called Red Fort, large 16th-century fortress of red  sandstone located on the  Yamuna River in the historic city of  Agra, west-central  Uttar Pradesh, north-central  India. It was established by the  Mughal emperor Akbar and, in its capacity as both a military base and a royal residence, served as the seat of government when the Mughal capital was in Agra. The structure, a contemporary of  Humayun's Tomb in Delhi (about 125 miles [200 km] to the northwest), reflects the architectural grandeur of the Mughal reign in India. The fort complex was designated a UNESCO World Heritage site in 1983.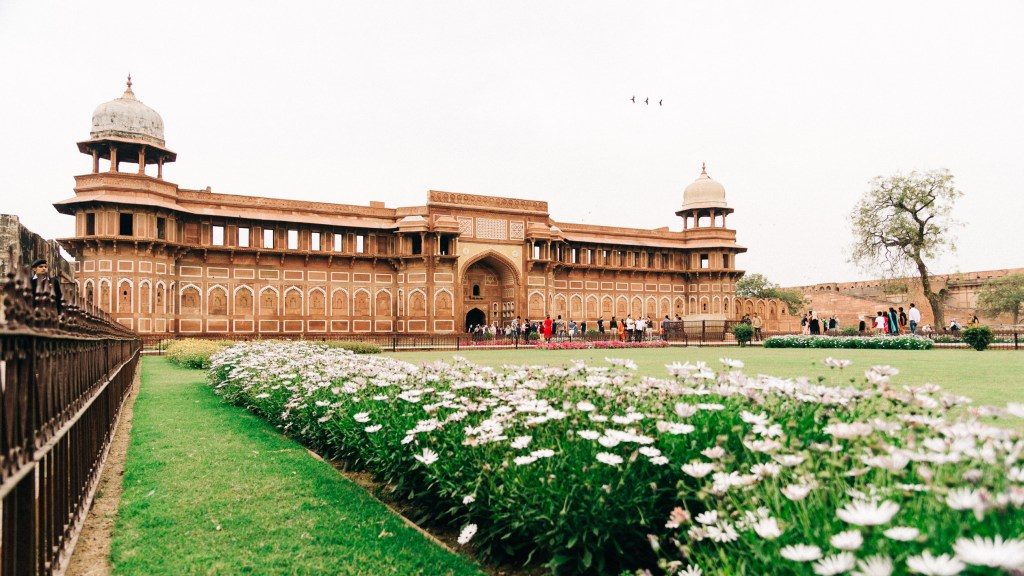 Did you know that this fort in Agra was originally a fortress made of bricks, owned by the Chauhan Rajputs? Historians note that after the First Battle of Panipat in 1526, Ibrahim Lodhi had moved to Agra and was living in the fort. He was conquered and killed by Babur, the first Mughal ruler, who then captured the fort and built a Baori or a stepwell in it. When the fort came under the control of Akbar, he decided to make it his capital. However, at that time, the fort was disintegrating and losing its glory and grandeur. So Akbar rebuilt the fort with red sandstone in its exteriors and bricks in its inner core. It took the diligent and laborious work of 1,444,000 builders for 8 long years to complete the construction of this fort in 1573.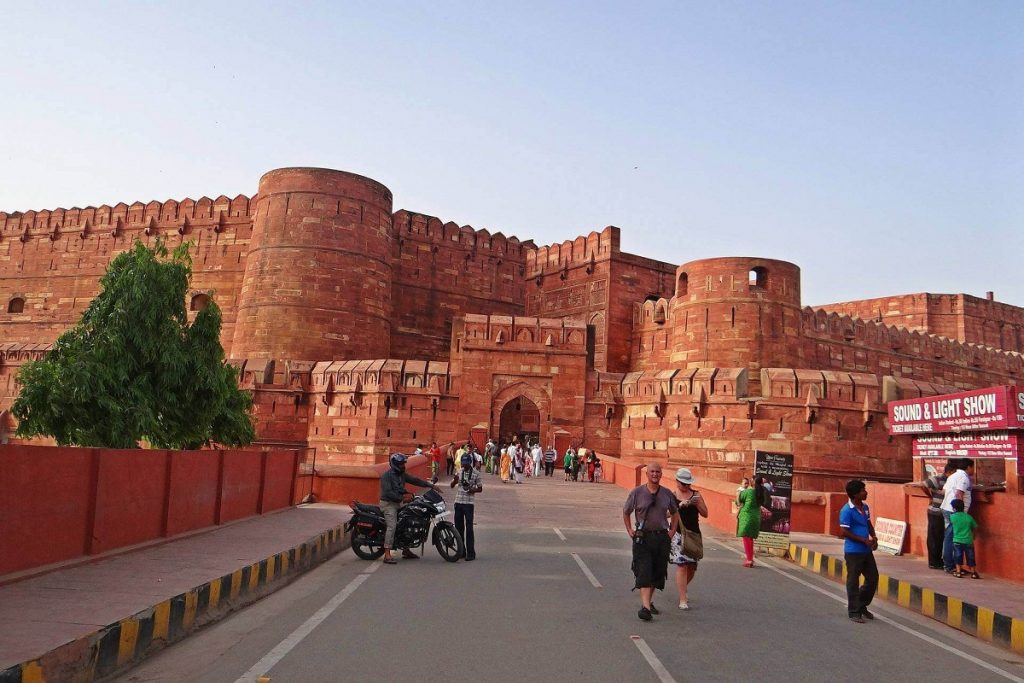 How to Reach:
By Air
Agra's Kheria airport is also a military base. It is a seasonal commercial airport and is connected only by Air India flights from New Delhi. The flight from Delhi to Agra is less than an hour long. Kheria airport is 13 kilo metres away from Agra city. Hire a taxi from the airport to get to the city, which should take you around 10-15 minutes depending on traffic.
By Train
Agra is situated on the Delhi-Mumbai and Delhi-Chennai route and is well connected to most cities across India. There are regular trains to Agra from cities like Delhi, Jaipur, Gwalior and Jhansi. Agra is also well connected to cities in other parts of the country such as Kolkata, Mumbai and Chennai. There are five railway stations in Agra – Agra Cantt Station (the main station), Agra Fort Railway Station, Raja ki Mandi, Agra City and Idgah Railway Station. The Taj Mahal and Agra Fort are a short distance away from Agra Cantt railway station and one can hire a pre-paid taxi, auto rickshaw or even a cycle rickshaw to get to these attractions.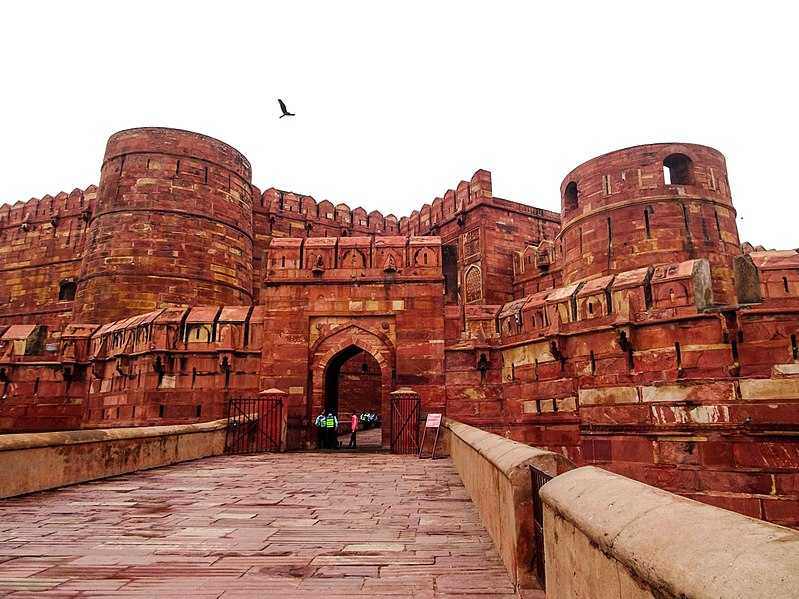 By Road
Agra is connected to Delhi by NH2 and the new Yamuna Expressway. The drive time is about 4-5 hours depending on traffic and time of the day. Jaipur is connected to Agra by NH11 and is a 4-hour drive. Gwalior, connected by NH3 is a 1.5-hour drive while Lucknow and Kanpur, connected by NH2, are about a 2-hour and 5-hour drive respectively.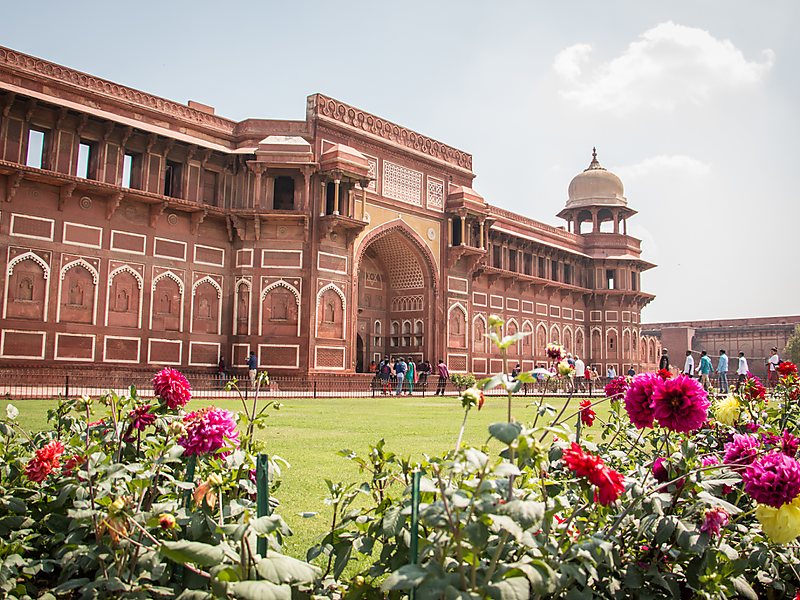 Before you plan your trip, take some time to read this blog. Here is everything you should know about the Agra Fort including its history, architecture, timings, entry fee, lesser-known facts, and much more.
Agra Fort Information
| | |
| --- | --- |
| Location | Agra |
| Timings | Sunrise to sunset; every day |
| Entry | Only through Amar Singh Gate |
| Entry Fee | ₹ 40 (Indians); ₹ 650 (foreigners); free entry for kids below the age of 15 years |
| Still and Video Cameras | Allowed |
| Commissioned by | Emperor Akbar |
| Architectural Style | Mughal style |
| Status | UNESCO World Heritage Site |
| Area | 94 acres |
| Year of Establishment | 1573 |
| Best Time to Visit | October to February |
| Material Used | Red sandstone and marble |