Almost every street of Udaipur is filled with the aroma of Chaat, Jalebi, samosa, Bhelpuri, gol gappe, kulfi, dahi bade, kachori, and the mere name of such delicious street foods are enough for us to get our mouth drooling. And after all who doesn't like street food? No matter how much we eat different cuisines at different luxurious restaurants, the one cuisine that will remain on the top of our favorites is always going to be street food. No matter how much we try to avoid street food but the pleasing aroma and their unbeatable taste attract us towards our favorite stall and in no time we find ourselves standing in front of our favorite street food stall.
Foodies, gear up! Its time to discover some street food in Udaipur. Udaipur is a city in Rajasthan and is loved for its culture and architecture. Interestingly, Rajasthan is also loved for its delicious Rajasthan Cuisine, one of the popular cuisines in India. From the heavenly Pav Bhaji to the sweetest Jalebi, you will find everything in the streets of Udaipur. Udaipur and everything about it won't disappoint you for certain.
Street food vendors are present in every nook and cranny of the city and people often prefer eating at markets in their vicinity but here we are, with some of the must-go street food markets of the city. You aren't a foodie if you haven't eaten at all of these places, at least once! Check these out:
1. Jalebi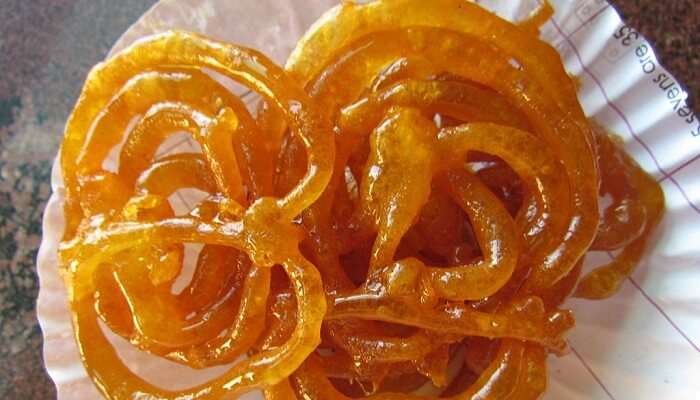 Rajasthani may savour spicy food but they also have sweet teeth. How else would you explain the deliciousness of Jalebis served at Bhole Mishthan. Fried in 100% desi ghee, these jalebis taste amazing when served hot. Foodies can taste the distinct flavour of cardamom used in the syrup. Even diet crazers won't be able to resist themselves.
Where: Bhole Mishthan
Cost: INR 100 per kg
Timings: 6 AM – 10 PM
2. Paan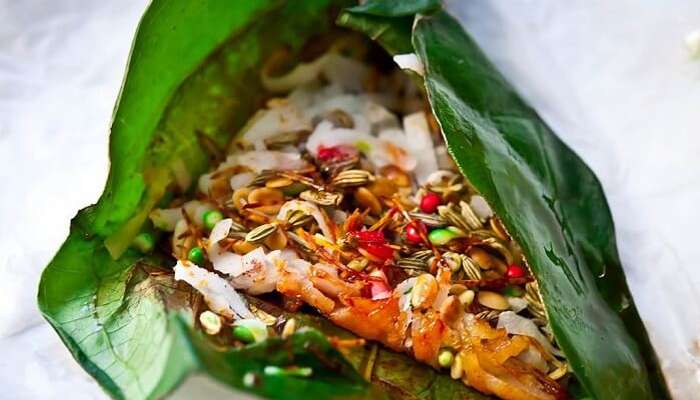 You don't have to go all the way to Banaras to have an amazing paan because you can have it right here at Bansi Paan shop in Udaipur. This shop has existed in Udaipur for 50 years and lures people for its delectable paan. The betel leaves filled with gulkand, dates, fennel seeds, ksear, and supari will leave your taste buds satisfied. You can choose from a wide variety of paan.
Where: Bansi Paan Shop
Cost: INR 20 onwards
Timings: 9 AM – 12 AM
3. Boiled Egg Bhurji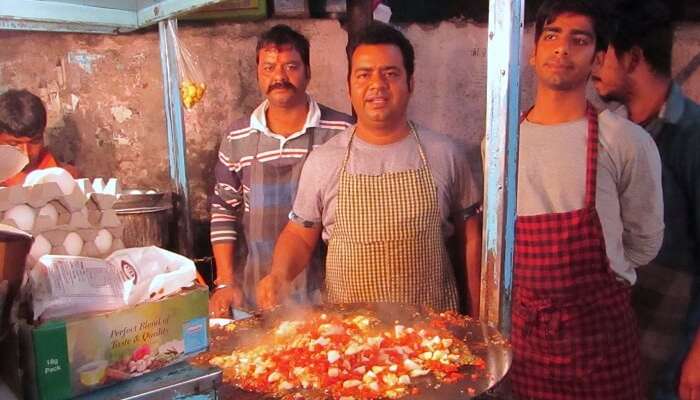 I
The Egg Curry Stand in front of the Chetak Cinema serves some of the best street food in Udaipur. Their delicious plate of Egg Bhurji comes highly recommended for food lovers living in or visiting the city. We bet you'll keep coming back for more of that marvelous combination of scrambled eggs, sautéed vegetables, and a variety of spices. Make sure you don't leave the city without trying this Udaipur food speciality invented by the 'Egg King of Udaipur'.
Where: Opposite Chetak Cinema Place, Chetak Circle
Cost: INR 200 for two people
Timings: 10:30 AM – 11 PM
4. Mini Mirchi Bada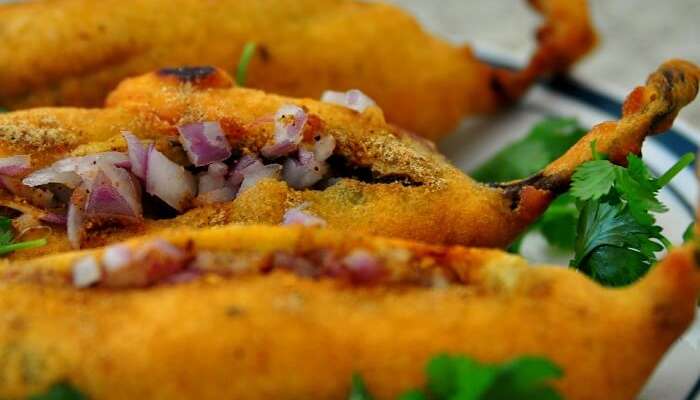 Among the most famous street food in Udaipur is the Mini Mirchi Bada of Manak Balaji who has been making this savoury and spicy delight since 1967. Don't be surprised to find a mile-long queue of both foreigners and Udaipur's residents outside his tiny shop between 6:30 PM to 10 PM. Manak Balaji has got his own unique way of preparing these addictive Mirchi Badas and no one can copy his style! Do try these deep fried small chilies filled with potatoes, spices, and lemon juice.
Where: Bhuwana-Sukher main road, opposite Jyoti School
Cost: INR 20 per piece
Timings: 7 AM – 10 PM
5. Daal Baati Choorma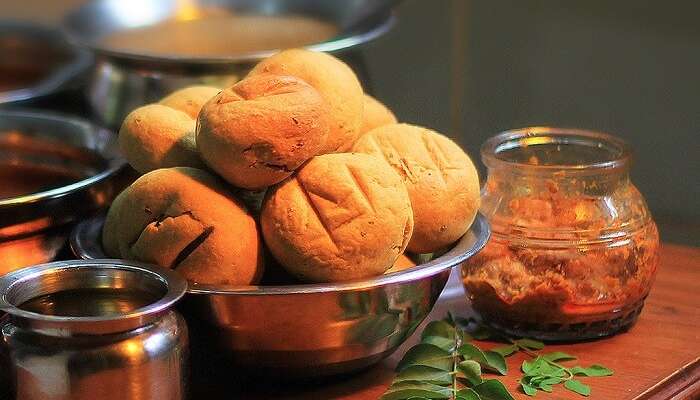 How can one talk about the best street food in Udaipur and miss out on Daal Baati Choorma? And we're not just talking about any Daal Baati, but the popular one served at Manoj Prakash Center. An authentic Rajasthani dish, Daal Baati and Daal Poodi is available at many Udaipur food stalls, but it is here that its taste will satisfy your taste buds, and your soul! Savour a sumptuous bowl of daal served here with 6 to 7 poodis or baatis along with free onions and lemons all at just INR 30/-.
Where: Manoj Prakash Center, on the way to Lake Palace Road, near Gulab Bagh
Cost: INR 30 per plate
Timings: 7:30 AM – 5 PM
6. Falooda at Sindhi Falooda
Falooda
Ice-cream and syrup along with vermicelli and sabja seeds…falooda is India's favorite milkshake. If you are in the mood for some head to Sindhi Falooda where this dessert is not only good but rather awesome and has Udaipur locals queuing up to be served. Available only during the evenings and selling out well before 9 pm, we suggest you make a plan to be here early and sample a few of their combinations as well as some homemade ice-cream.
Location: Ashok Nagar Main Road, Udaipur
7. Milkshakes at Hot n Cool
Enjoy a variety of Milkshakes in Udaipur
A yummy cool milkshake is always welcome on a hot summer evening and if you're in Udaipur then you're in luck; head to Hot n Cool, as the name suggests, this place is offering hot snacks as well as ice-creams, milkshakes and other cold desserts. The place has a more civilized street kiosk experience as the shop is located within a complex and thus has less of the problems associated with road side joints.
Location: Gokul Tower F, GV Road
8. Kachoris at Shastri Circle
Kachori (source)
A cup of sweet tea accompanied by a hot kachori is a superb stop and go breakfast or late afternoon pick me up. Located at a busy corner near Shastri Circle, close to the Post Office, Jain Nashta Centre has been serving locals living and working around the area this tasty treat for ages. With a continuous supply of freshly made snacks and delicious chutneys to go with them, be sure to make a pit stop here.
9. Dal Poodi/Daal Baati at Manoj Prakash
Dal Bati
The Dal Poodi, also known as the Daal Baati, is an authentic Rajasthani snack/meal that you can find on many street corners all over Udaipur. If ever visiting the city be sure to stop at Manoj Prakash Daal Poodi stall to sample this traditional treat; easily one of the most famous places serving this spicy daal and hot poodi, you will spot his kiosk along the Lake Palace Road so be sure to make a pit stop.
Location: Near Gulab Bagh, Lake Palace Road
10. Pav Bhaji at Pandit
Pav Bhaji
Pav Bhaji is one of those buttery delights no one can resist and has become common place all over the state and no more so than Udaipur. Perhaps the most famous of all pav bhaji kiosks in Udaipur would have to be the Pandit Pav Bhaji stall near Town Hall. Serving great desi sandwiches, chow mein, fried rice and more, be sure the pav bhaji is what you have to come here for.
Location: Town Hall Main Gate
11. Vada Pav and Dabeli at Shankar
Vada Pav
Vada Pav and Dabeli, the two most famous snacks you can find in Mumbai is also near you in Udaipur. These Bombay delights can be found at Shankar Vada Pav and Dabeli stall right here and will transport you out of the city and to Mumbai with every bite. Economical and excellent, they also offer various other fast foods and some good chai too.
Location: Opp. Soni Hospital, Panchwati