One of the popular places, Dussehra Chowk is the centre of attraction surrounded by structures consisted of the elegant Maharwal Palace. The outright genuine infrastructure with amazing carvings and the latticework in sandstone on windows and archways are another gorgeous art work to appreciate. There are lots of heritage hotels to remain and you can feel the royalty there with luxurious convenience.
Located in the Golden City of India, Jaisalmer Fort is famed for being a living fort or one of the oldest continuously inhabited forts in the world. This magnificent structure that stands proudly atop the Trikuta Hill at a notable height of 250-feet is nothing less than an architectural wonder. With 30-feet high fortification, multiple entrance gates, houses, shops, hotels, eateries and temples, the fort is more like a small town amidst the Thar Desert. Even now, it is inhabited by around 3000 people and is among the most prominent attractions in the state.
If you are planning a trip to Jaisalmer, the following information about Jaisalmer Fort's entry fee, timings, location, and more will come in handy.
Jaisalmer Fort Information
| | |
| --- | --- |
| Location | Jaisalmer |
| Alternate Names | Golden Fort, Sonar Quila, Sone Ka Quila |
| Timings | Fort Palace Museum: 8 AM to 6 PM (April – October); 9 AM to 6 PM (November to March)Jain Temples: 8 AM to 12 PM (Sambhavnath, Chandraprabhu, Rikhabdev); 11 AM to 12 PM (other temples) |
| Time Required | 3-4 hours |
| Entry Fee | Indians: INR 50 per personForeigners: INR 250 per person |
| Camera Fee | Still Camera: INR 50Video Camera: INR 100 |
| Commissioned by | Raja Rawal Jaisal |
| Architectural Style | Mughal and Rajput styles of architecture |
| Status | UNESCO World Heritage Site |
| Area | 1,500-feet long and 750-feet wide |
| Year of Establishment | 1156 AD |
| Best Time to Visit | November to March |
| Material Used | Light yellow sandstone |
| Jaisalmer Fort Contact Number | 0299225240402992252981 |
Jaisalmer Fort: History
Jaisalmer Fort is celebrated for its impressive history and has witnessed many battles with Mughals, Tughalaqs, Khiljis and Rathore Kings. The fort was built by Raja Rawal Jaisal in 1156 AD. However, a fortified defence structure called Rang Burj was added to it in 1276 AD by Rawal Jethsi after two invasions by the Sultan of Delhi Alauddin Khilji.
Sultan Alauddin Khilji's army surrounded the fort for about 8-9 years. After repeated attempts, the Sultan succeeded in capturing Jaisalmer Fort from the Bhati Rajputs in 1294. This forced around 25,000 women to commit jauhar or self-immolation to protect their honour.
After keeping possession of the fort for about two years, Khilji's army abandoned the castle. It was inhabited again by the surviving Bhatis later and over time the kingdom regained its former glory.
The fort witnessed another jauhar in the late 14th-century when Delhi's Sultan Firoz Shah Tughlaq attacked Jaisalmer.
Jaisalmer Fort was attacked once again in 1541 by Humayun during the reign of Rawal Lunakaran. Rawal's defiance was broken and he was forced to give his daughter's hand in marriage to Akbar, Humayun's son and successor. The fort was controlled by the Mughal rulers till 1762 until Maharawal Mulraj took over it, who eventually entered into a treaty with the British East India Company. This made Jaisalmer one of the most important princely states in Rajasthan. But the city joined the Union of India after the country won its independence.
At one point, this massive fort has also served as a residence for the entire population of Jaisalmer. It was an important trade and business stop in medieval times until the British invasion.
Jaisalmer Fort: Today
Jaisalmer Fort, the only living fort in India, is still inhabited by many descendants of Rajput and Brahmin families. Although the fort is no longer an important military post or trade centre, it is a major tourist attraction in Jaisalmer. It was also designated as UNESCO World Heritage Site in the year 2013.
Visitors can purchase entry tickets and tour the fort on their own or even hire a local guide. Audio guides are also available near the ticket counter. Apart from admiring the architecture of the fort, you must also visit the Fort Palace Museum, Jain Temples, the Havelis and other attractions.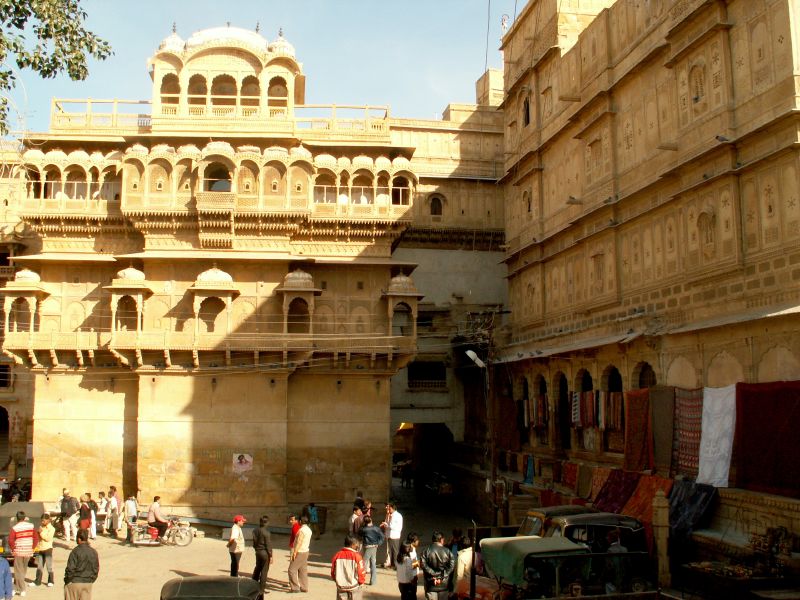 Jaisalmer Fort: Architecture
A beautiful amalgamation of Mughal and Rajput construction styles, the Jaisalmer Fort is an architectural marvel. This 1500-feet long and 750-feet wide fort has many palaces, houses, temples, wells, havelis and other structures inside and around it, all made of yellow sandstone. The fort is a sight to behold at any time of the day; during the daytime, it dazzles in the sunlight in sparkling golden colour and a honey-gold shade at sundown. The focal points of the fort are:
Four massive and exquisitely sculpted entrance gates – Ganesh Pol, Suraj Pol, Bhoot Pol and Hawa Pol
Intricate carvings and eye-catching designs on the windows, doors, balconies and archways
Beautifully carved havelis as well as Jain and Hindu temples. The Jain temples exhibit the popular Dilwara temple style of architecture and are decorated with multiple mirrors, carvings, and paintings
The impressive architecture and craftsmanship of a big courtyard called Dussehra Chowk
The exquisite stone carvings, mural paintings and jalis of Patwon Ki Haveli which is located right outside the old fortification
Jaisalmer Fort's location on Trikuta Hill that is 250-feet above the surrounding town adds to its majestic beauty and makes it a must-visit tourist attraction. And when you are up there, you can also take in the breath-taking views of the town from Dussehra Chowk and other parts of the fort.
Things to see and do
The marble throne and many old items at Raj Mahal or Maharwal Palace
The five-storied Tazia Tower opposite Maharwal Palace
The astounding design and architecture of Jawahar Palace, Sarvottam Vilas, Zenana Mahal, Gaj Mahal, Bada Vilas, Moti Mahal and other palaces in the fort
Diwan-i-Am and Diwan-i-Khas, the two majestic halls for public and private audiences, respectively
The Laxminath Temple dedicated to Hindu deities Vishnu and Lakshmi
The seven Jain temples built during 12th-16th centuries – Parsvanatha Temple, Chandraprabha Temple, Sitalanatha Temple, Sambhavanatha Temple, Santinatha and Kunthunatha Temple, and Rishabhanatha Temple
The massive Sambhavanatha Jain Temple housing 600 idols
Gyan Bhandar, a library in the Jain temple complex for rare manuscripts
Eateries at Dussehra Chowk serving delectable local delicacies
Local shops selling ethnic silver jewellery, Rajasthani clothing and ornaments, patchwork bedspreads with eye-catching motifs, wall hangings, camel leather bags, lahariya sarees, and more
Zigzag alleys within the fort The 360-degrees view of the surroundings from the fort's rooftop
Lesser-known facts about Jaisalmer Fort
The fort was constructed with 3 layers of walls for better defence against enemies. The outermost layer was made out of stone.
Jaisalmer fort has 99 bastions, 92 of which were built from 1633-1647
The fort houses around 1/4th of the town's population
The wells in Jaisalmer Fort still provide water regularly
A big fair is organised here during Dussehra and is attended by the king as well
Attractions near Jaisalmer Fort
Raja Ka Mahal (550 m)
Rani Ka Mahal (550 m)
Salam Singh Ki Haveli (650 m)
Nathmal Ki Haveli (800 m)
Patwon Ki Haveli (1 km)
Tazia Tower (1 km)
Government Museum (1 km)
Gadisar Lake (2 km)
The Thar Heritage Museum (2 km)
Vyas Chhatri (2 km)
Amar Sagar Jain Temple (6 km)
Bada Bagh Temple (7 km)
Jaisalmer War Museum (13 km)
Whether you are a history buff or architecture lover, a trip to Jaisalmer Fort will take you back in time that you only see in period movies! Although the fort has witnessed many legendary battles, it still stands strong and holds a brilliant charm that draws tourists from far and wide. Jaisalmer Fort beautifully preserves the past and gives you a glimpse into the history and culture of the then princely state of Rajasthan.